5 Affordable Cars With the Longest Driving Range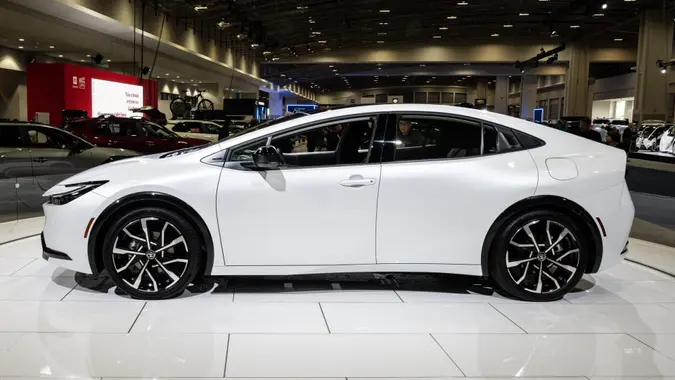 Michael Brochstein/SOPA Images/Shutterstock / Michael Brochstein/SOPA Images/Shutterstock
With national gas prices still hovering over $3.80 per gallon, drivers are looking for ways to go farther for less money. The good news is that several current models are incredibly fuel-efficient — and others can take you hundreds of miles without burning any gas at all.
The following is a rundown of five vehicles that are both affordable to buy and to fuel, which saves you money in the dealership and in the long term. The list includes a gas car, a plug-in hybrid, an EV, a pickup and a luxury car. All of them are priced well below comparable vehicles in their class and all are built for long-haul highway adventures with fewer trips between gas pumps and charging stations.
2023 Hyundai Elantra
Range: 409.2 to 520.8 miles
Starting MSRP: $20,950
If range and price are your two main motivators, it's hard to argue that the Hyundai Elantra isn't the best car on the road. The base model starts at under $21,000 and gets 33 city and 42 highway miles for a combined 37 mpg. With a 12.4-gallon tank, that's enough to get you more than 520 miles on a single fill-up if you stick to the highways.
Its 2.0-liter four-cylinder engine generates an adequate 147 horses, and standard features include an eight-inch touchscreen display, blind spot collision avoidance, and wireless Android Auto and Apple CarPlay.
2023 Toyota Prius Prime
Range: 640 miles
Starting MSRP: $32,350
The car that started the hybrid revolution still delivers the most bang for the buck. The plug-in Toyota Prius Prime's battery can get you up to 44 miles on electric alone, and with 52 mpg in hybrid mode, the Prius Prime is good for 640 miles on a single tank of gas.
Make Your Money Work for You
Its 2.0-liter, four-cylinder engine and electric motor bang out 220 horsepower and can go from 0 to 60 in 6.6 seconds, making it the quickest Prius ever. MotorTrend calls it "a fun, efficient middle finger to all-electric vehicles."
2023 Chevrolet Bolt
Range: 259 miles
Starting MSRP: $26,500
If you're buying an EV based purely on range, you can't do better than the Lucid Air Grand Touring, which can go 516 miles on a single charge. But that ride starts at $125,600.
However, if cost is a consideration, the first affordable mass-produced long-range EV might still be your best bet. The Chevy Bolt is the least expensive EV on the market, and its range blows away the next cheapest Nissan Leaf (149 miles) and Mini Cooper SE Hardtop (114 miles).
When you factor in the $7,500 federal tax credit, the Bolt starts at $19,000. Only the gas-powered Mitsubishi Mirage ES, Kia Rio LX and Nissan Versa S cost less.
2023 Ram 1500 EcoDiesel
Range: 693-957 miles
Starting MSRP: $36,820
Green Car Journal named the Ram 1500 Eco Diesel the 2023 Green Truck of the Year.
At 29 mpg, the pickup boasts best-in-class 4×4 highway fuel economy, and with a massive available 33-gallon fuel tank, it also claims the longest 4×4 highway driving range — a stunning 950-plus miles on a single tank. It gets 21 mpg in the city, which lets you go nearly 700 miles without filling up.
A capable pickup with a 1,780-pound maximum payload and a towing capacity of up to 9,600 pounds, its 3.0-liter B20 biodiesel V6 engine generates 260 horsepower. Considering that Kelley Blue Book (KBB) reports the average new truck sells for more than $59,000, it's also a bargain.
Make Your Money Work for You
2023 Lexus ES 300h
Range: 700 miles
Starting MSRP: $44,490
While the 2024 model is available, go for the current year Lexus ES 300h if you're shopping for a luxury hybrid based on range and cost. 
The 2023 model has a 2.5-liter, four-cylinder engine that gets 44 combined mpg. With a 15.9-gallon tank backed up with a battery, that's enough for 700 miles, presuming 45% highway and 55% city driving, according to the U.S. Department of Energy.
According to Edmunds, "The Lexus ES 300h is one of just a few luxury midsize hybrid sedans. Fuel economy is excellent, and the 300h handles surprisingly well and retains the Lexus hallmark focus on comfort and serenity. European plug-in hybrids are typically sportier, but the ES remains one of today's best all-around performers."
On top of that, it's affordable for a big luxury vehicle, considering KBB reports the average non-luxury car sells for a higher $44,960.
More From GOBankingRates