Avoid Buying These 5 Cars That Will Waste Your Money on Gas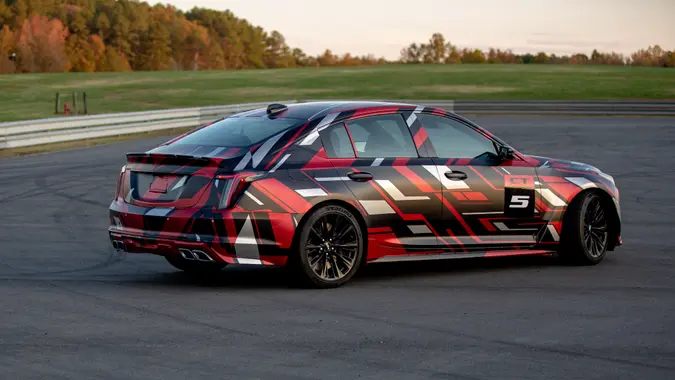 ©Cadillac
MPG is as important as MSRP to drivers on a budget.
A bargain vehicle is no bargain at all if you wind up forfeiting the money you saved to lousy fuel economy over time.
But some cars pull from both ends with sky-high purchase prices up front and gas-guzzling engines that ensure you'll keep paying more than you need to for years to come. Unsurprisingly, most aren't geared toward drivers who buy cars based on frugality and financial prudence. Bad on gas plus eye-popping sticker price usually equals performance that's the envy of those who shop with their budgets in mind — and they should know what they're in for.
If you have your eye on any of the following fuel-evaporation machines, plan past the purchase price and expect to spend five figures more than the average driver on gas over five years. 
Lamborghini Urus Performante
If you're thinking of buying a small station wagon to accommodate your growing family, you're probably considering the 2023 Lamborghini Urus Performante. At a glance, it looks like a Subaru Crosstrek in a really fancy tuxedo, but Lambo bills it as "the first-ever Super Sport Utility Vehicle, one that defines a new segment as the absolute all-around super sports car."
Its 657 horses launch it from 0-60 miles per hour in just over three seconds, which Forbes calls "a truly miraculous number from a full-size SUV that still weighs over 5,000 pounds."
Make Your Money Work for You
It starts at $260,000 — but you'll have to save up for gas.
The eight-cylinder Italian super SUV — which holds the record for ascending all 14,115 feet of the infamously twisty Pikes Peak in 10 minutes, 32 seconds — gets 16 combined mpg. The Department of Energy (DOE) says that's the worst among all small station wagons. You should budget to spend $11,750 more on gas over five years than you would have in the average vehicle.
Mercedes-Benz AMG GT 63 4matic Plus
The DOE ranks the Mercedes-Benz AMG GT 63 4matic Plus — along with the $170,350 63 S model — as the worst compact you can buy in terms of fuel economy. Both four-door coupes settle for just 17 combined mpg.
The tradeoff for frequent stops at the pump is 3.3- or 3.1-second 0-60 acceleration, made possible by a handcrafted AMG 4-liter V8 biturbo engine that drums up 577 or 630 horsepower.
If you buy one, plan to spend $4,100 on gas per year, or $10,250 more than you would in the average car over five years.
Cadillac CT5 V
If Lambo supercars and Benz coupes are beyond your budget's reach, you might consider the more modestly priced 2023 Caddy CT5 V. After all, its twin-turbo 3.0-liter supercharged engine is good for 360 horsepower — 668 if you upgrade to the 6.2-liter $92,000 Blackwing edition. But first, consider what it will cost you to gas up.
The DOE ranks it among a trio of vehicles locked in a three-way tie for the worst fuel economy among midsize cars. It gets just 15 combined mpg.
Make Your Money Work for You
With annual fuel costs averaging $4,650, you should plan to spend about $13,000 more over five years than a driver who opts for the average car instead.
2023 Dodge Challenger SRT Widebody
With just 15 combined mpg, the Dodge Challenger SRT Widebody joins the Cadillac CT5 V in a three-way tie for the title of the midsize car with the worst gas mileage. The third is the Bentley Flying Spur.
Muscle is the theme of the entire SRT lineup, which roars with a supercharged 6.2-liter HEMI SRT Hellcat V8 — even the headlights are designed to let air pass through to breathe life into its massive engine. The Widebody's extra 3.5 inches and wider tires help glue its 717 horses to the pavement, and the Redeye and Super Stock models boast the largest factory supercharger of any mass-produced car.
Like the Caddy, the Challenger SRT will cost you about $13,000 more on gas than the average car over five years.
Bugatti Chiron Pur Sport
Starting MSRP: $3.5 million
In terms of sticker price and fuel economy, you'd have a hard time spending more to get from here to there than you would with the Bugatti Chiron Pur Sport — unless, of course, you graduated to the Bugatti Chiron Super Sport, which starts around $4 million.
Turning in just 9 combined mpg, the DOE says this supercar has the worst fuel economy on the market, not just among two-seaters, but compared to every other car on the road.
With annual fuel costs of $7,800, you'll spend $28,750 more on gas over five years than the average driver.
Make Your Money Work for You
But if you have the means and don't mind frequent fill-ups, the Pur Sport's 1,479 horsepower and 1,180 lb-ft of torque put gallons of instantly incinerated gasoline to very good use by delivering nearly unrivaled power and acceleration.
More From GOBankingRates