The Best Campers, Trailers and RVs — From Cheap to Glamp-Worthy

8 min Read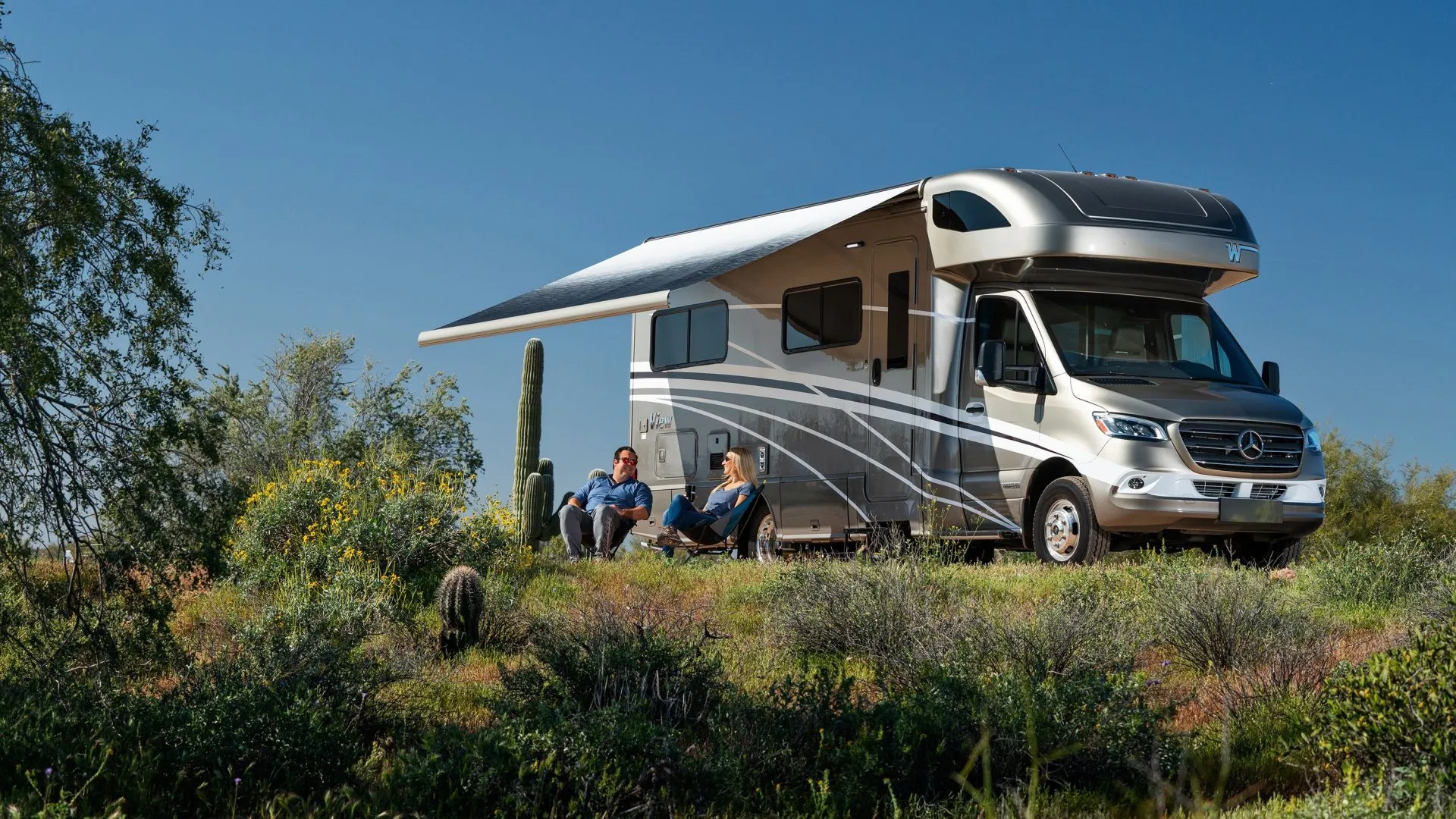 Summer is here, and that means Americans want to travel. This is no traditional time, though. Although flights and highways are filling back up now that the country's reopening, there's still plenty of trepidation about what kind of travel is OK. Hitting the open road with a trailer or RV always fits the bill.
Find Out: Auto Expenses You Can Expect If You Haven't Driven During Quarantine
Learn More: 17 Hidden Auto Costs Your Dealer Will Never Tell You About
To help determine which trailers and RVs are the best overall for a post-pandemic road trip, GOBankingRates sourced information from a number of industry publications across a wide range of price categories. This comprehensive list of outstanding camper, trailer, van and motorhome options was then ranked in ascending order from the lowest MSRP to the highest.
While a number of options with prices in the six figures unsurprisingly made the list, there are also plenty of good, value-priced options available, including several with MSRPs below $40,000 and one even below $20,000. If those choices are too feature-lean for your tastes, consider one of the higher-end RVs, some of which cost as much as a beach house in some towns.
Discover the best campers, trailers and RVs for your summer vacation (and beyond). 
Last updated: Jun. 8, 2021
Make Your Money Work for You
Why It's Worth Buying
There's one unmistakable standout benefit of the Kimbo 6, and that is its price. With an MSRP under $20,o00, the Kimbo 6 is easily the most affordable option on the list, yet it still boasts good features like double-paned windows, thin but efficient R5 insulation, and high-efficiency LED lighting. At around 1,000 pounds, the Kimbo 6 is an easy addition for any midsized pickup.
Avoid These: The 29 Biggest Car Mistakes That Will Cost You
Why It's Worth Buying
The Winnebago Micro Minnie packs tons of features into its tiny $22,172 MSRP. The most notable is the travel trailer's spacious kitchen, which includes a double-door refrigerator, cooktop, microwave and sink. The power awning, which features LED lighting, is another cool feature. Patio speakers and windows designed for cross-ventilation round out the top features of this well-equipped, 7-foot wide option that sleeps three.
Check Out: The Best and the Worst Time of the Year to Buy a New Car
Opus OP 4
Type: Trailer
MSRP: $33,158
Why It's Worth Buying
The Opus OP 4 steps up the trailer game while still keeping the price tag under $35,000. With over a foot of ground clearance, the OP 4 can handle nearly any terrain. A fully articulating hitch and travel brakes are a couple of the trailer's important exterior options, but the fact that it's an inflatable trailer is simply amazing. Some of the highlights of the trailer's light-filled interior include a kitchen and a hot water shower.
Jayco Jay Flight
Type: Travel Trailer
MSRP: $35,113
Why It's Worth Buying
It's hard to go wrong with the No. 1-selling travel trailer in the industry for 15 years running. The Jayco name carries a reputation for solid, well-built trailers, and the Jay Flight model, in particular, garners praise for its wide range of floor plans. Those who like to cook will be right at home in the Jayco Jay Flight, which offers spacious, residential-quality kitchens complete with stainless steel appliances, a faucet with a pull-out sprayer and solid-surface countertops.
Make Your Money Work for You
Happier Camper Traveler
Type: Travel Trailer
MSRP: $49,950
Why It's Worth Buying
The Happier Camper Traveler scores points for its flexibility, thanks to the Adaptiv system, which allows for customizable, modular seating. It is fully equipped to travel cross-country for a starting MSRP of less than $50,000. The trailer is towable by standard cars and offers a cool vintage vibe.
Mercedes-Benz Metris Weekender
Type: Class B
MSRP: $70,000
Why It's Worth Buying
The Mercedes-Benz Metris Weekender takes quite a jump upward in price, but you get a lot for what you're spending. The Metris Weekender is a two-purpose vehicle, serving as both a daily driver and a weekend escape vehicle. In addition to the safety features and cachet of any Mercedes, the Metris Weekender offers practical amenities such as a rear-seat fold-down bed and a pop-top mattress space, comfortably sleeping four. Yet, the vehicle is still compact enough to fit into a standard garage.
Airstream Flying Cloud
Type: Travel Trailer
MSRP: $81,200
Why It's Worth Buying
The iconic Airstream brand is synonymous with stylish, functional travel trailers, and the Flying Cloud is no exception. The famed riveted aluminum shell houses interior woodwork, dimmable LED lighting and 15 options for floor plans that can sleep from four to eight people. The quality-built trailers offer a wide variety of creature comforts, from LG LED high-definition televisions to USB and 110-volt charging outlets, rear-view monitoring and prewiring for solar panels.
Winnebago Solis
Type: Class B
MSRP: $107,821
Why It's Worth Buying
The Winnebago Solis tops $100,000 but could be viewed as a steal considering what you get. The small Class B camper measures just 19 feet, 9 inches long, allowing it to remain maneuverable even while offering 6 feet, 3 inches of height inside. The pop-top camper offers even more space with the roof raised. In addition to the two-burner stove, refrigerator, hot/cold water sink, and excellent insulation and heating systems, the Solis offers a cassette toilet, which allows for easy disposal. The camper's solar panel and flexible seating options round out the package.
Make Your Money Work for You
Winnebago Vita
Type: Class C
MSRP: $136,072
Why It's Worth Buying
This Class C trailer is 24.5 feet long and sleeps four. The luxurious interior includes both a customizable pantry and a multipurpose wardrobe. Built on a Mercedes-Benz chassis, the Vita includes multiple safety features, from active brake assist to lane-keeping assist and attention assist. The MBUX infotainment center includes a Wi-Fi hotspot and interactive voice interface. You won't lack for power in the Vita, which has the largest batteries found in a Class C vehicle coupled with expandable 200-watt solar panels, a 1,000-watt inverter and a 3,600-watt LP generator.
Airstream Classic
Type: Travel Trailer
MSRP: $161,900
Why It's Worth Buying
The Airstream Classic is a jump up in both price and quality from the venerable trailer brand's Flying Cloud, coming in at nearly double the price. But when you step inside, you'll see where all of that extra money is going.
The Airstream Classic is one of the most advanced, luxurious and spacious of all towable campers. Offering up to four variations of floor plans, the spacious trailer sleeps up to five and runs between 30 and 33 feet in length. Luxury trimmings from Kohler faucets to Corian countertops are just the start in this home away from home, which also offers Smart Control technology, a refrigerator/freezer, convection microwave, oven, heated bathroom features, Ultraleather seating and a 65-inch projection TV screen, among numerous amenities.
Winnebago View
Type: Class C
MSRP: $172,128
Why It's Worth Buying
The Winnebago View is built on the popular Mercedes-Benz Sprinter chassis, meaning it offers the Mercedes MBUX infotainment system with voice interface and safety features such as brake and lane-keeping assist. The RV comes with an insulated sleeping deck above the cab, 200-watt solar panels and a 2,000-watt inverter, an LP/induction cooktop, bed space for four, and lighted, soft-close galley drawers.
Make Your Money Work for You
Thor Motor Coach Palazzo
Type: Class A
MSRP: $277,450
Why It's Worth Buying
If you're looking to spend more than a quarter-million dollars on an RV, you're likely expecting something special. The Class A Thor Motor Coach Palazzo delivers — and then some. Truly living up to the description "mobile home," the Palazzo offers a Tilt-a-View® king-sized bed, nightstands with USB ports and the Rapid Camp+® System, which remotely controls everything from dimming lights to the air conditioner and the auto-gen start on the 6,000-watt diesel generator. The expansive floor plans, which range from 33.5 feet to 37.5 feet, all include the Dream Dinette® kitchen, which seats four and includes seat belts.
Holiday Rambler Navigator
Type: Class A
MSRP: $330,303
Why It's Worth Buying
Luxury, comfort, and genius design features are all standard on this massive Class A. Features like lighted cabinets and beautiful wood carpentry are found throughout. It's not just pretty, it's powerful. It can tow 10,000 pounds thanks to 340 horses and 700 lb. ft. of torque. Just a few of the many high-end features are a KING Universal satellite system, a tankless water heater, and a standard fireplace in all floorplans.
More From GOBankingRates
Andrew Lisa contributed to the reporting for this article. 
Methodology: To identify the best RVs for your pandemic road trip across all price ranges, GOBankingRates began by referencing industry publications' rankings of the best or most popular RVs by class, including Travel and Leisure's ranking of travel trailers, Popular Mechanic's ranking of campers, Outdoorsy's ranking of the class As and MotorHome Magazine's rankings of class Cs and luxury motorhomes. Once a list of highly ranked/popular models and their stand-out features had been compiled, GOBankingRates found each RV's MSRP from its manufacturer's website. GOBankingRates then sorted all top RVs by their MSRP to create a comprehensive list of esteemed camper, trailer, van, and motorhome options for those looking to invest in their pandemic road trips from the most affordable to most expensive. All information was collected on and up to date as of May 17, 2021.
About the Author