Buy These 5 Affordable Cars That Will Last Beyond 200,000 Miles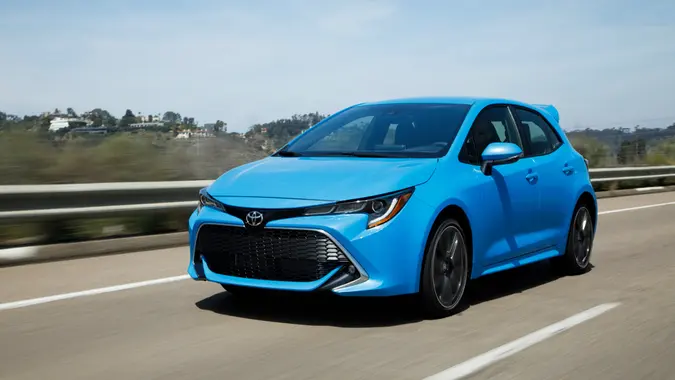 ©Toyota
Cars that are both affordable and durable pay you back twice. Their low MSRPs reduce upfront costs and require drivers on budgets to borrow less money — but the real savings add up over time. Cars that are built to last stay out of the shop and endure six-figure mileage with only routine maintenance — and the best of the bunch can easily cruise past 200,000 miles.
There aren't many of them, but they tend to share a few common characteristics. 
"Sedans, especially from renowned Japanese manufacturers, are often celebrated for their resilience, boasting simple four-cylinder engines, economical replacement parts and minimal severe mechanical problems," said Todd Bialaszewski, a certified master mechanic with over 15 years of experience and the founder of Junk Car Medics. "Over the years, I've observed many of these models smoothly navigating roads even after clocking over 200,000 miles."
All cars on this list — two compacts and three mid-sized models — match Bialaszewski's criteria, start under $28,000 and were built to cruise past the 200,000-mile mark with ease.
Also see red flags to watch out for when buying a used car.
Toyota Corolla
In terms of reliability and affordability, one model stands out above all the rest.
"The Toyota Corolla can go way past 200,000 miles because it's built tough and reliable," said Robert Luterzo, automotive engineer and editor of Automotive Widget. "Toyota uses top-notch materials and intelligent engineering to ensure it's solid from the get-go."
In 2021, Toyota sold its 50 millionth Corolla, making it the best-selling car in history — and for good reason.
Make Your Money Work for You
"It has essential, tried-and-true parts that keep it going strong when you take care of them," said Luterzo. "Also, Toyota is a real stickler about testing, so you know Corollas can handle the long haul; and, if something does need fixing, parts are easy to find. So, if you treat your Corolla right and keep up with maintenance, you can bet it'll hit that 200,000-mile milestone without breaking a sweat."
Honda Civic
The Corolla has proven itself a worthy and reliable commuter car for decades, but its chief competitor shines nearly as bright for many of the same reasons.
"The Honda Civic can go for over 200,000 miles because Honda's engineers build these things to last, using strong stuff that doesn't quit," said Talha Atta, mechanical engineer and editor of AutoGlobes. "Then, there's the easy and cheap maintenance — just keep up with it and your Civic will repay you with more miles. Honda doesn't mess around with quality either, so your ride's tough from the start. And when things need fixing, you won't have trouble finding parts or a good mechanic. Lastly, it's easy on gas, which means less strain on the engine."
Honda Accord
If you love the reliability that defines the Honda brand but have a little more to spend on a mid-size car instead of a compact sedan, you can upgrade without sacrificing the nameplate's legendary dependability.
"The Honda Accord is a prime example of a vehicle that can easily surpass the 200,000-mile mark," said automotive engineer Dragos Videanu from Carphrases.com. "Its solid construction, efficient powertrain and diligent engineering contribute to its longevity. Many Honda Accord owners have shared stories of reaching extraordinary mileage figures with only regular maintenance and minor repairs along the way."
Toyota Camry
Just as the Accord is a bigger version of the Civic, the Camry is Toyota's mid-size alternative to the compact Corolla — and just like its smaller cousin, it has been the best-selling car in its class for more than two decades.
Make Your Money Work for You
"The Toyota Camry has established itself as a dependable sedan capable of going the distance," Videanu said. "With its robust engine and diligent maintenance, many Camry owners have reported driving their vehicles for well over 250,000 miles without significant mechanical issues."
If you treat it right, 250,000 miles might fall well short of its capacity for endurance.
"Just last month I had a customer bring in a 2002 Camry with over 300,000 miles on it," said Hank Treadwell, owner of Tire Care 101. "It's still running like a champ after regular oil changes, tuneups, etc."
Nissan Altima
The third and final automaker on the list also hails from Japan, and its entry is cheaper than both other midsize sedans on the list — and it comes with standard all-wheel drive.
"Nissan Altimas are often cited for their long-lasting engines, offering another affordable option for those aiming for high mileage," said Jeremy Law, a veteran mechanic and founder of Complete Car Comfort.
This model also makes light work of 200,000 miles for those who treat it right.
J.D. Power wrote, "The Nissan Altima is a solid choice if you're looking for a durable and reliable vehicle. It will last you anywhere from 250,000 to 300,000 miles."
More From GOBankingRates
Make Your Money Work for You