Best Car Subscription Services of 2023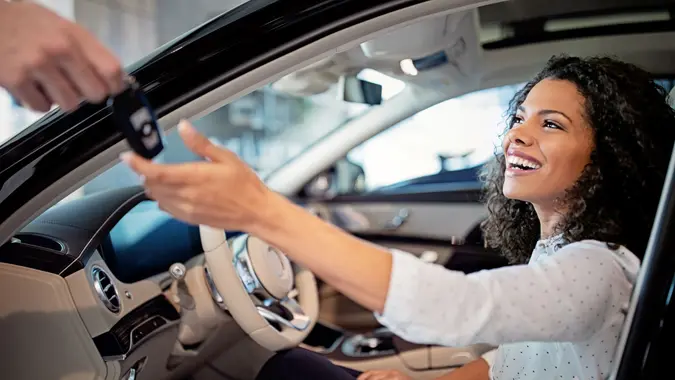 praetorianphoto / Getty Images
You might be wondering: Can I get a car on a subscription? This might sound wild, but the answer is yes.
See: How To Get Cash Back on Your Everyday Purchases
Traditionally, if you wanted a new car, you'd either have to buy or lease it. However, the car subscription service trend has created another option.
Instead of having to choose a vehicle type and be locked in for a certain number of years, many companies offer subscription services that provide the ultimate flexibility. Whether you want to get a car without having a down payment, test drive several vehicles for a prolonged period or simply only need regular access to a car for a limited time, this can be a great option.
The Best Car Subscriptions of 2023
GOBankingRates reviewed several car subscription services to find those that appeared the most promising. Here are four top picks:
Care by Volvo
The cost of a Volvo subscription depends on the model you choose. Right now, three models are available online. These include the XC40 Recharge Ultimate ($1,050 per month), XC Recharge Ultimate ($1,050 per month) and the C40 Recharge Plus ($900 per month).
All vehicles in the Care by Volvo program come with a 24-month subscription, featuring an all-inclusive monthly payment. This includes:
1,250 miles per month
Insurance coverage (not available for New York and California residents)
Factory scheduled maintenance
Excess wear protection
Roadside assistance
Flexible terms
Road hazard tire and wheel protection
Make Your Money Work for You
Do note, taxes and registration fees are not included in the subscription price listed online. Since these prices vary by state, the costs will either be added to your monthly payment or need to be paid separately, depending on the rules specific to your state.
This car subscription is also pretty flexible, as it allows you to cancel or switch your vehicle model any time after the fifth scheduled payment is due without incurring any penalties. At the end of your subscription period, you'll be charged a $450 vehicle turn-in fee, unless you opt to sign a new subscription contract or lease or finance a new Volvo through Volvo Car Financial Service.
Sixt+
If you want a car subscription with flexibility, Sixt+ can deliver. Simply go online, configure your subscription, choose a pickup date — which can be available immediately — and location and complete the booking process.
You'll pick your car up at your nearest Sixt station and drive away with your vehicle. If your needs change, you can use the app to simply swap your vehicle or cancel your subscription. You can also pause your subscription for up to three months.
How much does a car subscription cost? This varies by vehicle type and pickup location.
However, to give you an idea, a Toyota Corolla or similar standard sedan starts at $659 per month, with an enrollment fee from $199. If you're looking for luxury, you can get a BMW X3 from $899 per month, and enrollment fees from $199.
The subscription includes:
Depreciation
Vehicle sales tax
Car registration
Final installment
At least one vehicle change per year
Liability coverage (choose from a variety of options)
Make Your Money Work for You
Finn
Whether you want a really long test drive or aren't sure which type of car you need, Finn can literally deliver a vehicle to your doorstep.
Your Finn subscription includes:
Insurance
Maintenance
Roadside assistance
Free home delivery
No down payment
Approval in minutes
New car every six to 12 months
What cars are available by subscription? Choose from a variety of options, including a Chevrolet Traverse, Chevrolet Silverado 1500, Jeep Wagoneer L, Audi A3 sedan and Nissan Pathfinder.
Prices vary by vehicle and subscription package. For example, a Chevrolet Traverse starts at $609 per month and an Audi A3 sedan starts at $749 per month.
Kyte
Available in 14 U.S. cities, the Kyte car subscription service covers everything but fuel. Simply choose your vehicle and have it delivered to your doorstep.
Prices vary by vehicle type. For example, economy options — i.e., Kia Forte, Nissan Versa, Kia Soul or similar — start at $519 per month, and SUVs — i.e., Jeep Compass, Dodge Durango, GMC Terrain or similar — start at $679 per month.
When it comes to mileage and insurance, you're in the driver's seat. Choose from a few different options designed to fit your needs.
Your Kyte subscription includes:
Registration
Insurance (optional)
Roadside assistance
Maintenance
Protection from depreciation
No long-term commitment
Subscriptions start at one month, with three-month terms available. If you opt for the latter, you can return the car after one or two months without penalty. However, if you choose the six- or 12-month term, you will be charged early termination fees for returning the car before the subscription ends.
Final Take
Buying or leasing a new vehicle is a major commitment. In the past, you had no choice but to take one of these options if you needed a car.
These car subscription services are truly game-changing. While each offers the same basic premise, no two are exactly the same.
If you decide to take this route, carefully review the terms of each car subscription service to ensure you choose the option that best fits your unique needs. The subscription should fit your budget while providing value you couldn't find with a traditional purchase or lease.
Information is accurate as of July 19, 2023.