How To Buy a Car Online: 10 Tips To Save You Time and Money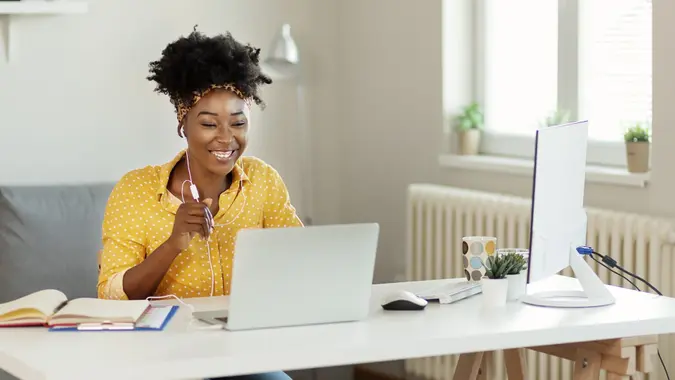 PixelsEffect / Getty Images
Buying a car online might be a little unconventional, but you're ready to try it. Shopping from home is faster, more convenient and makes you less susceptible to sneaky car salesman tactics.
You're already sold on this method, but you don't actually know how to buy a car online. Keep reading to learn how to save time and money by purchasing your next car online.
How To Buy a Car Online: 10 Tips To Know
Here are 10 tips to keep in mind when you are buying a car online.
1. Determine How Much You Want to Spend
As with any major purchase, setting your budget is the first step in buying a car online. There are several factors to consider:
The value of your trade-in — if you have one
Any additional down payment you want to include
Estimated financing terms
The size of your preferred monthly payment
If you're seeking financing, you'll need to speak with a professional, but you can get a general idea by using an online car affordability calculator. For example, the car site Edmunds offers this feature, which even helps you value your trade-in.
2. Check Your Credit Score
Technically speaking, it's possible to get approved for a car loan with a low credit score, but you'll receive better terms if your score is higher. If your credit score isn't good, you'll likely receive a high-interest rate, which can majorly impact your monthly payment.
If you discover that your credit score is lower than you realized, consider waiting a bit to buy a car. In the meantime, work to improve your credit score, so you can qualify for a more favorable rate.
Make Your Money Work for You
Do note, you're entitled to a free copy of your credit report every 12 months from each of the three credit reporting companies — Equifax, Experian and TransUnion.
3. Get Pre-Approved for a Loan
You'll likely be able to obtain financing from the dealership where you purchase your car, but that might not be the best deal. Therefore, it's a good idea to shop around for the most favorable terms and then get preapproved.
Before getting preapproved, review any restrictions on the types of vehicles the lender will finance, to make sure the loan will meet your needs. After obtaining your preapproval letter, you're ready to take it to the dealership and possibly use it to negotiate even better terms.
4. Conduct Research
Chances are, you already have an idea of the type of car you're interested in. If not, start by thinking about the size and type — i.e., sedan, SUV, minivan, truck.
From there, you'll want to find out which vehicles fit your budget. After you've narrowed down the list, you need to research the vehicles to learn about their value.
There are several reputable sites that can help you with this, including Kelley Blue Book, Edmunds and J.D. Power. The latter has a "Best Car Ratings of the Year" section that covers quality, reliability, performance, design and resale value.
5. Decide if You'll Choose New or Used
If you're trying to stick to a budget, a used car can be more affordable. Of course, it won't be fully customizable and may not have the latest features.
Make Your Money Work for You
New cars tend to have fewer mechanical issues and are typically covered by a factory warranty. However, you can choose a certified pre-owned vehicle that is only a few years old and comes with a limited warranty.
Choosing between a new and used car is a very personal decision, so you'll need to weigh the pros and cons most important to you.
6. Seek Out Incentives
Dealerships and manufacturers want you to buy their car, so it's not uncommon for them to offer incentives. These might be low financing, cash rebates and upgrades. Research these and see if any can help make the right car more affordable, but don't let them guide your decision.
7. Check Out Multiple Dealerships
No matter what you're buying, shopping around is always important to ensure you're getting the best price. While the dealership closest to you might have the vehicle you want, another slightly farther away could have a better price on the same thing.
8. Connect With the Internet Sales Manager
When you have a solid idea of the car you want and the dealership you want to pick it up from, it's time to chat with the internet sales manager. Tell them what you're looking for and negotiate the price online.
This will allow you to avoid any awkward face-to-face sales pitches trying to get you to agree to upgrades you don't want and prices you know — from conducting research — are too high.
9. Schedule a Test Drive
Until this point, you've managed to avoid going to the dealership altogether, but you need to test drive the car before making a final decision.
If you're really adamant about avoiding any type of in-person interaction, you might be tempted to buy from companies like Vroom or Carvana. But is buying a car from Vroom safe? The company is legitimate, but has received complaints about delivery delays and other issues, according to ConsumerAffairs. Additionally, when you buy a car from companies like Vroom and Carvana, you don't get a traditional test drive. Instead, you keep the car for a certain number of days or miles, then return it if you're not satisfied.
Something to keep in mind is that shipping charges are typically not refundable. This can make this free trial period very expensive.
10. Purchase Your Car
After covering all the bases, it's time to make a final decision and buy your new car. No doubt, you won't regret the added speed and convenience you afforded yourself by doing most of the work online.
Final Take
Now that you know how to buy a car online, you'll likely never turn back. Your days of spending half a day in a dealership, inadvertently agreeing to higher prices and unnecessary upgrades are a thing of the past.
FAQ
Here are the answers to some of the most frequently asked questions about buying a car.
How do you safely purchase a car online?

There are a few things you should keep in mind when purchasing a car online to avoid being scammed:

Look for deals that are too good to be true.
Make sure you are shopping on a reputable site.
Before exchanging any money, make sure you speak with a sales manager and see the car.

 What is the fastest way to buy a car?

To buy a car quickly, you should conduct research beforehand. Know which features and models you are interested in. You might also consider paying cash for your car. This would lighten up the paperwork and get you driving in no time.

How can you buy a car by yourself?

Here are a few tips for buying a car by yourself:

Determine how much you want to spend
Check your credit score
Get pre-approved for a loan
Conduct research
Decide if you'll choose new or used
Seek out incentives
Check out multiple dealerships
Connect with the internet sales manager
Schedule a test drive
Purchase your car
Our in-house research team and on-site financial experts work together to create content that's accurate, impartial, and up to date. We fact-check every single statistic, quote and fact using trusted primary resources to make sure the information we provide is correct. You can learn more about GOBankingRates' processes and standards in our editorial policy.