Carvana vs. CarMax: Who's Better for Buying and Selling Used Cars?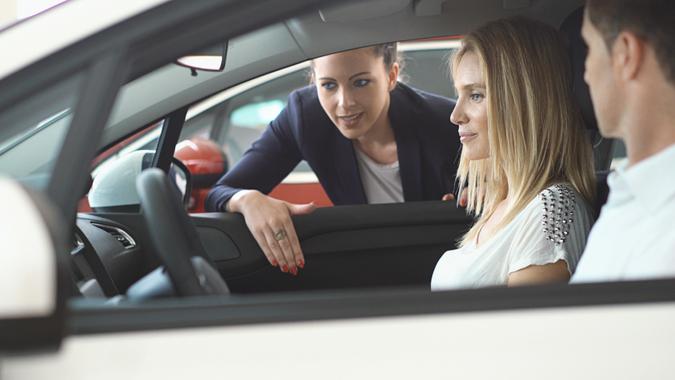 gilaxia / Getty Images
Thanks to the presence of online car marketplaces, buying or selling used cars is not the hassle it used to be. Two platforms, namely CarMax and Carvana, stand out due to their ease of use and impeccable customer support.
In this Carvana vs. CarMax comparison guide, we will discuss how these platforms compare with each other.
Get Started: Make a Debt-Free Future Your Reality
More: 17 Hidden Auto Costs Your Dealer Will Never Tell You About
How Does CarMax Work?
CarMax works on a no-haggle policy, allowing people to buy and sell their cars without having to spend much time and effort. Not everyone is cut out to spend hours at a car dealership negotiating prices.
Currently, CarMax has 229 locations across the U.S. where you can find your next dream car, irrespective of the model, make or year you have in mind.
Trading or selling your car through CarMax is a three-step process. First, you get an offer from CarMax, which the company promises will only take two minutes. Then, you make an appointment. You can either receive your car's value in cash or browse your options if you want to trade your car for a new one.
Make Your Money Work for You
Finally, go to your nearest CarMax dealership to complete the deal. CarMax can pay cash for your car on the day of your appointment, or you can take seven days to compare your options and choose a vehicle from their website.
As for shopping, you can find a car by type, price or brand. CarMax boasts a wide selection of vehicles, ensuring that every buyer has an option that meets their needs. Even better, you can also find cars in person at a CarMax location local to you.
Pros
Straightforward interface
No-haggle buying
Wide variety of makes and models
7-day return policy
In-house financing options
Cons
Lower offers on sales and trade-ins compared to private sales
Shipping fees in some cases, if you choose a car that must be shipped to a CarMax near you as well as home delivery
Higher prices than other places since CarMax has physical locations and overhead costs
Make Your Money Work for You
Read: 28 Tips for Negotiating With Car Dealers
How Does Carvana Work?
Just like CarMax, Carvana also helps you avoid the hassle of buying your next vehicle from a dealership. Since Carvana has a website, you do not have to visit any of their branches. Everything from the selection to the purchase of the car is done online.
Once you have chosen a car and paid for it, Carvana delivers it to your doorstep. After your purchase, you have seven days to check the vehicle and return it if you are not satisfied.
According to Carvana's press release, the company has over 20,000 vehicles on its website, giving buyers a wide range of options. If you want to sell your car, Carvana will provide you with an online offer in just a few minutes. Once you have accepted the offer, someone from the company will be sent to your doorstep to inspect the vehicle.
If your car passes the inspection process, Carvana will offer cash for the car or trade-in value for a new car.
Make Your Money Work for You
Pros
Straightforward interface for buying or selling cars
No overhead costs since the company does not rely exclusively on physical locations
All-online process
7-day return policy
Cons
Cannot test drive the car before buying it
Prices are still higher than private purchases
Lower offers for sellers than private purchases
Tricks and Tips: 25 Sneaky Car Dealership Tricks To Avoid at All Costs
Similarities Between Carvana and CarMax
The trading, buying and selling processes between the companies are very similar, but Carvana is an almost entirely online experience. As for both companies' search functions, you can narrow down your choices using the following parameters:
Price
Body type
Mileage
Year
Features
Year
Also, either company may charge you a fee if they have to deliver the car to your address. In the case of selling, you can get information and offers from either website in just a few minutes.
Good To Know

Another similarity between Carvana and CarMax is that you're likely to get a lower offer than in a private sale. The buying price will also be higher since CarMax has to pay overhead costs. Although Carvana does not have these costs, they still have to include the website operation and vehicle inspection costs in their vehicles' prices.
Carvana vs. CarMax: The Differences
Here are some of the biggest differences between CarMax and Carvana.
Physical Locations
The significant difference between the two platforms is that CarMax has physical locations across the country. You can go to a local CarMax close to you and look for the perfect car in person. Likewise, you can test drive cars.
But having physical locations means CarMax also deals with higher overhead costs, which translate to you paying a higher price for your car.
On the other hand, Carvana's process is mainly online, and the lack of overhead costs means you get better rates. Carvana does offer Vehicle Vending Machines in several cities across the U.S., however, if you would prefer to pick up your car in person.
New Auto: 25 Freebies To Ask For When Buying a New Car
Find Out: 30 Cars Worth Splurging On
Selling Process
Another difference between CarMax and Carvana is in their selling process. CarMax tells you to bring your car to a physical location for inspection. Once they inspect your vehicle and make sure it is up to their standards, they will purchase it from you.
Meanwhile, when you want to sell your car on Carvana, they give you an offer on the spot. After that, they send someone to inspect your vehicle. If your vehicle is up to the mark, they will give you a check right then.
Which Is Better: Carvana or CarMax?
Carvana is a better option if you look for convenience and ease of use in your purchases and trades. On the other hand, CarMax is ideal for people who want to test drive the car beforehand and who do not mind going to their nearest CarMax location to do it.
But at the end of the day, both platforms are no-haggle and no-pressure, making it simpler, faster and less stressful for you to buy or sell your car than a dealership or private transactor ever could.
More From GOBankingRates
Make Your Money Work for You