Can You Negotiate With CarMax? Tips for Getting the Best Deal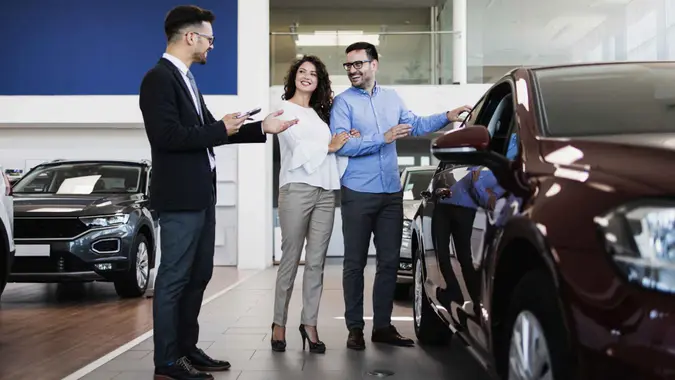 DuxX / Getty Images/iStockphoto
When it comes to buying a used car, the negotiation process can often be the most daunting part. With platforms like CarMax revolutionizing the car-buying experience, one might wonder, "Can you negotiate with CarMax?" Keep reading to find out.
Can You Negotiate With CarMax?
CarMax prides itself on a transparent pricing model, meaning the price you see is the price you pay. This approach eliminates the often uncomfortable and time-consuming negotiation process associated with traditional car buying.
This no-haggle policy is designed to take the stress and guesswork out of car buying, offering a fixed price that's the same for everyone. However, not negotiating doesn't mean you can't get a great deal at CarMax.
Tips for Getting the Best Deal at CarMax
While negotiating prices at CarMax isn't an option, there are still strategies to ensure you get the best value for your purchase. Here are some tips to guide you in making an informed and cost-effective decision when buying a car from CarMax.
1. Research Is Key
Knowing the market value of the car you're interested in is crucial. Use online tools to compare CarMax's prices with other dealerships and private sellers. This information can help you assess the fairness of CarMax's price.
2. Inspect the Vehicle Thoroughly
While CarMax cars undergo a detailed inspection, doing your own due diligence is important. Check the car's condition and ensure it meets your standards.
Make Your Money Work for You
3. Consider the Warranty and Return Policy
CarMax offers a 30-day/1,500-mile return policy, giving you a cushion if you're not completely satisfied. Additionally, they provide various warranty options, which can add value to your purchase.
4. Evaluate Trade-In Offers
If you're trading in a car, get an appraisal from CarMax and compare it with other offers. Sometimes, the convenience of CarMax's process can outweigh a slightly lower offer compared to the private market.
5. Look for Financing Options
CarMax offers in-house financing, but it's always wise to compare with other financing sources. A lower interest rate from another lender can make your overall purchase more economical.
6. Timing Can Be Everything
While CarMax's prices are fixed, their inventory changes regularly. Sometimes waiting or being flexible with your choice can lead to finding a better deal.
Final Take
While CarMax's policy does not allow for negotiation on car prices, savvy shoppers can still navigate their way to a satisfying deal. By thoroughly researching, understanding CarMax's offerings and weighing your financing options, you can drive off the lot knowing you made a smart, informed decision.
FAQ
Here are the answers to some of the most frequently asked questions regarding CarMax.
Can you negotiate a CarMax offer?

No, CarMax operates on a strict no-haggle policy. The price listed is the final price, and it's non-negotiable. This approach aims to simplify the buying process and offer transparent, fair pricing for all customers.

Does CarMax really give you the offer?

Yes, the offer you see for a vehicle at CarMax is genuine. They provide an upfront, non-negotiable price for each car, which is based on a thorough appraisal of its market value and condition. This price is consistent across all customers, ensuring fairness and transparency.

Is CarMax really haggle-free?

CarMax is well-known for its haggle-free, no-negotiation approach to car sales. The price displayed is the final price you pay, eliminating the traditional back-and-forth bargaining often associated with car buying.

Is Carvana better than CarMax?

Whether Carvana is better than CarMax depends on individual preferences and needs.

Carvana offers an entirely online car buying and selling experience, with no physical dealerships, which can be appealing for those seeking convenience and an all-digital process.
CarMax, on the other hand, offers a hybrid model with both online and in-store experiences.

The choice between Carvana and CarMax ultimately depends on whether you prefer an all-online experience or the option to visit a physical location.
Make Your Money Work for You
Editor's note: This article was produced via automated technology and then fine-tuned and verified for accuracy by a member of GOBankingRates' editorial team.