Is Carvana Going Out of Business?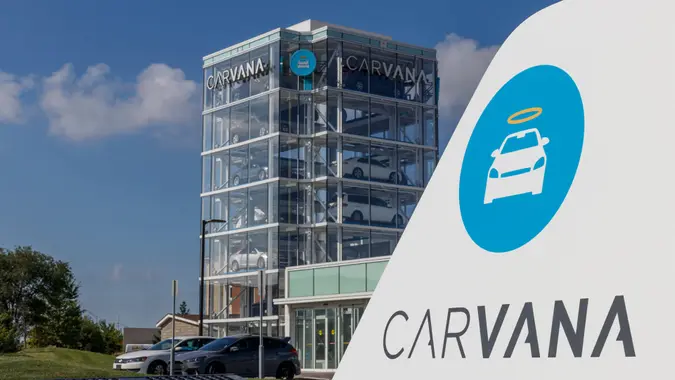 Jonathan Weiss / Shutterstock.com
While Carvana's stock had a recent surge, many analysts are not convinced that the company's troubles are behind them. With revenue growth down and challenges ahead, many believe that Carvana may not be a good long-term investment. So what does the company's future look like? Could a potential Carvana bankruptcy offer unexpected benefits to consumers?
What Is Carvana?
Many investors and consumers were intrigued by Carvana's innovative approach to car sales. The company eliminated much of the overhead of a car dealership by moving most of the purchase process online.
Customers can find a used or new car on the Carvana website and purchase them using cash or Carvana's in-house financing. Carvana will also accept some third-party financing options.
All cars sold by Carvana are guaranteed to have passed a 150-point inspection and have a clean title. Carvana states that the vehicles it sells have not had any reported accidents. 
If customers live in an area where Carvana operates, they can get their car delivered right to their door. Carvana also has several car "vending machines" — glass and steel towers with vehicles stacked on top of one another on moving platforms. When a customer purchases a car from one of these towers online, they will receive a coin they can use to retrieve it at the vending machine.
Is Carvana Going Out of Business?

As of June 2023, Carvana is not going out of business, nor has it shown any intention of filing for bankruptcy. The company's stock has recently surged, primarily attributed to better-than-expected earnings for Q2 of 2023.
Make Your Money Work Better for You
Carvana's Financial Crises
Carvana experienced a massive drop in its stock price in August 2021, falling over 90% from an all-time high of $360.98. The stock continued to decline, reaching as low as $3.83 in December 2022. So what caused this rapid decline, and what does it mean for Carvana's future?
Carvana's stock price decline can be attributed to a combination of factors. Firstly, Carvana, like many other companies, faced a turbulent macroeconomic environment. The company first experienced rapid growth in 2020. The global supply chain was severely impacted due to the pandemic, and the automotive industry was not spared. A shortage of semiconductor chips affected the production of new vehicles, raising the prices of used cars significantly.
This was great for Carvana at the time since higher prices on used cars meant higher revenue. However, when prices began to fall, the company found itself with a large inventory of vehicles they had to sell, sometimes for less than they bought them for.
Carvana's financial position was also exacerbated by its high debt levels. As revenues began to decline and interest rates began to rise, servicing this debt became increasingly challenging. The company's credit rating was downgraded, making it difficult to raise additional capital through debt. With a deflated stock price, raising capital through equity also became less attractive.
Is Carvana at Risk of Bankruptcy?
While the company has experienced a rough couple of years, and there was significant speculation about a possible bankruptcy in 2022, the company seems to be attempting to pull through and recover. They are primarily attempting to do this through a cost-cutting initiative.
Make Your Money Work Better for You
Carvana recently announced that their earnings for Q2 of 2023 will surpass their previous estimates. This information caused a rally in the market, with Carvana stock jumping over 56%.
Whether this is a short-term rally or the beginning of a longer upward trend remains to be seen.
What Would a Carvana Bankruptcy Mean for Consumers?

If Carvana was ever forced to liquidate its store of used cars, it could significantly affect used car prices.

Since used vehicle retailers like Carvana or Carmax have a large inventory, a sudden sale would flood the used car market and could drive prices down. Therefore a Carvana bankruptcy could have unintended positive consequences for Americans looking to buy used vehicles. However, it is difficult to tell what the future holds for Carvana, and it's probably not a good idea to wait for a possible Carvana liquidation before buying a car if you currently need one.
Should You Buy Carvana Stock?
While Carvana stock has had a recent surge, it is still far below the prices of 2020 and 2021. Many analysts are wary of Carvana. Kerrisdale Capital, for example, has announced that they will be shorting Carvana stock. Their decision is partially based on the fact that Carvana has loan payments of $250 million due in Q4 of 2023, the quarter in which historically they've had their worst sales.
It can be difficult to say whether it's a good or bad time to buy Carvana stock. Selling Carvana short may not be a good solution for regular investors either. Short selling can lose you more money than you put in if the stock surges, and recent spikes have shown that you cannot count on Carvana's price to fall forever.
Make Your Money Work Better for You
Final Take
While Carvana has been struggling since the pandemic, it can be difficult to predict the future of the company. Some analysts predict difficult times for them in the fourth quarter of 2023. If you are looking to buy a used car around that time, a Carvana liquidation could significantly reduce used car prices.
FAQ
Here are the answers to some of the most frequently asked questions regarding Carvana.
Will Carvana survive?

Opinions are mixed on Carvana's future. The stock is still more than 90% down from its all-time high but has rallied recently. The future of Carvana may depend on how well its leadership can tackle the financial issues they are facing and make its debt payments.

Is Carvana operating at a loss?

While Carvana reported negative earnings in Q1 of 2022 and Q1 of 2023, earnings reports for Q2 of 2023 show a positive number. This indicates that the company is no longer operating at a loss.
Information is accurate as of June 19, 2023. 
Editorial Note: This content is not provided by any entity covered in this article. Any opinions, analyses, reviews, ratings or recommendations expressed in this article are those of the author alone and have not been reviewed, approved or otherwise endorsed by any entity named in this article.
Our in-house research team and on-site financial experts work together to create content that's accurate, impartial, and up to date. We fact-check every single statistic, quote and fact using trusted primary resources to make sure the information we provide is correct. You can learn more about GOBankingRates' processes and standards in our editorial policy.