In the Market for a Used Car? Consider Holding Out a Little Longer as Prices Drop for Sixth Straight Month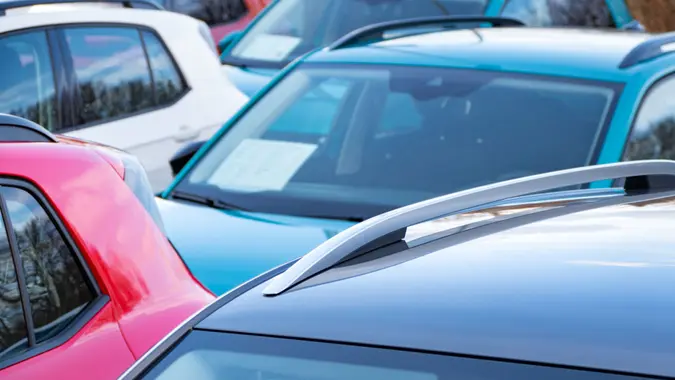 deepblue4you / Getty Images/iStockphoto
If you're in the market for a used car, here's the good news: Prices for used vehicles sank 8.8% in December 2022, according to the latest consumer price index reading. That was the biggest 12-month drop since June 2009, CNN reported.
See: 4 Reasons You Should Cancel Amazon Prime
Read: 3 Ways Smart People Save Money When Filing Their Taxes
Find: How 2023 Recession Will Differ From 2008 and How You Should Prepare Differently
Here's the even better news: Used car prices still have a long way to tumble before they reach bottom — which means if you can wait a few months (or longer) before buying one, you will likely do yourself a financial favor.
A new analysis from car-shopping app CoPilot found that used cars were listed at an average price of $30,899 in December, which marked the sixth straight month of declining prices. The average used car had a price premium of $7,146, or 30.1% above projected normal levels. That represented a 7% dip from the prior month's premium of $7,724, or 32% above projected normal levels.
Make Your Money Work for You
Overall, the average used car price premium has fallen by 20% since January 2022. And according to the CoPilot report, prices "still have a long way to fall" before they return to industry norms. At the current rate of price decreases, CoPilot projects that it will be 10 or 11 months before prices return to normal.
The main reason used car prices are falling so swiftly now — and are expected to keep falling in the months ahead — is that they are coming off historic highs. Demand in the used car market soared during the COVID-19 pandemic because supply chain issues slowed the production of new vehicles, CNBC reported. This forced many buyers to shop for used cars, driving prices higher.
But with supply chain issues easing over the past couple of years, the production of new cars has increased, leading to higher inventories. Consumers now have the option of buying new rather than used cars, which has bolstered the supply of used vehicles and contributed to price declines.
Take Our Poll: How Do You Think the Economy Will Perform in 2023?
Used Car Market: Who Are the Biggest Winners and Losers as Prices Drop?
Waiting for those prices to sink even further before buying a used car has an advantage beyond just getting a better deal on the upfront price. It also means you will probably get a better deal on the financing. As CNBC noted, the average interest rate on a used car loan is currently 10.25%, up from 7.4% a year ago. The expected easing of interest rate hikes by the Federal Reserve this year means auto loan rates will also go down.
Make Your Money Work for You
More From GOBankingRates
Make Your Money Work for You