6 Tips to Get the Lowest Car Payment
Getting finances in shape and shopping around can help you get the lowest monthly auto loan payment.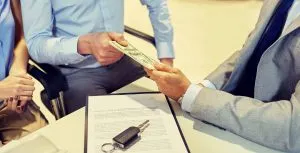 If you want a new set of wheels but don't have enough cash to buy a vehicle outright, you need to finance your purchase. Finding the right financing is a critical part of the shopping process for more than 85 percent of car buyers, according to Experian, one of the nation's top three credit reporting bureaus.
When you finance a car, you pay the seller a down payment and take out a loan for the balance. The monthly payment for your auto loan will be a fixed amount for several years, depending on the length of the term. You can use an auto loan calculator to determine the amount of your monthly payment based on the loan amount, interest rate and term. Then, look at these six helpful tips to minimize your car loan payments.
Related: How You Can Lower Your Car Costs
1. Check Your Credit Score
Check your credit report at AnnualCreditReport.com and get your FICO score before you apply for financing. Your options for auto loans depend heavily on your credit worthiness: The better your credit, the more likely you will find loans with favorable terms.
Make Your Money Work for You
If your credit score is not up to par, consider taking some time to improve your credit before you buy a car.
2. Shop Around for a Loan
You can apply for a loan online or at your bank or credit union. Make sure each lender clearly discloses the loan amount, interest rate, length of the term and total cost.
You might also get auto financing at the dealership when you buy a car, but chances are it will be more expensive. Car buyers who finance their loans at dealers pay more than $25.8 billion in additional hidden interest over the term of their loans, according to the Center for Responsible Lending.
3. Find the Lowest Interest Rate
When you evaluate loan offers, it is tempting to focus on the monthly payment amount. Instead, look for the lowest interest rate.
A lender might try to push you into signing an auto loan with a long term that looks like a better deal because the monthly payments are low. However, it is easy to manipulate the monthly numbers and make them look good when in reality, you are likely paying more in the long run.
Make Your Money Work for You
4.  Get Preapproved Before You Shop
The Consumer Financial Protection Bureau suggests getting at least one preapproved loan offer before you walk into the dealer's salesroom. That way, you will be more likely to stay within your budget while shopping because you will know exactly how much of an auto loan you can count on to finance the purchase. Having this knowledge reduces your risk of being seduced by a slick dealer who tries to get you to spend more on a car.
Remember, even if you already have one loan in hand, that does not preclude the possibility that the dealer might negotiate a better financing option. Ultimately, you choose which loan offer to accept.
5. Automate Your Car Payments
When shopping for an auto loan, ask the prospective lender if it offers a discount on your auto loan interest rate if you set up automatic payments for your monthly car loan payments.
Make Your Money Work for You
Another bonus of automatic bill payment is that — provided you have the funds in your account — you can rest assured that your payment will be made on time.
6. Refinance Your Car Loan
If your car payments take too big a chunk out of your budget, try to refinance your loan with your current lender or with a new lender. You can save money if a lender offers a lower interest rate.
Your chances for approval and good loan terms are better if you have improved your credit significantly since you applied for the original car loan.