Are $1,000 Car Payments Becoming the New Norm?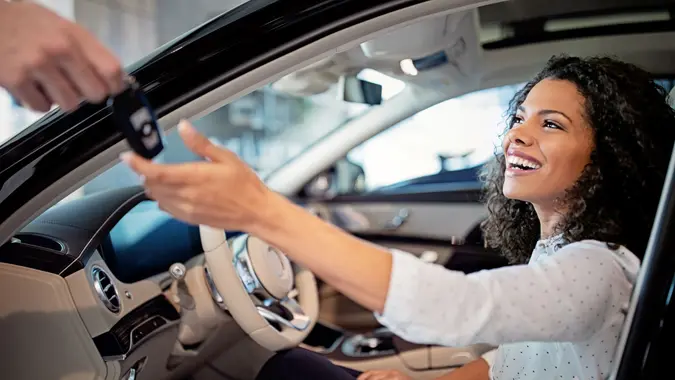 praetorianphoto / Getty Images
Americans who think a $1,000 mortgage payment is high might be amazed to see where average car payments have gone in the United States. The number of U.S. consumers who are paying at least $1,000 a month on car loans hit a new record during the 2023 second quarter amid a rise in both auto loan rates and vehicle prices.
More than 17% of consumers who financed a new vehicle in Q2 2023 committed to a monthly payment of $1,000 or more, according to a new report from Edmunds. That's the highest percentage ever and is up from 16.8% in Q1 2023 and 4.3% in Q2 2019.
Average monthly payments also reached a new record high of $733 in Q2, up from $730 the previous quarter and $678 during Q2 last year.
The average annual percentage rate (APR) on new financed vehicles rose to 7.1% during the 2023 second quarter from 7.0% the previous quarter and 5.0% the previous year.
Interest rates aren't the only rising costs car buyers face, either. The average price paid for a new car in June was $48,808, Kelley Blue Book reported. While that's higher than the previous month, the good news is that prices do appear to be stabilizing as new car inventory supply picks up.
"The double whammy of relentlessly high vehicle pricing and daunting borrowing costs is presenting significant challenges for shoppers in today's car market," said Ivan Drury, Edmunds' director of insights, in a press release. "The Federal Reserve's recent pause in interest rate hikes unfortunately didn't offer much relief for consumers, and hints at further raises later this year mean auto loan rates could even continue to increase."
Make Your Money Work for You
If you are paying an astronomical APR on a recent car purchase, you don't necessarily have to be stuck with the loan forever. One option is to refinance your car loan when interest rates go back down again. If you choose this route, you'll likely have to go with a new lender, according to Experian.
Among the things you'll want to do before considering a refinance at a future date are the following:
Double-check the terms of your current loan to see if there's a fee for paying it off earlier than agreed.
Clean up your credit to achieve the highest score possible, which will also ensure the best possible terms on a refinance.
Check with lenders to see if they charge an origination fee to refinance.
Make sure the length of the repayment period is not longer than your current loan period. If that's the case, then it might not be worth it, because you could end up paying more in interest that you do with your current loan.
Gather documents you might need for the new loan, such as your driver's license, vehicle registration, proof of insurance, proof of income, proof of residence and 10-day payoff statement.
You should also look into several refinance options from different lenders to find the one that offers the best terms.
Gabrielle Olya contributed to the reporting for this article.
More From GOBankingRates