4 Best Ways To Get a Free VIN Check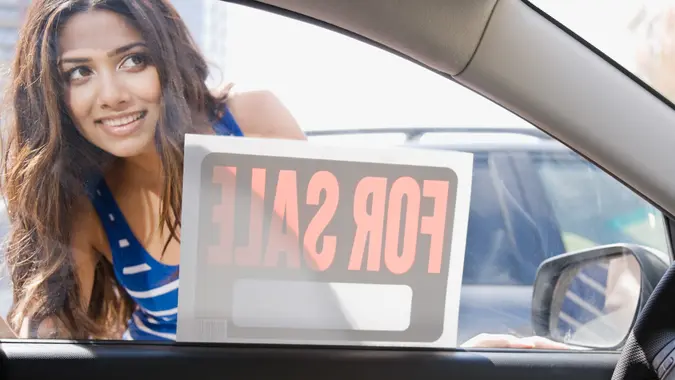 JGI/Jamie Grill / Getty Images
If you're in the market for buying a used car, heed this advice: Never, ever purchase one until you know its full history. To find that information, all you have to do is look up the car's vehicle identification number, or VIN. If you're not working with a dealership that could provide free access to paid VIN check sites, you can still get the information for free.
See: This Credit Score Mistake Could Be Costing Millions of Americans
But you probably have a number of questions, such as the following:
Are there any real free VIN checks?
Which VIN checker is the best?
Is there anything like Carfax but free? 
You've come to the right place for answers. Keep reading to find out all you need to know regarding checking a car's VIN for free.
Why Is Checking a VIN on a Used Car Important?
When you're buying a used car, there are a lot of things that can go wrong. For instance, in the case of buying from an individual, it could be a scam. Or the vehicle might be stolen. Or it might not have a clean title.
Make Your Money Work for You
You can find out information about all of these scenarios by doing a VIN check, which will reveal vital information about the car you're about to make your own.
Where Can I Find My VIN?
Wondering where you can locate your VIN? There are a few different places it's available. It's listed on your vehicle title and registration, your insurance card and your insurance policy. You might also find it stamped on your engine's firewall or on the dashboard near the windshield on the driver's side of the car, or on a plate or sticker located on the driver's side door jamb. 
What Are the Best Free VIN Check Sites?
Now that you know where to find your VIN, use the following four resources to get your free check today.
1. National Insurance Crime Bureau
NICB's VINCheck alerts you if a car has a record of an insurance theft claim (and it hasn't been recovered) or if it has been reported as salvaged, meaning the title is not clean.
When you visit the site, all you need to do to get started is enter the VIN; just agree to the terms and conditions of use, verify you're not a robot and click on "Search VIN." NICB allows you to conduct five searches within a 24-hour period.
Make Your Money Work for You
2. iSeeCars
If you want to make an informed decision about purchasing a vehicle, use iSeeCars' free VIN decoder. The website notes that you'll get a comprehensive report that includes up to 200 pieces of data, including:
Pricing: This gives you an estimate of the fair value of the vehicle based on the local market.
Selling history: You'll get records of when the car was previously sold. 
Condition: This report shows the mileage, along with the vehicle's other pros and cons.
Best time to buy: This analyzes which months might enable you to get a better price. 
Theft record: This shows whether the car has been reported as stolen on the NICB database.
Recall check: You'll get a record of past recalls and any open ones that haven't been resolved.  
Title/lien info: Depending on the state DMV, you may get title and lien information on the vehicle. 
Dealer scorecard: This evaluates dealers' pricing, transparency and responsiveness.
Depreciation: You'll get an estimate of the car's depreciation over time spans of one year, three years and five years.
Supply analysis: This alerts you to the number of similar cars that are available for sale in the local area.
To use the site, all you have to do is add your VIN in the field that reads "Enter a VIN" and click on "Analyze."
3. Carfax
Although a comprehensive VIN check from Carfax requires a fee, you can still snag free information on some issues regarding used cars. These include airbag issues, open recalls, flood damage and odometer fraud, which is all valuable safety information. The free used car report also shows the vehicle's service and owner history and number of accidents.
Make Your Money Work for You
4. Vehicle History
The Vehicle History website notes that it uses industry and government sources to give you an overview of the car's specifications, equipment details, current condition and past issues, plus its safety rating, market value and fuel efficiency. You'll also get auto insurance information, title verification, information on recalls and defects and an inspection checklist.  
To use the tool to get a free VIN check report, just enter your VIN and hit "Search."
Bottom Line
A VIN check is your first line of defense when you're buying a vehicle. You can find out key information about the vehicle, such as whether its title is clean or if it's salvaged, if it's been in an accident and if it's been stolen.
It takes only a few minutes of your time, and not only can it be free, but it can also provide you with long-term peace of mind. As far as car purchasing goes, it's the cheapest insurance you can get.
Make Your Money Work for You