10 Best Free VIN Check Sites To Use Before Buying a Car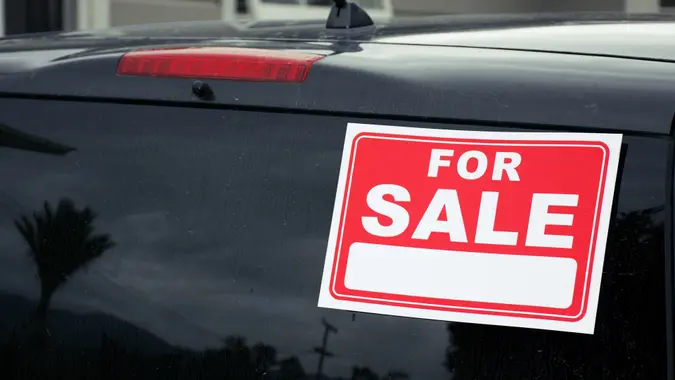 LazingBee / iStock.com
If you're in the market for buying a used car, heed this advice: never purchase one until you know its full history. To find that information, all you have to do is look up the car's vehicle identification number, or VIN. Even if you aren't working with a dealership that offers free access to paid VIN check sites, you can still access this crucial information free of charge.
10 Best Free VIN Check Sites 
Here is a quick look at ten of the best free VIN check sites.
While there are many options to consider when researching a vehicle's history, these ten VIN check websites can help you compile the necessary data to make an informed choice when purchasing a vehicle. Keep reading to learn more about each one.
1. National Insurance Crime Bureau
Best for: Criminal vehicle history
The National Insurance Crime Bureau VIN check tool provides details about the criminal past of a vehicle and its eligibility for sale. The tool tells you if anyone reported the vehicle stolen in the past or if insurance companies have listed it as a total loss.
Pros
Allows up to five searches per day
Search by uploading photo of VIN
Cons
Doesn't query law-enforcement records
Only includes records from participating insurers
Make Your Money Work for You
2. iSeeCars
Best for: Free comprehensive information
iSeeCars offers some of the most comprehensive vehicle information you'll find on a free VIN check website. The website estimates how many miles are on the odometer, how long it takes to sell and its value, and it provides information about any recalls, title liens and accidents. The website even tells you the best months to buy the type of car you're researching. 
Pros
Excellent research tools
VIN reports include vehicle specs
Cons
May provide more information than buyer needs
Free reports limited to five per month
3. CARFAX
Best for: Mobile users
CARFAX is one of the most well-known VIN check providers. It's among the best options for checking information before buying a car because of its intuitive mobile app. You can check for open recalls, odometer fraud and flood and airbag issues on the site or mobile app for free. You can also access more comprehensive data by upgrading to a paid CARFAX report.
Pros
Shopping and maintenance tools
Tool for sellers to get cash offers from dealers
Extensive database
Cons
Full reports cost $20 to $44.99 each, depending on number ordered
4. Vehicle History
Best for: Sales data
Vehicle History offers a free comprehensive VIN check. You can find out about everything from recalls to accidents and more, but where the service really shines is in its sales data. It doesn't just tell you how many times the vehicle has sold in the past — it shows you the most recent picture available for that specific vehicle. These are often pictures of how the vehicle looked during the last sale. 
Pros
Easy to use
Includes vehicle reviews
Cons
Photos may not reflect car's current condition
Fewer bells and whistles than other sites
Make Your Money Work for You
5. VinFreeCheck
Best for: Basic information
If you're just searching for basic information like vehicle specifications, the manufacturing location or the year, make and model of a vehicle, you're in luck. All of this information is available for free at VinFreeCheck. Keep in mind, however, you'll need to pay a fee if you'd like more detailed information.
Pros
Free reports
Look up by license plate instead of VIN
Cons
Accident history not included in free report
6. AutoCheck
Best for: Vehicle comparisons
AutoCheck only offers very basic information about vehicles for free. This includes the year, make, model and manufacturing country. However, if you're comparing your options, you might want to pay for the service, as it makes it easy to compare features and pricing side by side.
Pros
Two plans to choose from
Buyback Protection free with purchase or receipt of report
Cons
7. EpicVIN
Best for: Dealers purchasing cars
EpicVIN is a compelling option for dealers because it offers important data free of charge. This includes how many times owners have sold the vehicle, whether it's been in any accidents and whether someone has tampered with the odometer. Pricing is fair, too. Dealers can get packages of 16 reports for $5.40 per report. 
Pros
Low prices
Dealer marketing solutions for additional fee
Cons
8. autoDNA
Best for: Overall vehicle scores
AutoDNA doesn't offer much information for free when you use the platform to check a VIN. You'll find basic vehicle information like the year, make and model, but the unique benefit of this service is its overall vehicle score. It sources satisfaction data from vehicle owners to create a score out of five stars that estimates how satisfied you'll be with your purchase. 
Make Your Money Work for You
Pros
Uses U.S., Canadian and European data sources
Comprehensive reports
Cons
Lacks the extras other sites provide
9. VinPit
Best for: Used car buyers
If you're buying a used car, you want important information about the vehicle's history like accidents, insurance, recalls and ownership. Any more detailed information is usually unnecessary and may end up just convoluting the process. VinPit's VIN check gives you just the information you need: a simple view of the factors that likely matter most to you when buying a used vehicle. 
Pros
Free reports
User-friendly interface
Cons
10. ClearVin
Best for: Comprehensive information for a fee
ClearVin doesn't offer many features for free. You'll only find a vehicle's year, make, model and manufacturing country. However, it makes up for its lack of freebies by offering more information in its reports. For example, reports include lien and impound records, auction sales history and Black Book values not found in competitors' reports.
Pros
Comprehensive reports
ClearVin car ratings
Cons
Prices not disclosed until you generate preview page of report
Final Take
If you're buying a used car, you shouldn't go into the sale blind. Consider using multiple free VIN check services to make sure you get a quality car at a fair price. 
FAQ
If you've never used a free VIN check website, chances are you have a few questions. Find answers to the most common questions about these websites below.
Are there any real free VIN check sites?

The VIN check services from the National Insurance Crime Bureau, iSeeCars and Vehicle History offer comprehensive information for free. However, the vast majority of VIN check websites only offer limited data for free.

Is there anything like CARFAX but for free?

The best option for the most comprehensive free VIN check is iSeeCars. The company offers just about all the data you'd get from a paid CARFAX report absolutely free of charge.

What is the best VIN checker?

The best VIN checker to use largely depends on why you're using it. If you're looking for historical crime data associated with the vehicle, the National Insurance Crime Bureau is the way to go. On the other hand, iSeeCars is the best option if you're looking for comprehensive vehicle information.

Is it worth it to pay for a VIN check?

In most cases, the information you can get for free by using a mix of the free options above is sufficient when you're purchasing a vehicle.
However, if you want more peace of mind in your purchase or don't want to hop from site to site to find the information you're looking for, you may want to consider paying for a vehicle report.
Make Your Money Work for You
Barri Segal and Joshua Rodriguez contributed to the reporting for this article.
Information is accurate as of April 26, 2023.