10 Places To Get Free Air for Your Tires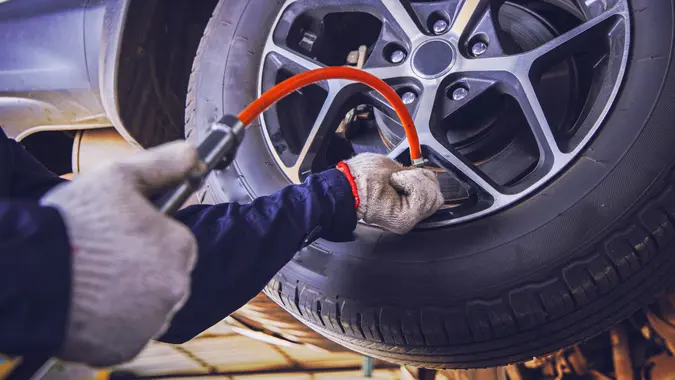 venusvi / Getty Images/iStockphoto
With gas prices so high,  drivers need every break they can get. Trying to find every opportunity for savings out there has many consumers asking where they can put air in their tires, as vehicles with underinflated tires consume more fuel.
There are plenty of ways to find the perfect source of free tire air near you. Here's what you need to know so you can find the most convenient option for you.
Are Air Pumps at Gas Stations Free?
Finding a gas station that provides free tire air can be a challenge, as many locations now opt for coin-activated machines. However, there are a few places where drivers can expect complimentary air from their local gas station.
California law requires gas stations to provide free compressed air to paying customers. Not only that, but the law also requires service stations to provide free water — for automotive purposes —  to anyone who purchases fuel. This law applies to all service stations in the state and helps ensure motorists don't get stranded just because they don't have change for the machine.
Connecticut has a similar regulation that requires gas stations to provide free access to air pumps during regular business hours, though unlike in California, a motorist does not have to be a paying customer to receive the free service.
For those residing outside of California and Connecticut, motorists can find free tire air even without state laws. Read on to learn about options that are available.
Make Your Money Work for You
Free Tire Air Near Me
To locate places near you that offer free air for tires, use the map below to get started.
Where Can You Put Air in Your Tires for Free?
Here are 10 places that offer free air to anyone looking to inflate their tires.
1. Discount Tire
Discount Tire is the largest independent tire and wheel retailer in the U.S. The company has over 1,000 locations spread across 35 states, providing quality auto care from expert technicians.
Discount Tire offers a wide range of services, including tire and wheel installation. Any motorist can pull up to a Discount Tire establishment to check their air pressure and top it up without having to make a purchase. Discount Tire can also assist with tire pressure monitoring system sensors if they're malfunctioning.
2. Costco
Costco is a massive membership warehouse club that operates in eight countries and provides a wide range of quality products, including groceries and clothing. The company is also a major tire shop, offering sales and installation of a variety of brands at great prices.
Costco members can get free air at Costco. Plus, Costco offers nitrogen instead of compressed air so tires can better retain pressure over time.
3. Firestone Complete Auto Care
Firestone is a major tire manufacturer that has made many innovations in consumer tires and has also been at the forefront of cutting-edge racing tires. In addition to tire design and manufacturing, Firestone operates over 1,700 Firestone Complete Auto Care locations, which provide a complete range of auto care services.
Make Your Money Work for You
Included in these services are free checkups that include complimentary tire inflation, tread inspection, air filter inspection, alignment checks and more.
4. QuickChek
QuickChek is a regional gas station and convenience store serving New York and New Jersey. The company currently has over 150 locations and continues to expand. QuickChek provides a wide range of products and services, including fuel, food, EV charging and more.
For motorists in New York and New Jersey looking for free tire air nearby, QuickChek offers complimentary compressed air at all of its locations. Drivers can also take advantage of free vacuums and Wi-Fi during their next QuickChek visit.
5. Hy-Vee
Hy-Vee is a Midwestern supermarket with over 280 locations. Hy-Vee has a wide range of departments at its locations, including many fresh prepared food options and integrated Starbucks locations. Many of its locations feature adjoining gas stations where motorists have access to free tire air.
6. Just Tires
Just Tires is an auto repair shop chain that provides a wide range of services, including standard maintenance like brake service, wheel alignment and oil changes. This chain offers more advanced auto repair services, as well.
Drivers can stop by Just Tires for an air pressure check and complimentary tire inspection, and its technicians will bring the tires back up to the proper pressure for free.
7. NTB
NTB is a tire and service shop that has over 600 locations spread across 26 states. It provides quality service at low prices and features a huge tire selection and a wide range of services, like oil changes and other typical maintenance.
The technicians at NTB will provide free air pressure checks at all locations and top a vehicle's tires back up to the proper pressure.
Make Your Money Work for You
8. Sam's Club
Sam's Club is a major wholesale membership club that has over 600 locations in multiple countries around the world. The automotive department features tires and other services available for members.
As part of Sam's Club member services, the store provides free air pressure checks. Technicians check the pressure and top it up, and check the tire's tread depth at the same time. While free, this service is only available to Sam's Club members.
9. Goodyear Auto Service
Goodyear is one of the largest tire companies in the world, pushing innovation in tire design and manufacturing around the world. The company also operates a chain of auto service shops under the name Goodyear Auto Service, with hundreds of locations across the United States.
Goodyear Auto Service provides free air checks at all locations. Technicians check the pressure of all tires and bring them up to the proper inflation pressure. The company will also check for signs of pressure-related damage, like leaks or wear.
10. Big O Tires
Big O Tires is among the largest tire dealers in the country, with over 450 locations spread across 25 states. The company provides a variety of products and services, including roadside assistance and tire protection packages.
Anyone can take advantage of these free tire pressure checks. Big O Tires will check the pressure and adjust it as needed, providing this free service in just a few minutes.
Final Take
There are many options spread throughout the country for drivers to get free tire air. These are just a few examples, with many additional gas stations and tire shops offering the same. As an alternative to looking for these options in your area, you can also consider springing for a portable tire inflator of your own.
Make Your Money Work for You
Our in-house research team and on-site financial experts work together to create content that's accurate, impartial, and up to date. We fact-check every single statistic, quote and fact using trusted primary resources to make sure the information we provide is correct. You can learn more about GOBankingRates' processes and standards in our editorial policy.