When Will Car Prices Drop in 2023?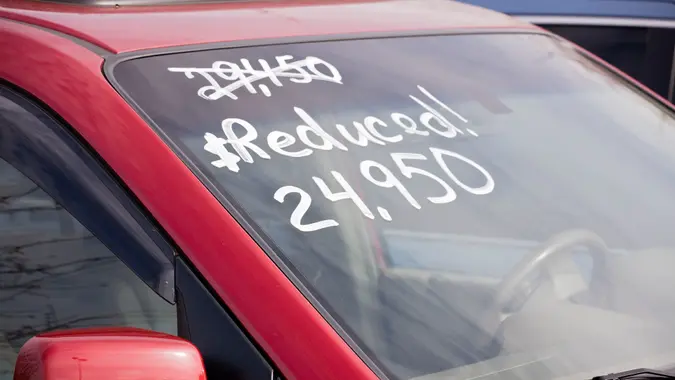 red_moon_rise / Getty Images
If you really need to buy a car and can't wait, then, of course, buy one — just do it smartly. If you've been car shopping anytime within the past two years, you've surely noticed just how exorbitantly expensive cars have become. Additionally, the ongoing shortage means there are just so few available.
See: 3 Ways Smart People Save Money When Filing Their Taxes
The shortage is the primary reason why cars became so expensive  — but it's a multilayered problem, and the burning question remains: When will car prices drop again? The end may now be in sight.
Will Car Prices Drop in 2023?
CNN reported that it is likely that prices for new cars will begin to decrease over the next few months due to increasing supply. However, prices are not likely to drop to pre-pandemic levels anytime soon.
The used car market had its largest drop in average price since 2009 in December 2022 — the average price of a used car dropped by 8.8%. In July of 2022, three-year-old used vehicles dropped in price by 4.6%. Prices are still nowhere near their pre-pandemic levels, but this could be a good sign for the future.
Make Your Money Work for You
How Did Cars Get So Expensive?
"The rise in car prices can be attributed to a number of factors, but mostly come down to two things: high demand and limited supply," said Ian Lang, senior car advice editor at Bumper, citing the semiconductor shortage at the start of the COVID-19 pandemic. "The shortage limits production and, as a result, increases vehicle prices."
Is There a Car Shortage?
There is a car shortage largely because of the semiconductor shortage. This shortage hiked up car prices because so few cars could be produced, and fewer were hitting the market than there were in pre-pandemic times.
"Currently, there are only a fraction of the cars for sale in the U.S. that were available before the pandemic," said Lang in 2022. "Since fewer new cars are being produced, manufacturers and dealers aren't offering the typical 'savings' or 'discounts' that were advertised previously. Dealers have found that buyers are willing to pay higher prices when the only other option includes not buying or having a car at all."
More recently, automobile manufacturers have reported that the supply shortage for semiconductors has begun to ease. Analysts largely credit this development as the reason for the sudden drop in the price of used cars in December. As the shortage eases, new cars begin to enter the market, increasing supply and lowering prices.
Make Your Money Work for You
How Much Does a New Car Cost Right Now?
Unfortunately, while used car prices are starting to go down, the price of a new car is still going up. In December 2022, the average new car sold for a record-high $49,507.
For some perspective, note that in July 2021, the average new vehicle cost $43,355, according to Cox Automotive. In July 2020, the average new vehicle cost $38,378, according to Kelley Blue Book. Though much lower than the price now, July 2020's average vehicle cost was still high. The price hike started in May 2020, when the semiconductor shortage started to be felt throughout the automotive industry.
What Will Make Car Prices Get Back to Normal?
"In order to lower prices, supply and demand need to be in balance," Lang said. "As the semiconductor shortage subsides, other production and supply chain bottlenecks will be resolved, and more new cars will be available. The used car market should also stabilize. This, again, will eventually and hopefully help to reduce inflation."
Make Your Money Work for You
Final Take
When car prices will drop depends on circumstances that are completely beyond the consumer's control — and also because even experts can only make a guess at the answer rather than know for certain. That said, it seems safe to say that car prices will likely drop this year.
FAQ
When should I buy a car in 2023?

With prices still crazy, now is not a good time to buy a new car. If you can hold off, it may be a good idea to wait and see whether prices fall in the next few months.

Are car prices finally going down?

Used car prices have started to go down, but new car prices have not yet. However, as supply chain issues are resolved and available inventory increases, it is likely that new car prices will begin to decrease over the next few months.
Chris Ozarowski contributed to the reporting for this article.
Our in-house research team and on-site financial experts work together to create content that's accurate, impartial, and up to date. We fact-check every single statistic, quote and fact using trusted primary resources to make sure the information we provide is correct. You can learn more about GOBankingRates' processes and standards in our editorial policy.
Make Your Money Work for You