5 Cars You Should Never Buy Without a Warranty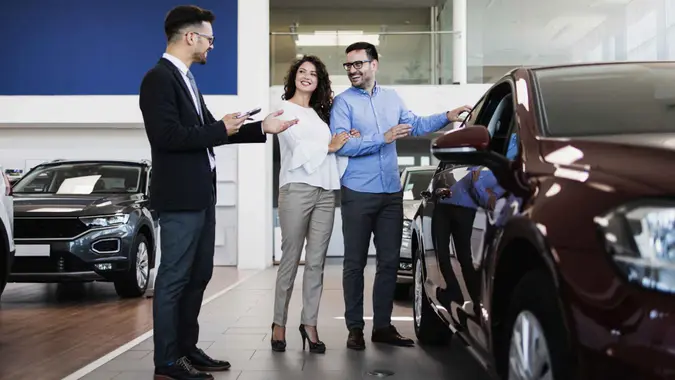 DuxX / Getty Images/iStockphoto
Luxury vehicles: a symbol of status, wealth and an exclusive niche of car ownership.
These are cars that many people aspire to one day drive. Though many pricier vehicles may look appealing and navigate the roads smoothly, some cars have invisible issues that are not easily apparent.
In his podcast Garage Talks, expert and popular YouTuber Doug DeMuro explains why these 5 cars should not be purchased without a warranty due to the underlying issues these vehicles may have.
Ferrari F355 Spider
"In the early days, these cars were known for having engine issues really early on," said Kennan Rolsen on the Garage Talks podcast. Rolsen is an employee of DeMuro and a frequent collaborator of DeMuro's channel.
This sleek, smooth Ferrari is known for its beauty and handling, typical of a Ferrari. But with that comes the issues that Ferraris may face. Though luxury in name, this automotive maker is known for having problems. As of now, the Spider may go for upwards of around $100,000.
In the 90s, when the Spider was first released, it had significant issues with its transmission and engine. Many of these early Spiders had to replace their engines during their warranty period. 
Lamborghini Countach
These 1980s Lamborghinis, now over $400,000, were clearly a product of its time. Without the technology of newer assembly lines, car production was a slow and often cumbersome process.
"The production was limited in part because they simply didn't have the ability to craft more," DeMuro said on his podcast.
Make Your Money Work for You
Additionally, along with lacking personnel, dealerships needed the infrastructure to support the constant breakages of these early Lamborghinis.
Bentley Arnage T
Because the Bentley Arnage T has gone down in price, at less than $40,000 in the current day, they have become a popular car for car enthusiasts expanding their garages. 
"They're not that unreliable…but when something breaks, good luck. You go into not thinking you'll spend $2,000 to replace bulbs, but that's part of the problem," DeMuro said on Garage Talks.
Due to the high cost of repairs, a warranty is recommended for the Arnage T. It is a nearly 20-year-old car, and there are bound to be issues to happen if one were to own this vehicle. 
Aston Martin Lagonda
Nicknamed "The Anteater," the Lagonda is a car from the 1980s known for its long hood and shape. Though not much information is on the sale of these cars, one Lagonda sold for around $35,000 in 2020.
Considered a more bizarre car by DeMuro due to some interesting gimmicks like an odometer beneath the hood, it also has its fair share of problems.
"It was a company that was desperate to get cars out the door, pay the rent, the lights," DeMuro said in the podcast episode. "It wasn't developed in any correct manner or manufactured properly."
This led to various issues. DeMuro believes these car owners are lucky if they can get this car running — thus, a warranty is recommended for those who may want to buy a Lagonda.
Make Your Money Work for You
BMW E60 M5
The first BMW to use the V10 gasoline engine, this sleek BMW sedan has its fair share of problems. BMW is known for its reputation of putting out cars that have issues.
"This car has developed a reputation for being problematic, which has really killed its value," DeMuro said on his podcast.
Now, the M5 can be found for around $30,000. It is not uncommon to buy a used M5 with two or three engine replacements under warranty. It is a difficult car to own due to its many problems.
More From GOBankingRates