Don't Rent a Car on This Day of the Week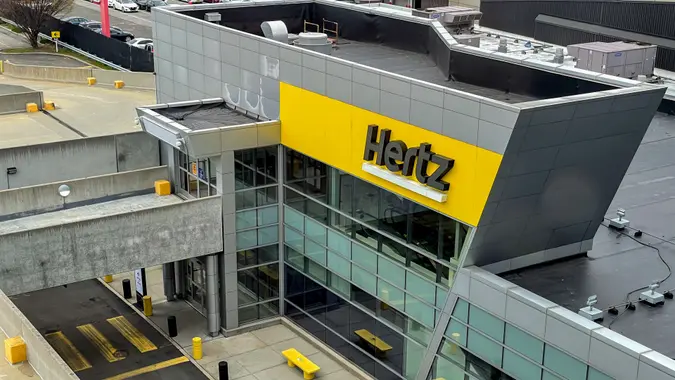 Roman Tiraspolsky / Getty Images
Car rental agencies such as Enterprise and Hertz are popular among those who either don't own vehicles or would rather borrow one than use their own for things like long road trips or airport transit. These companies often offer a large assortment of vehicles, each with select features based on individual preferences and budgets.
While these car rental services are convenient, availability may be limited, depending on when you're trying to reserve. Along with this, prices may be higher on certain days than others.
Whether you're planning a trip that requires a car reservation or you're just considering your options, here are a few things to consider when scheduling your car rental.
Also see the most affordable companies.
Don't Book a Car on Weekdays
Generally speaking, car rental services like Enterprise don't actively list their pricing fluctuations from day to day, or from week to week. When making a reservation, consider your budget, the type of vehicle you want and how long you're going to need it. If you're flexible with your timeline, you may be able to wait for prices to go down naturally before booking.
That said, try to hold off on renting a car if it's a weekday. As demand tends to be higher during the week, selection is often lower and prices may rise.
If you do decide to rent a car during a weekday, try to reserve it several weeks in advance. This can help ensure that you get the vehicle best suited to your needs and budget.
Make Your Money Work for You
Avoid Renting a Car During Holiday Weekends or Major Events
Car rental prices are usually higher around holidays, major events and other peak travel times. This includes three- and four-day holiday weekends, concerts and seasonal events.
During these times, selection also might be limited. So, you might end up with a higher-priced car than you want due to the limited availability in your area. Not only that, but the higher demand could mean longer wait times both in person and on the phone.
Book on the Weekend to Save Money
Surprisingly, weekends might actually be the best time to reserve a car if you're looking to save money.
"Book on weekends to save money," said Dimpee Kalita, head of AI revenue management at RateGain. "Car rental patterns have returned to pre-pandemic, where most people are renting cars on weekdays. This means most cars typically are returned Friday, leaving fleets for cheap weekend excursions with many options for consumers to choose from."
Don't Wait Too Long To Reserve a Vehicle
Trying to reserve a car right before you need it could result in you paying more than you anticipated, potentially for a vehicle you didn't really want. This is often the case in busier regions or when trying to book a car during a particularly busy or popular time.
"Planning ahead and booking as early as possible is highly recommended, especially during holiday periods when demand for rental vehicles is high," Kalita said. "Securing a reservation well in advance increases the likelihood of availability."
Make Your Money Work for You
Keep in mind that every agency is different. If in doubt, get quotes from a couple of rental companies so you can compare prices and options. Alternatively, check their websites to see what's available.
Or use an online marketplace like Turo to get a better idea of selection and prices. 
"With Turo, you can save even more by booking a few weeks or months in advance with 'Early Bird Discounts' that some Turo hosts offer," said Scott Lieberman, Founder of TouchdownMoney.
Try To Pick Up Your Car Early
You'll need to consider the rental agency's hours of operation, but it's generally wise to get your vehicle as early as possible.
"If feasible, try to collect your rental car early in the day," Kalita said. "This can help ensure that you have access to a vehicle as soon as possible and you have time in the day to handle any unforeseen situation."
Plus, picking up your vehicle as soon as the company opens its doors can reduce how many people might be ahead of you.
Check Ratings
Even if you go through a well-established rental agency like Hertz, it's still a good idea to check customer reviews and ratings before choosing them. If you use a marketplace, it's doubly important to make sure you rent a vehicle through someone who's highly rated.
"Make sure to rent with someone who has a lot of reviews or are even labeled 'All-Star Host,' which means they're top-rated hosts and have more experience renting out their vehicle(s)," Lieberman said.
You also can check ratings for the make and model of vehicle you're considering renting to get a better idea of performance and any other issues you might need to be aware of.
Make Your Money Work for You
Book Directly With a Car Rental Company
While you can book a vehicle through a third party, you might have better success by going through the car rental company instead.
"Booking directly with the car rental company can offer more flexibility, better customer service and a higher priority for vehicle allocation," Kalita said. "Some brands prioritize vehicle availability for customers who book directly with them, as opposed to those who use online travel agencies."
If you regularly rent a car, booking directly can help you establish loyalty. This could come with additional benefits.
"Building loyalty with a specific car rental brand can have its benefits," Kalita said. "Frequent customers often receive better customer service and may have access to additional perks."
Pay in Advance
While companies like Enterprise often let you pay the day you pick up the vehicle, you can avoid lines and potential security issues by paying in advance.
"If you are confident in your travel plans, consider paying in advance," Kalita said. "Prepaid bookings often provide better security. However, if you are uncertain about your travel plans, opt for a flexible booking with lower cancellation penalties."
Bottom Line
Ultimately, the pricing differences for renting a car during the week versus the weekend might be negligible. However, you may have a better selection of vehicles to choose from over the weekend. Booking ahead of time can also improve your options, as well as potentially get you lower prices.
Make Your Money Work for You
More From GOBankingRates