Experts: These Are the Best Times To Shop For Car Insurance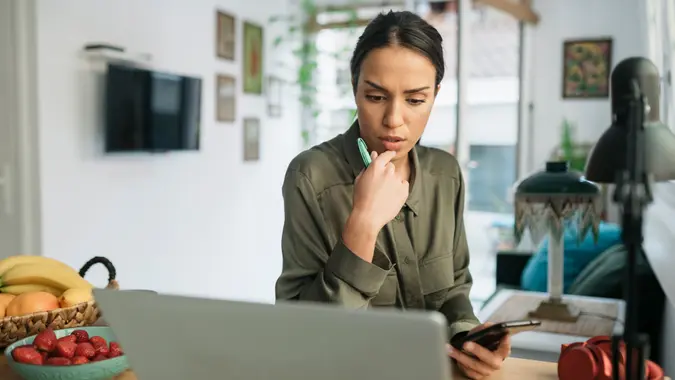 Brothers91 / Getty Images
Experts agree that timing is everything when it comes to shopping for car insurance. Whether it's during specific periods in the year or when certain life events occur, being aware of the best times to shop for car insurance can make a substantial difference in finding the right policy.
We've reached out to industry experts who shed light on when you should consider shopping for car insurance to maximize your benefits. Get ready to discover the prime opportunities to secure the ideal coverage for your vehicle and save money in the process.
Worst Times To Shop for Car Insurance
"It's terrible to wait until your policy ends to shop for new car insurance, because even a tiny lapse of insurance will lead to a big rate hike come renewal time," said Michael Orefice, SVP of Operations at SmartFinancial. "Always switch before your policy term ends."
Pawel Nowak, author and editor at rentacar24.org, agreed: "Insurance companies know that you're in a hurry to renew your policy, so they may be less likely to negotiate with you on your rates."
Make Your Money Work for You
Likewise, don't try to find a better rate after you've been in an accident.
"It makes no sense to shop for a better insurance rate after an accident or DUI," said Orefice. "Some people think they can run away from the rate hike, but the DMV knows so any new insurer will find out and raise your rate. However, it may make sense to shop for a specialty insurer who offers better rates for high-risk drivers."
When's the Best Time To Shop?
End of the Year
While auto insurance operates under state regulations, which means that insurance companies are restricted from offering promotions or holiday savings, Rodney Yo of Best Online Traffic School shared that end of year tends to be an optimal time for car insurance due to the high volume of car sales during this period.
To clear inventory before the new year, auto manufacturers and dealers provide discounts on vehicle purchases. As a result, automobile dealers also extend these discounts to insurance premiums, aiming to attract customers. 
Make Your Money Work for You
When You're Renewing Your Policy or Buying a New Car
Nick Musica from Cash For Your Junk Car, told GOBankingRates that the best time to look for new car insurance is during your policy's renewal period or when you're contemplating buying a new vehicle.
It is during these times that insurance providers often roll out enticing discounts and incentives in their efforts to captivate new customers or retain their existing ones. By capitalizing on these favorable periods, you can potentially secure a great deal and ensure coverage for your car.
"During these situations, insurers will be competing for your business," said Tariro Goronga, CEO of DriveSafe Driving Schools, "and it gives you an opportunity to compare rates and find the best deal."
During Life Changes 
"The best time to shop for car insurance is when you've gone through a life change," advised Brandon Frady, a trusted insurance agent at Car Insurance Comparison.
Car insurance providers take into account a myriad of personal factors when calculating premiums. That's why it's crucial to seize the opportunity during major life changes such as tying the knot, blowing out birthday candles, tossing that graduation cap, becoming a proud homeowner, or embarking on a new adventure in a different location.
Make Your Money Work for You
These pivotal moments serve as an ideal reminder to explore the world of car insurance and ensure you're getting the most bang for your buck. Take advantage of life's milestones and proactively shop around for car insurance coverage that aligns perfectly with your evolving needs.
Also, if your credit rating improves or there's a removal of a traffic violation from your record, it's a good time to take advantage of potential savings and get new quotes.
More Ways To Save
There are several strategies that might help you get the best deal on your policy, so our experts shared valuable tips to help you save money and secure the coverage you need.
Consider going for a company where you already have an existing policy, such as for your home insurance. Insurance providers often offer loyalty discounts for bundling multiple policies together. By combining your car insurance with your existing home insurance, you can expect significant savings. 
Another crucial factor in determining your insurance premium is your driving record. Maintaining an impeccable record, free from traffic violations, can earn you safe driver discounts. The safer you drive, the more you can save on your insurance premium. 
In today's competitive market, shopping around for the best offers is essential. While car insurance is state-regulated, insurance companies often find ways to reduce premiums. Prospective buyers should compare insurance providers based on their claim-settling performance. Look for an insurance company with a strong track record of efficiently handling claims, as they may offer attractive deals.
Consider increasing your deductibles as a strategic move to reduce your insurance premium. By opting for higher deductibles, you are willing to forgo smaller claims, ultimately reducing the risk of increased premiums. 
According to Nowak, another effective way to save on insurance costs is enrolling in a defensive driving course. Some insurance companies offer discounts to drivers who have completed such courses. By enhancing your driving skills and demonstrating a commitment to safe driving practices, you may qualify for discounted insurance rates.
Make Your Money Work for You
By keeping these tips in mind, you can potentially reduce your premium payments. Remember to research and compare different insurance providers to find the ones that offer the best rates for your specific needs and circumstances.
More From GOBankingRates