The Fastest Ways To Save For a Car, According to Experts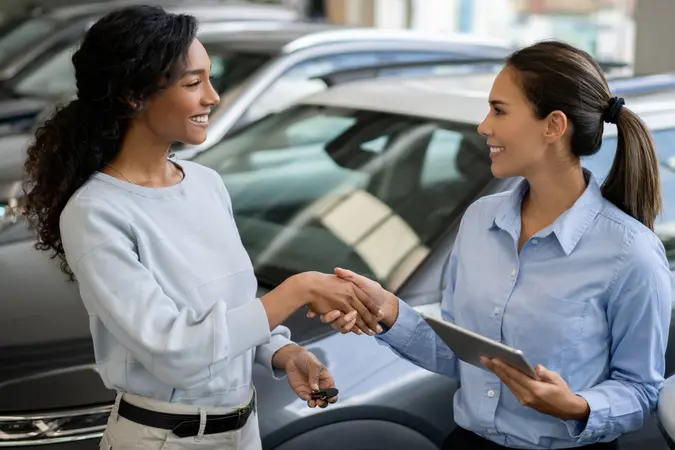 andresr / Getty Images
If you're in the market for a car, truck or SUV, you probably know to brace yourself for high prices, scant deals, sparse inventory and a used market that's as bad as it's ever been. The pandemic, inflation and a global chip shortage have changed the modern auto industry, but the fundamentals of saving up to buy a car remain the same — although, thanks to technology, they've been updated for 2022.
Tip: What Percentage of Your Income Should Go Toward Auto Loan Payments?
More Advice: 7 Simple Habits That Will Make You Richer in 2022
Here's what the experts have to say about the right way to save money to buy a car. 
Don't Save For a Car — Save For Your Car 
Preparing to buy a car is all about targeted saving. You start with a specific dollar amount as the goal you're working toward. That means zeroing in on one vehicle.
Make Your Money Work for You
"Pick the car you want before you start saving," said consumer analyst Julie Ramhold with DealNews.com. "You may have a few different models picked out, so it's good to keep track of what they're going for — you want to overestimate what you'll need, not underestimate — and periodically check on the prices to see what kinds of trends are showing. This way, you'll have an idea of how much you'll need to save before you get started. However, when figuring up the cost, don't forget to account for extras like fees, sales tax, and insurance payments."
Start With a Timeline and Crunch the Numbers
Now that you've got a car in mind, decide when you want to buy it and budget from there.
"Start by creating a timeline on how you're going to pay for your car," said Amanda Sullivan, research analyst at CreditDonkey. "Depending on your payment method, your timeline will look different."
Once you have a target date, spend some time with a free online payment calculator to find the balance between monthly payments you can afford and a down payment you can realistically save for.
Make Your Money Work for You
"If you're not looking to outright buy a new car, then investigate how different down payment amounts will shift the amount you pay monthly," Ramhold said. "You should be able to find a down payment amount that's attainable for your budget and timeline and that will make your monthly payment low enough to strike that perfect balance."
Watch Out: 25 Sneaky Car Dealership Tricks To Avoid at All Costs
Keep Your Car Cash Separate 
Money clutter sinks financial goals. Keep everything neat and organized by segregating what you're saving for your new ride.
"My No. 1 tip to achieve short-term goals like saving for a car is to open a new savings account," said Guadalupe Sanchez of Budgeting in Blue. "If your savings to purchase a car are separate from your other savings, you'll always know how much you've saved and how much you have left to achieve your goal. If all of your savings are in the same account, it becomes too easy to get confused and take money from one goal to pay for another.
Make Your Money Work for You
"To add money to the savings account, I recommend setting up automatic transfers from your checking account. It almost becomes like a bill that has to be paid and you save a lot faster versus only transferring money when you 'have it.'" 
Start Making Your Car Payment Early
Matthew Robbs, founder of Smart Saving Advice, offered a slick tip that will build your new-car savings while also preparing you for the financial rigors of owning it: saving the exact amount of your future monthly payment.
"When saving money for a car, it can be helpful to think of it as a car payment already," Robbs said. "If you save the money that you would have been spending on a car payment, not only will you quickly accumulate a nice down payment, but you will also know if you are ready for that payment in the future." 
Also See: Here Are the Biggest Ways You're Damaging Your Car's Trade-In Value
Sell Your Old Car Now
Normally, you trade in your old car when you buy your new car — but these aren't normal times. If you have a car to sell and you can go without a vehicle until you can afford a new one, consider offloading your old wheels while the used market is still in disarray and prices are still sky-high.
"Especially right now, used cars are hard to come by, so you may get lucky and be able to sell your old vehicle for a decent price," Ramhold said. "Be sure to shop around though. See what a dealer will offer you for trade-in, but also look at places like Carvana to see if they'll offer you a decent price for your car. It likely won't be enough to fund your new car entirely, unless you have a super rare model of something, but it'll be a good start."
Related: 30 Cars With the Highest Resale Value
Save a Little With Every Dollar You Spend
If you're not a disciplined saver, you can use technology to force yourself to save a little bit at a time with every purchase you make. 
"I would say the fastest and most effective way of saving up for a car is to use a round-up/spare change app," said personal finance expert Darren Hazan, who spent more than a decade in the private pension industry. "They round up payments you make, saving lots of little amounts each day, which does add up to quite a bit over time." 
Acorns was the first and is probably still the best round-up app overall, but you might have to look no further than the place where you already keep your money. 
"Some banks offer members the ability to round up their purchases," Ramhold said. "That is, if something costs $3.10, the bank rounds that purchase up to $4 and deposits that extra 90 cents into your savings account."
The subconscious saving of money you don't miss at the time has proven to be a powerful psychological tool — but round-up apps have another benefit as well.
"Their AI software analyzes your spending and shows you little ways that you can cut your cost of living, without compromising your lifestyle," Hazan said. "Not only can this end up saving you thousands over the course of a year, but it also changes your mentality to saving and spending, in many cases making it fun and gamifying it. This can result in you saving without even having to consciously put in the effort." 
More From GOBankingRates 
Make Your Money Work for You