6 Frugal Finance Rules To Follow When Car Shopping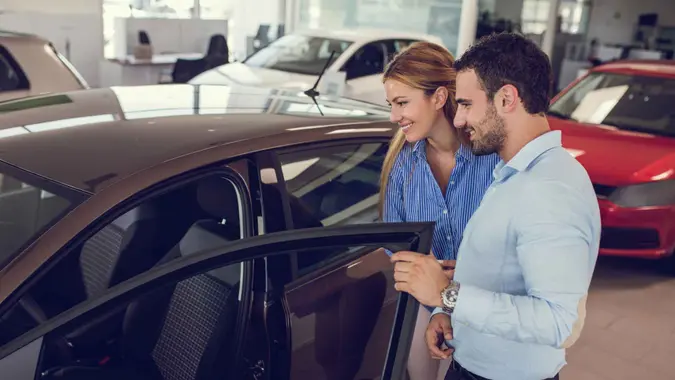 skynesher / Getty Images
Frugal people don't have to forgo cheap living just because cars are expensive. When cost-conscious buyers bring their dollar-defending ways to the dealership, they can drive home for less than a garden variety shopper who doesn't live by the rules of frugal finance.
Sometimes it takes a little trial and error.
"When I was fresh out of college, I made the mistake of getting too excited and buying the first used car I test drove," said Jacob Carter, self-proclaimed frugal shopper and owner of Engine Rev Up. "It was a flashy sports car that was way out of my budget. I ended up with a massive car payment that I could barely afford along with high insurance rates since I was a young driver. Not my smartest purchase! A few years later when it was time to upgrade, I was much more careful. I made a budget, got pre-approved for a loan amount I was comfortable with and did my research ahead of time on reliable models. I test-drove a few practical sedans before finding Goldie, a five-year-old Honda Accord that fit my needs. Was she the flashiest car on the block? Nope. But she was affordable, great on gas, and still running strong years later."
Apply these frugal finance rules to your car-buying journey to snag your very own Goldie.
Create a Budget To Know What You Can Spend
Budgeting is the key to low-cost living because budgets let you know precisely how much you can spend while still reaching your saving goals. Employing this frugal finance rule when establishing your price range for big-ticket items like cars is critical.
"You should set a realistic budget," said Eduarda dePaula, CEO of FindByPlate, a free resource for drivers to look up license plates. "Determine what you can comfortably afford and factor in all associated costs with the vehicle. This means including insurance, maintenance and fuel costs."
Make Your Money Work for You
Never Leave Your Financial Fate up to the Bank
The fiscally frugal don't leave their financial fates to chance — or to lenders who look at them and see dollar signs. Once you establish a budget, take control of your financial future by securing a loan before you talk to a dealer.
"Get pre-approved for financing before you ever step foot on a car lot," said Hank Treadwell, owner of Tire Care 101.
With the average auto loan interest rate across all credit scores topping 6.5%, getting the best possible rate is more important than ever. If you don't shop around for loans and get preapproved for the best offer beforehand, you'll be stuck with whatever rate the dealership's financing office gives you.
Spend Less Than You Can Afford
The golden rule of the frugal mindset is to live within your means, and it's a crucial philosophy to carry with you into the dealership. Remember, the bank tells you how much you can borrow — but you decide what you'll spend.
"Just because you've been approved for a certain loan amount doesn't mean you should max it out," said Liam Lucas of Off Road Genius. "In my early days as a car enthusiast, I recall a situation where I was tempted to spend more than I had initially planned on a vehicle due to an attractive financing deal. However, I resisted the urge, stuck to my budget, and ended up getting a better deal a few weeks later on a similar car. This experience taught me the importance of patience and persistence in the car-buying process."
Make Your Money Work for You
Never Go Shopping Without a List
Penny-pinchers follow meal plans and go grocery shopping for only the ingredients they need. That's because they know that if they head to the store hungry and without a list, they're bound to overspend.
When car buying, this rule takes the form of a careful and thorough analysis of the vehicles you're considering and the market in your area before you reach the dealership.
"Conducting research before making a car shopping venture can be a valuable asset for budget-conscious buyers, equipping them with crucial insights," said Robert Luterzo, automotive engineer and editor of Automotive Widget. "By comparing different car brands, price points and features, purchasers can pinpoint optimal value within their financial confines."
Make Your Budget Match the Payments, Not the Other Way Around
Thrifty people know that lower monthly payments are the bait that lenders use to rope people into extended loans for things they can't afford. Bring that knowledge with you to the dealership.
"Watch out for those long-term loans that stretch out to six or seven years," said Treadwell. "You end up paying much more interest over the life of the loan. Try to keep the term under five years if possible. And put down a decent down payment if you can, at least 10%-20% of the purchase price. It will lower your monthly payments and show the lender you're invested."
Always Pursue a Better Deal
Frugal shoppers know that with car shopping and with life, the first offer isn't always the best and it's always worth at least trying to negotiate for better terms.
"The art of price negotiation empowers car buyers to clinch advantageous transactions," said Talha Atta, mechanical engineer and editor of AutoGlobes. "Buyers nudge the cost nearer to their fiscal boundaries, employing strategic haggling and assuring enhanced value. Sellers might slash prices to seal a deal, especially when confronted with astutely investigated alternatives. Bargaining reveals latent perks, markdowns, or concealed charges and lets buyers vocalize their monetary limits and inclinations, guiding them toward budget-friendly selections. All in all, adept negotiation holds the potential to yield significant savings for prudent buyers in the course of their car shopping journey."
More From GOBankingRates