Gas Money: 6 Common Ways People Overspend on Fuel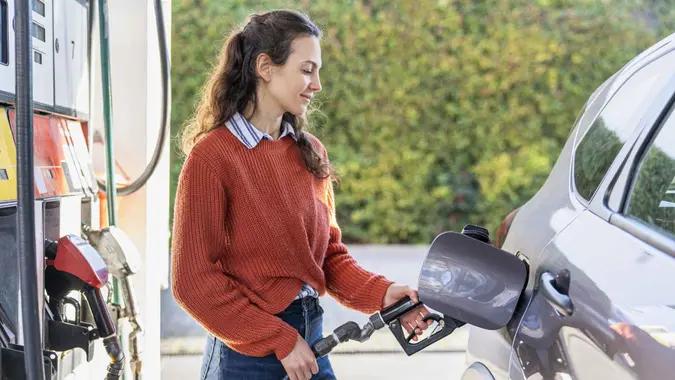 Mindful Media / Getty Images
With the sharp rise in inflation from 2021 to 2023 came a surge in gas prices. While prices are lower than they were a year ago, they are still elevated from a few years back. In this type of environment, it's more important than ever to shop around and get the best price you can on fuel.
Many drivers overspend on gas, though, because they don't take a few simple steps that are available to them. What may seem like a few cents or dollars here or there can add up to a significant amount of money over the course of a year, pinching budgets even tighter during a period of high inflation. Here are some of the ways that drivers commonly overspend on gas.
Not Using an App
When it comes to saving money in the modern age, apps are your friend. There are numerous gas apps available, such as GasBuddy, that show you the cheapest available gas in your immediate area — or anywhere you want to look, for that matter. These types of apps will even show you a map of where to find the cheapest available gas station so you'll know how far out of your way you might have to go to snag that low rate.
According to data from the American Petroleum Institute, the average vehicle uses 489 gallons of gas per year. If you can use an app and save even 20 cents per gallon, you'll be pocketing nearly $100 per year per car that you drive, with little to no effort.
Make Your Money Work for You
Not Shopping at a Discount Club
Membership clubs like Costco are famous for having lower gas prices than their local competitors. According to various reports, gas at Costco can regularly be as much as 30 cents cheaper per gallon than other stations in the area.
Of course, depending on how much you drive, you'll have to weigh these savings against the price of a Costco membership, which currently ranges between $60 and $120. However, if you're already a member, buying gas at your local warehouse club is not only convenient but can save you a significant amount of money.
Not Signing Up for Rewards Programs
Many gas retailers have their own free rewards programs. In addition to earning rewards points, you may also be able to consistently receive discounts off each gallon of gas you buy.
The Shell Fuel Rewards Program, for example, offers five cents back on every gallon, up to a limit of 20 gallons per fill-up. That can result in savings of about $50 to $100 per year, depending on how much you drive. Others offer points that can be used for everything from convenience store food to future gas purchases.
Not Using the Right Credit Card
Various credit cards can offer you instant discounts on your gas purchases — or cash back — for no annual fee. This can make them a no-brainer when it comes to saving on your gas purchases. The ExxonMobil Smart Card+, for example, offers ongoing discounts of 10-12 cents per gallon, along with 5% back on in-store purchases. For the first two months you have the card, your per-gallon savings can reach 42 cents.
Make Your Money Work for You
If you don't want to be tied to a single gas company, the no-annual-fee Costco Credit Card offers 4% back on gas purchases made at any station or supplier, for the first $7,000 spent per year. That 4% cash back also applies to EV charging costs.
Using Premium Fuel
According to AAA, Americans waste more than $2 billion annually by using premium fuel when they don't need it. Although some cars do specifically require premium fuel for optimum performance, the vast majority of cars used for everyday driving — about 70%, according to AAA — do not.
AAA even conducted a study and determined that there was no benefit to using premium fuel in cars that did not require it.
Not Driving Efficiently
One indirect way that many Americans overspend on gas is by not saving it in the first place. Rapid accelerations, improperly inflated tires or dirty fuel filters are all contributors to poor fuel efficiency.
Numerous other driver habits and maintenance items, from worn-out spark plugs and constantly running the air conditioning to excessive idling, can all make driving more inefficient, which ultimately causes you to overspend on gas.
More From GOBankingRates
Make Your Money Work for You