How Much Car Can I Afford? How To Calculate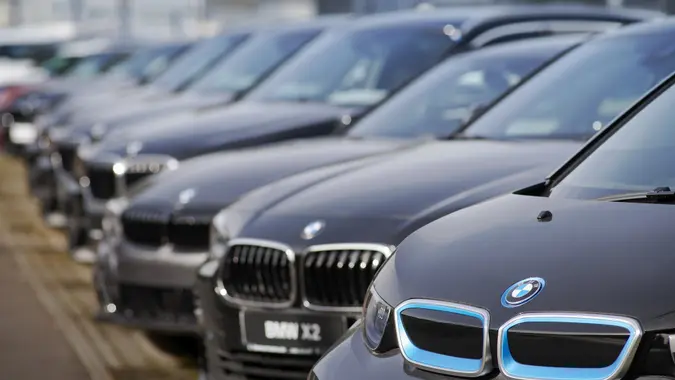 acilo / iStock.com
You've held on to that old car for just about as long as you could. You named him Barnaby, and you took many memorable trips together. But the mechanic gave you the dreadful news — the cost to keep Barnaby rolling down the road will way exceed the Kelley Blue Book value. And the garage can't guarantee how long Barnaby will last once you've shelled out thousands for repairs. Once you've come to grips that it's time to move on from Barnaby, your immediate thought will undoubtedly be this: How much car can I afford?
Unfortunately, finding the answer isn't simple. The good news is that, thanks to a variety of online calculators, it's easy to figure out your monthly payment — once you gather some information. Here's what you need to know to determine just how much car you can afford.
1. Start With the 20/4/10 Rule
So, what is the 20/4/10 rule? It's a general guideline that helps you to determine how much you should spend on a car. It might not fit every budget or your particular circumstances, but it's a good starting point as you begin to look at cars.
According to Capital One, the 20/4/10 rule can help you determine how much car you can afford if you meet these requirements:
20: You are able to put down at least 20% on the car.
4: You can pay off the car in 48 months — four years — or less.
10: Your total monthly car costs, which include the car payment, maintenance, gas, insurance, etc., won't exceed 10% of your monthly income.
Make Your Money Work for You
Remember, this is just a starting point to help inform your next steps.
2. Know Your Credit Score
Your credit score impacts your ability to borrow money. The higher your credit score, the lower the interest rate you'll receive on a car loan, and the difference in your monthly payments can be sizable if you're paying a higher interest rate. That's especially true when you consider that the cost of a new automobile reached an average of more than $45,000 in 2022, J.D. Power reported.
As an example, credit bureau Experian said that in the second quarter of 2022, borrowers with super prime credit scores — 720 or above — paid an interest rate of 2.96% for new vehicles and 3.68% when buying used. At the other end of the spectrum were the deep subprime borrowers — 579 or below — who were charged 12.84% on new vehicles and 20.43% on used ones.
Example
Say you fall in the middle of the scale, with a credit score of 650. Nonprime borrowers — 620-659 scores — paid 6.57% interest for new cars, with a 10.33% average for new ones. If you borrowed $20,000 to finance your car purchase, your monthly payment for four years would come in at about $475, according to Experian's auto finance calculator.
If your credit score allows you to borrow at the best rate, you'd pay about $442 per month. At the highest rate? About $535.
And look at that difference of $93 per month over the long haul. That's pure interest, meaning you'd pay about $4,500 more in interest over the life of that four-year loan than if you qualified for the lowest interest rate.
Make Your Money Work for You
Finding Your Credit Score
The easiest way to find your credit score is by looking at your credit card statement. Most credit cards offer credit score monitoring as a free service.
You can also get your credit score from one or more of the credit bureaus — Experian, TransUnion and Equifax — but they often charge fees if you check too often.
Tip

If you can wait a bit before buying a car, work to raise your credit score. Ways to do that include catching up on delinquent payments and paying your bills on time, as well as paying down your account balances.
3. Do Your Research
Armed with your credit score, it's time to figure out what kind of car you realistically can afford. Go back to the 20/4/10 rule.
If you bring home $4,200 a month after taxes, your car expenses should be no more than $420 per month. Remember, that includes gas, tolls, maintenance and insurance. Look back at what you spent in those categories over the past few months and make an estimate; your maintenance costs will be less than you've paid to keep that old car running. If $150 is the figure you come up with, then you can afford a payment of $270.
Car Loan Calculator
Turn to a reverse auto loan calculator, like one offered by Autotrader, now that you're armed with your research. Enter the amount of your desired car payment, the interest rate you anticipate paying — a quick Google search will show you average rates for your credit score — and your local sales tax rate.
Once you've punched in the numbers, you'll see the amount of car loan you can afford. Add in the down payment you can make, and you'll have a ballpark idea of the sticker price of the car you can afford.
Find Your Car
If, after using the calculators, you find that a $25,000 price point should be your target, continue your research. Do you have a preferred manufacturer? If you want a Kia, for example, check the websites of the local Kia dealers and find out what cars are on the lot for $25,000 or less. From the comfort of your home, you can check prices, see how much extra you'd pay for certain add-ons and narrow down your options.
While you're on the dealer websites, look for the current specials. You might find deals on pricing, as well as financing, that could help you afford a higher price point.
4. To Lease or Not To Lease
If you find car affordability might be a stretch, leasing is an option. Your down payment and monthly payment will be less — a huge advantage — but remember that leasing has strict mileage limits, and you'll be turning the car back in after a set number of months. And starting the process again.
Compare leasing vs. buying a 2023 Kia Soul, for example.
Kia advertises a Soul LX with payments of $229 a month for 36 months, with $2,870 due at signing. While the monthly payment sounds terrific, you're limited to driving 10,000 miles a year before excess mileage rates of 20 cents per mile kick in. This could appeal to those who work from home, but anyone with a commute to work will gobble up the mileage allotment quickly — making this lease not such a good deal.
Takeaway
Before heading to the dealership, it's wise to do your homework to determine car affordability and what you're comfortable spending each month. You don't want to find yourself cash poor because of your car.
Our in-house research team and on-site financial experts work together to create content that's accurate, impartial, and up to date. We fact-check every single statistic, quote and fact using trusted primary resources to make sure the information we provide is correct. You can learn more about GOBankingRates' processes and standards in our editorial policy.