I Save $500 a Month by Not Having a Car: Here's How I Manage Without One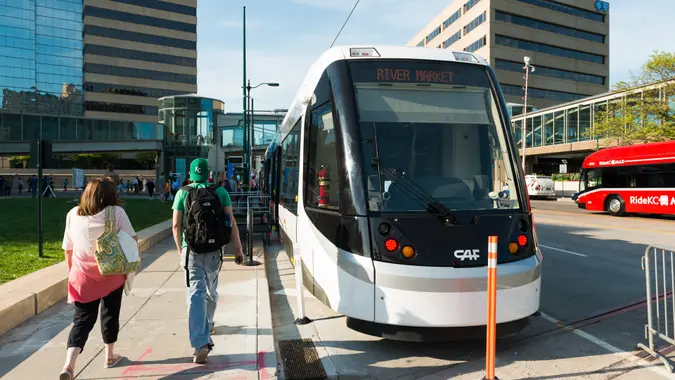 Lorraine Boogich / Getty Images
For over a decade, Keely Smith enjoyed being an interior design expert and artist at Home Stratosphere, a design studio in North Vancouver, BC. Her work in this field gave her a unique perspective on how we use space, both within and outside our homes. Smith shared that not only do our living rooms need decluttering, but our lives do too. One of the most significant choices she's made toward decluttering her life was going car-less.
After all, owning a car is expensive. Between monthly payments, insurance, gas and maintenance, it's easy for transportation costs to eat up a big chunk of your paycheck. Years ago, Smith spent more than $500 monthly on these car-related expenses. For someone who's constantly rethinking and redesigning spaces, a vehicle's sheer spatial and financial footprint started to gnaw at her. 
Smith told GOBankingRates that visiting clients' homes or sourcing unique furniture is a norm in her work. But North Vancouver's topography, with its blend of urban sprawl and dense, hilly areas, can be daunting to navigate without a car. However, when the monthly costs of the vehicle began overshadowing the convenience, she had to rethink.
Benefits of Not Having a Car
Instead of a car, Smith started using public transit more actively. The initial adjustment was admittedly a challenge for her, but there's a silver lining in everything. On these commutes, she found herself absorbing inspiration from the city's vibrancy, the people, and even the change in seasons — everything started feeling more connected and alive. 
Make Your Money Work for You
She also found it strengthened her relationships. "I began carpooling when visiting clients or suppliers, leading to not just saving on costs but also sparking interesting conversations and forging stronger relationships," she said. "You'd be surprised how much you can learn from sharing a ride, from finding a love for abstract art with a client to discussing the latest trends in sustainable materials with a supplier."
And of course, as Smith pointed out, being able to zoom by in HOV lanes saves a ton of time!  
Part of that decluttering was also propelled by her new ethic: She wanted to be more sustainably-minded, so she was happy to know that her environmental footprint was reduced considerably. Having one less car on the road reduced Smith's environmental impact. She said, "I want to be more sustainably-minded, so I was happy to know that my environmental footprint was reduced considerably."
As Smith pointed out, one car off the road might seem insignificant, but imagine the change if more of us made this choice. Plus, fewer miles on a vehicle means it lasts longer, effectively reducing production demand and waste.
Smith said the added expenses were minimal. Transit passes, occasional Ubers, and carpooling costs came nowhere close to the monthly drain of owning a car. Smith says her little bit for Mother Earth felt like a bonus.
Challenges of Not Having a Car
However, the transition did have some difficulties. As Smith confessed, "The initial adjustment was admittedly a challenge. But there's a silver lining in everything."
Make Your Money Work for You
Getting accustomed to planning trips in advance and relying on public transit took some time. However, for Smith, the benefits outweighed the growing pains. Here's some advice for people considering going car-less like she did.
Evaluate Your Transportation Needs
Before ditching your car, realistically assess how much you use it and whether alternatives like public transit or rideshares can fully replace it based on where you live and work. Consider necessities like groceries, doctors and child transportation.
Crunch the Numbers  
Do the math on potential cost savings based on your car expenses like loan payments, insurance, gas, maintenance and parking. Compare to the costs of public transit passes, rideshares and car rentals to see if you'll actually save money.
Check Your Public Transit Options
Research what public transportation options are readily available in your area and where they can take you. Look at bus and rail routes and schedules to see if they are feasible for your regular trips.
Explore Other Alternative Transportation  
Beyond public transit, look into bikeshare programs, electric scooters, walking trails and affordable rideshare services you could use if going car-free. Factor in any discounted programs or passes you may qualify for.
Consider Lifestyle Changes
Going car-free may require adjustments like living closer to work, shopping more locally, planning extra travel time or renting a car occasionally. Determine if you can adapt your routine to the changes.
The bottom line is going car-free may make sense for some urban-dwellers, but evaluate your own needs and crunch the numbers before ditching your car completely. For many in suburban or rural areas, it may not be realistic.
Make Your Money Work for You
More From GOBankingRates