7 Maintenance Costs You Need To Be Prepared for When You Own an EV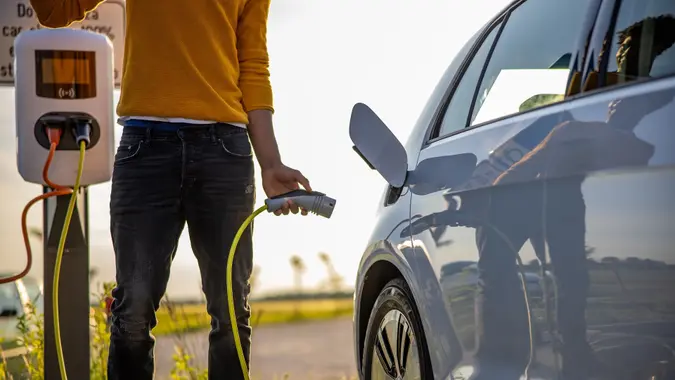 SimonSkafar / iStock.com
Electric vehicle prices have been dropping, but you'll still pay more, on average, for an EV versus a traditional gas-powered vehicle. As of June, the average transaction price for electric cars was $53,438 compared to $48,808 for gas-powered cars, Kelley Blue Book reported.
While you'll pay more upfront, there are savings to be had that will pay off over the lifetime of the car, and they go beyond saving on gas. Maintenance costs also tend to be less with EVs compared to their gas-powered counterparts.
"Overall, I've found EVs to have about 40% fewer maintenance costs per year compared to a comparable gas car," said Jacob Carter, mechanic and founder of EngineRevUp.com. "I'd say to budget around $800 to $1,200 per year for basic EV maintenance based on my shop's experience, whereas an average gas car is more like $1,200 to $1,600 per year. The savings add up!"
That's because electric cars have fewer parts, so fewer things can go wrong.
"EVs do not have components that need to be replaced or serviced as often, like spark plugs, fuel filters and engine oil," said Joe Giranda, managing member at CFR Classic, which specializes in international car shipping and relocation. "Many EVs require little or no regular maintenance for the entire duration of ownership."
With that said, you still should be prepared for the minimal maintenance costs that will come up. Here's a look at the costs you should be prepared to pay when you own an EV.
Windshield Wiper Replacements
Carter recommends replacing the wiper blades on your EV every year, which will cost roughly $50 to $100.
Make Your Money Work for You
12V Battery Replacement
Carter said that you will likely need to replace your car's 12V battery every three to five years. This will cost around $200 to $300, he said.
Battery Coolant Replacement
"The big-ticket item is battery coolant," Carter said. "It's recommended to change the coolant every four to five years at around $400 to $600. This keeps the battery operating at peak efficiency."
Tire Rotation and Replacement
You may need to rotate and/or replace your tires more often with an electric vehicle.
"EVs require tires with a higher weight rating to support the heavy specialized battery. Plus, those tires can wear out faster than conventional tires," said Jamie Jones, general manager of luxury and electric vehicle brands at Chase Auto. "Many tires last around 50,000 miles on conventional cars, but EV tires may need replacing in half that time. The extra stress on EV tires also means the tires should be rotated more frequently, and that the EV tire warranty may be invalid if you don't complete this routine maintenance."
Carter said that it typically costs between $600 to $1,000 to have a new set of tires installed.
Other Maintenance Costs
Jones said you should also be prepared to replace cabin air filters ($64 to $86), head and tail lights ($20 to $100 per bulb), and brake fluid ($50 to $100) regularly.
More From GOBankingRates