My New Tesla Was Cheaper Than My Electric Bill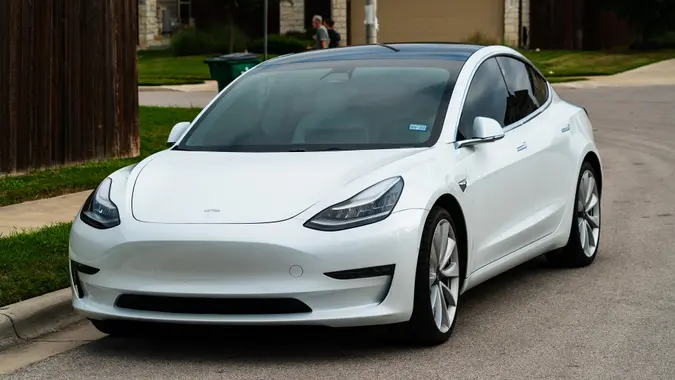 RoschetzkyIstockPhoto / iStock.com
Even after being on the market for more than a decade, Tesla electric vehicles still turn heads as a luxury car. You might think buying or leasing a Tesla will cost at least $1,000 a month.
But with the introduction of the Model 3 at a price point of $40,240 (before any incentives, tax credits or gas savings), driving a Tesla is within reach for many consumers.
Finance YouTuber Takes on the Cost of a Tesla
Finance YouTuber Graham Stephan was amongst the first owners of a Model 3, back in 2019 when it launched at an MSRP of just over $35,000.
He said he got his Tesla for just $78.39 per month — less than an electric bill in most parts of the country, including Stephan's home state of California. The average price for electric in California is $285 per month, according to EnergySage.
While prices on Teslas have risen in the past five years, you can still snag a similar deal. Graham broke it down by the numbers for viewers.
Building Your Dream Tesla
First, he visited the Tesla website to build out his custom Model 3. He said that pricing out luxury vehicles he doesn't intend to buy is a "guilty hobby." He was surprised to find that, not only was a new Model 3 well within his budget, but it would be a smart financial purchase.
Make Your Money Work for You
First, he chose the standard range model for $35,000. Today, that same vehicle lists for $40,240 on the Tesla website. Back then, he was able to upgrade to the partial premium interior along with increased range and a higher top speed of 140 mph via a performance package.
Today's Model 3 comes in three trim packages: regular, long range, and performance.
Back then, the stock color for a Model 3 was black, while other colors cost $2,500 more. Today, you can choose midnight silver metallic at no added cost, pearl or blue for $1,000 more, black for an additional $1,500 or red for $2,000 more.
As in 2019, an all-black interior is included while a white interior has a $1,000 upcharge. To be sensible like Stephan, you may as well choose black.
The prices for enhanced autopilot and full self-driving (FSD) capabilities have also gone up. However, the capabilities have also improved dramatically since the Model 3's launch. You'll pay $6,000 for enhanced autopilot and $15,000 for full self-driving.
Stephan opted for the autopilot feature on his 2019 Model 3, but skipped FSD. For the purpose of keeping prices down today, let's stick with the base model.
How Stephan Reduced His Costs
The real secret lies in how Stephan reduced his costs dramatically for the car. First, he claimed the $3,750 federal government credit (today, that credit maxes out at $7,500), taking that amount off the top of the sticker price — since he expected to pay at least that much in federal taxes that year. If that's not the case, a lesser amount would have to be factored away from the sticker price. He also qualified for a California state EV rebate of $2,500.
Make Your Money Work for You
If you plan to buy a Tesla or any other EV, it's smart to check with a dealer in your state for any incentives or rebates you might receive.
Cash, Lease or Loan?
At a price of under $30,000, Stephan was ready to pay cash for his new Tesla. But then he saw he could get financing for 3.75% (again, in April of 2019). He realized, "At that interest rate, I'd get a better return investing my money virtually anywhere else instead of buying the car in cash."
While the Tesla website shows 6.19% APR as the default for a 72-month loan if you have excellent credit at this time, MarketWatch recently reported that you can secure Tesla financing for as little as 3.24% per month (citing May 2022 data).
We used a loan calculator to find that the monthly payment for a $32,000 car (after tax credits) at 3.24% interest would be just $459 per month — over a 6-year term.
Vehicle as a Business Expense
Here's where Stephan's situation differs from most people. He writes off his car as a business expense. First, he deducted the loan interest of $1,438. Taxes and registration came to $4,437, which might be a bit higher for a car that costs ~$5,000 more today. Stephan also depreciated the vehicle in the first year for $8,200, giving him tax savings of $4,925.
Divide that savings by 12 months (roughly $410 per month) and deduct from your monthly payment of $459, and you're effectively paying $49 per month in the first year of ownership.
It sounds too good to be true, until the numbers were crunched — and it's at least somewhat possible. Keep in mind, this only applies to the first year of the loan, when the car depreciates substantially in value and you can claim that tax deduction. Of course, you must own a business and primarily use the car for your business to take advantage of the deduction.
The key, of course, is in having excellent credit to qualify for the lowest interest loan — and owning your own business so you can deduct the costs of the vehicle. Consulting with a tax professional before leaping into the driver's seat is certainly prudent.
More From GOBankingRates