New Car Market: 10 New Car Brands With the Most Recalls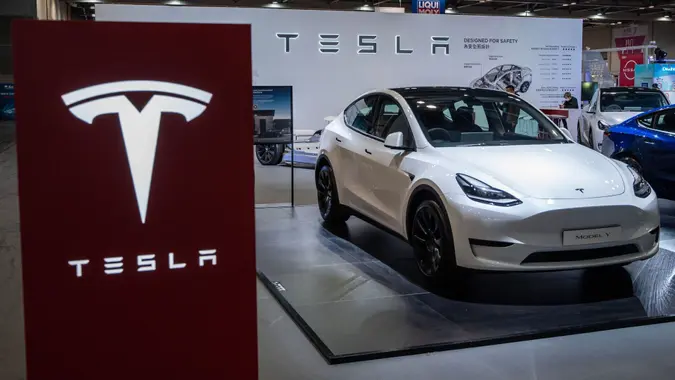 Vernon Yuen/NurPhoto/Shutterstock / Vernon Yuen/NurPhoto/Shutterstock
When you pay $40,000 or more for a new vehicle, you might expect it to be free of problems — at least for the first three years or 30,000 miles. Ideally, you'll get even more years of worry-free driving if you keep up on maintenance like oil changes, tune-ups, brakes, and tire rotation.
But, as new research from ISeeCars.com showed, even high-end luxury vehicles may be subject to recalls. In fact, six out of the 10 cars with the most projected recalls of any type over 30 years would be classified as luxury models.
Meanwhile, brands like Toyota, Ford, Chevrolet, Hyundai and Nissan grace a list of 33 vehicles with the least recalls over a 30-year lifespan. To be fair, these models sit side-by-side with luxury vehicles like Lexus, Mercedes-Benz, and MINI, which earned the top spot for fewest recalls.
What Is a Car Recall?
Car recalls occur when a vehicle has been determined to have issues related to its safety. Concerning today's high-tech cars, there are two types of recalls: over-the-air recalls and those involving a visit to a service center.
While Tesla's entire model line of vehicles (Model S, 3, X, and Y) dominate the list of top 5 cars with safety recalls of any type, only the Model Y makes the top 10 when OTA recalls are excluded from consideration. The Model 3 comes in eleventh on the list of most recalls (excluding OTA recalls).
Make Your Money Work for You
Avoiding Recalls: Choose Your New Car Wisely
Safety recalls can be a hassle, especially if they require a trip to the dealership to rectify. In 2022, more than 400 automotive recalls were issued under the direction of the National Highway Traffic Safety Administration (NHTSA).
To determine the most-recalled vehicles, ISeeCars.com looked at data from the past 10 years to extrapolate the number of projected recalls over a car's expected 30-year lifespan.
Across all cars, the average number of recalls over 30 years is 4. Tesla's Model Y, the top-recalled car (counting OTA recalls) could have up to 62 recalls, or more than two per year.
"For consumers who don't want to deal with a recall, the top models offer a substantially lower risk than even average models, such as the Chevrolet Equinox or Honda Ridgeline, with four predicted lifetime recalls," ISeeCars executive analyst Karl Brauer wrote in a related blog post.
So, which cars should you avoid if you don't want to face a serious recall? And which cars should you avoid if you're averse to any recalls, in general?
Cars With the Most Safety Recalls, Excluding OTA (Software Update) Recalls
Porsche Panamera.
Lincoln Aviator.
Volkswagen Atlas Cross Sport.
Volkswagen Atlas.
Ram 1500 Classic.
Ram 1500.
Tesla Model Y.
Ford F-150.
Porsche Macan.
Porsche Cayenne.
Cars with Most Safety Recalls, Including OTA
Tesla Model Y.
Porsche Panamera.
Tesla Model 3.
Tesla Model X.
Tesla Model S.
Lincoln Aviator.
Volkswagen Atlas Cross Sport.
Volkswagen Atlas.
Ram 1500.
Ram 1500 Classic.
Cars With Fewest Safety Recalls
MINI Convertible.
Lexus NH 300h.
Lincoln MKZ Hybrid.
Mercedes-Benz CLA.
Lexus RX 450h.
Nissan 370Z.
Hyundai Elantra GT.
Mercedes-Benz GLA.
Mercedes-Benz GLC.
Lexus IS 300.
Make Your Money Work for You
More From GOBankingRates