Avoid Buying a New Car: 7 Ways To Keep Yours Running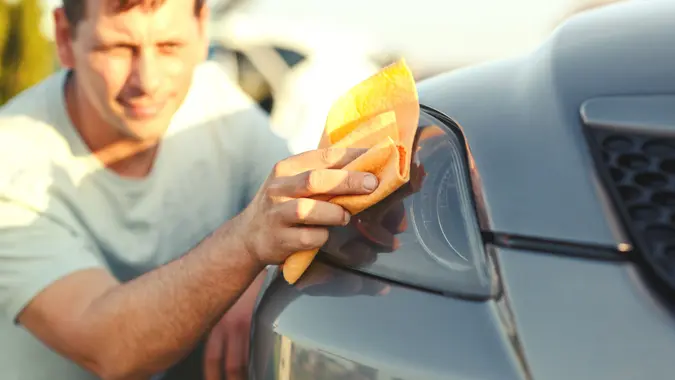 Likica83 / Getty Images/iStockphoto
Just how old is the average car? According to a May 2023 analysis by S&P Global Mobility, the average age of cars and light trucks in the U.S. is 12.5 years old. 
Many new cars are financially out of pocket from buyers at the present time, meaning drivers need to put in some extra work to keep older vehicles in great shape. From putting your car on a cleaning schedule to checking higher-ticket items on a regular basis, use these seven tips to keep your current car in good condition. 
Perform Regular Maintenance
One of the best ways to ensure older cars last is to perform regular, preventative maintenance.
Bill Snow — vice president, franchise development and operations at Rad Air Complete Car Care — said this kind of maintenance includes oil and filter changes, fluid exchanges, checking brake pads and following a maintenance program for items which wear out over time like shocks, struts and spark plugs. 
Snow recommends car owners find a mechanic they like and trust and stick with them. "Having a good relationship with your mechanic will save you money in the long run and you'll have a vehicle that runs great," said Snow.
Regularly Check Higher-Ticket Items
In addition to performing preventative maintenance, drivers should check higher-ticket items. These include the timing belt, alternator and the water pump.
Make Your Money Work for You
Kirsten Orlowski, associate director, finance at Carvana, said water pumps need to be replaced around 60,000 to 90,000 miles. Alternators and timing belts need to be replaced around 100,000 miles. By ensuring each part is running smoothly, Orlowski said drivers will save money and make sure their vehicle doesn't endure significant damage from these older parts.
Keep Cars on a Cleaning Schedule 
Drivers should regularly wash their car's exterior and clean out its interior. Doing so will help the vehicle keep its new-to-you shine, especially for drivers who live in a four-season climate. 
Orlowski recommends scheduling a deep clean regularly for your car. This helps keep corrosion, rust and mold buildup at bay. 
Invest In High-Quality Parts
As tempting as it may be to cut corners and purchase cheap or used parts, don't do it. Joe Giranda, director of sales and marketing for CFR Classic, recommends investing in high-quality parts and products for your car. This includes quality tires, brakes, filters and other components which make a big difference in how long the car lasts. 
Not sure where to get the best parts for your car? Orlowski recommends purchasing them directly from reputable manufacturers. It might cost a bit more, but buying direct helps ensure nothing else is damaged in the vehicle and keeps the car from needing additional repairs.
Don't Drive Low on Oil
What happens if you drive low on oil? Giranda said doing so can cause serious damage to the engine and other parts of the car. Low oil levels also reduce the lubrication needed for essential components which leads to premature wear. 
Don't Drive Low on Fuel
Much like driving low on oil, driving low on fuel can also cause problems for a car. 
Make Your Money Work for You
"The fuel pump runs on gasoline to cool itself down," said Giranda. "If it gets too hot, it can overheat and fail, and if this happens a little too often, you can expect to see a hefty repair bill."
Perform Tire Maintenance
This is an easy item for car owners to check off their list to keep older vehicles lasting longer. 
"Drivers should rotate their tires and keep them properly aligned, well-inflated and in good condition at all times," said Orlowski. "Tires should be rotated every 5,000 miles, and drivers should keep a pressure gauge to check when the weather changes to ensure they stay at peak performance levels."
More From GOBankingRates