New Report Shows EVs Will Account for Two-Thirds of All New Vehicle Sales by 2030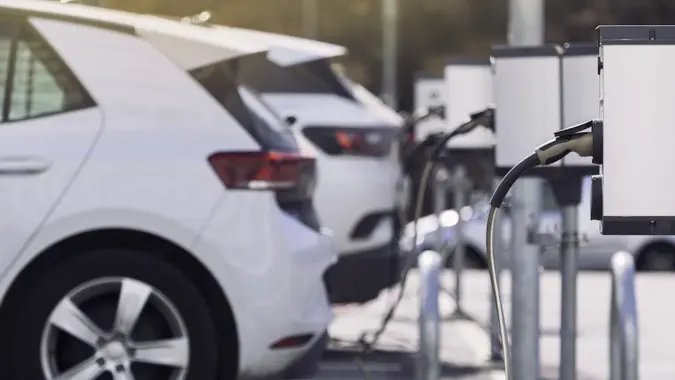 Marcus Lindstrom / iStock.com
There is a clear exponential growth pattern for electric vehicles (EVs), even faster than what was previously anticipated. Indeed, a new report found that EVs will account for two-thirds of new vehicles by 2030. And policy initiatives are not the only driver of this shift- future lower costs are also.
The report, by Systems Change Lab, Rocky Mountain Institute (RMI) and the EEIST project, highlights the speed and scale of the accelerating transition to EVs.
"The new driver of change is economics. Because battery costs enjoy learning curves, total cost of ownership price parity has been reached, and sticker price parity will be reached in every major car market and segment by the end of the decade," the report read.
Indeed, the report noted that economics are now overtaking policy incentives as the core accelerant of EV sales, with falling battery costs being the main driver.
For instance, RMI expects battery costs to halve this decade, from $151 per kilowatt hour (kWh) to $60 and 90 per kWh.
"By 2030, falling costs will, for the first time, make EVs as cheap or cheaper to both buy and run as petrol cars in every market globally," according to the report.
Asked whether these findings were surprising, Kingsmill Bond, senior principal of RMI, said they were, as they show that the likely range for EV sales is above the consensus range. 
"The consensus is around 40-50% share of EVs by 2030. We argue that the lessons of other technology shifts and this one implies that EV sales will be over two-thirds of sales globally by 2030," added Bond.
Make Your Money Work for You
In terms of what it means for the U.S. EV market, Bond said that continued growth up the" S curve" is highly likely. 
"It means that California will follow China and the rest of the U.S. will follow California," he added.
"The key drivers of adoption are consumer attraction, better acceleration, lower running cost, subsidy from IRA [Inflation Reduction Act], home electricity backup, energy independence, and some local attractions on parking and driving, depending where you are," he added.
Already, EV prices have seen a huge decline: in June, the average price for an EV was down nearly 20% year over year, according to a Cox Automotive report released July 12.
Policy initiatives are driving demand, too
In addition, policy initiatives are also playing a part in the growth- notably with the EV tax breaks, part of President Biden's IRA.
There is a $3,750 credit for vehicles meeting critical minerals requirements and an additional $3,750 credit for vehicles completing the requirement that a threshold percentage of battery components be manufactured or assembled in North America, according to Cleanenergy.gov.
In addition, the administration explained that the EV must have a manufacturer's suggested retail price (MSRP) of $80,000 or less for pickup trucks, vans, and sport utility vehicles (SUVs) and $55,000 or less for other vehicles, including sedans.
Eligible households, including individuals reporting adjusted gross incomes of $150,000 or less, qualify for the discounts, and the limit moves to $225,000 for those filing as head of household and $300,000 for joint filers.
Make Your Money Work for You
As for previously owned EVs, income-qualified households are eligible for a tax credit of up to $4,000, but the vehicle must be at least two years old and cost $25,000 or less. According to the Department of Energy, individuals with a gross annual income below the following thresholds are eligible for the tax credit: $150,000 for joint filers, $112,500 for head-of-household filers, and $75,000 for single filers.
According to Peter Glenn, founder and co-CEO of EV Life, customers' key motivations to switch to EVs are to address climate change, save money on fuel and maintenance, and have a better driving experience.
"In terms of saving money, we see American drivers drawn to lower operating costs," said Glenn. "While the upfront cost of an EV may be higher, the overall cost of ownership can be lower due to reduced maintenance and fuel costs."
Glenn added that according to Consumer Reports, the average American driver stands to save $800 to $1000 a year on fuel costs by switching from a gas to an EV.
"Fuel savings will be even greater with gas prices growing higher and increasingly volatile," he said. "Finally, EVs provide drivers a zippier, more modern ride. They're seen as a symbol of modernity and advancement. Self-driving modes and other innovative features appeal to tech-savvy younger consumers."
Where will prices go in a decade?
Glenn explained that, as with scaling any new technology, he expects costs to decrease with economies of scale eventually.
"The price of lithium, a core material in EV batteries, is falling rapidly to an important price inflection point," he said, adding, however, that the costs of ramping up new vehicle manufacturing as well as sourcing other critical materials like nickel and copper could keep EV pricing higher or at least more volatile for the next five to 10 years.
"Even with higher demand for EVs and a desire for climate impact, we remain concerned that many Americans will still not buy EVs if the green premium remains $10,000 to $20,000 higher than an equivalent gas car," he said.
Other experts argued that while demand for EVs is driven by consumer demand and government policy, the demand is also connected to policy initiatives and subsidies that "distort the market by artificially lowering prices and requiring their production."
"These policies obscure the actual full price of these vehicles and push automakers and consumers to chase the subsidies rather than innovate in ways that respond to consumer preferences for quality or price directly," said Dr. Ryan M. Yonk, senior research faculty at the American Institute for Economic Research.
Which EVs qualify?
According to Consumer Report, here are a few of the manufacturers of the EVs saying they're currently eligible for a full tax credit of $7,500 -provided other requirements (income cap for instance) are met:
Cadillac Lyriq (2023 and 2024 model years, MSRP $80,000 or below)
Chevrolet Bolt (2022 and 2023 model years, MSRP $55,000 or below)
Chevrolet Bolt EUV (2022 and 2023 model years, MSRP $55,000 or below)
Chevrolet Blazer (2024 model year, MSRP $80,000 or below)
Chevrolet Equinox (2024 model year, MSRP $80,000 or below)
Chevrolet Silverado EV (2024 model year, MSRP $80,000 or below)
Chrysler Pacifica PHEV (2022, 2023, and 2024 model years, MSRP $80,000 or below)
Ford F-150 Lightning (2022 and 2023 model years, MSRP $80,000 or below)
Lincoln Aviator Grand Touring PHEV (MSRP $80,000 or below)
Tesla Model 3 Performance only (2022 and 2023 model years, MSRP $55,000 or below)
Tesla Model X Long Range (2023 model year, MSRP $80,000 or below)
Tesla Model Y All-Wheel Drive, Long Range, and Performance (2022 and 2023 model years for All-Wheel Drive and Long Range, 2022 model year only for Performance, MSRP $80,000 or below)
Volkswagen ID.4 (2023 model year, MSRP $80,000 or below)
More From GOBankingRates