6 States With the Best Electric Vehicle Incentives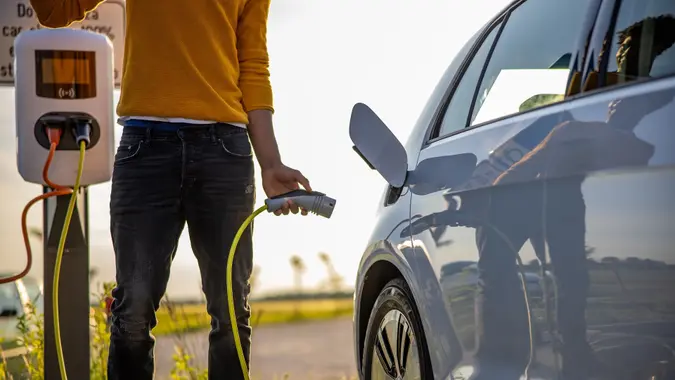 SimonSkafar / iStock.com
Electric vehicles (EVs) have long captured the American imagination, but until recently, they have always been the wave of the future. High upfront costs along with a host of obstacles — including vehicle range and the lack of sufficient chargers — have long stymied the widespread implementation of EVs. But this is all changing rapidly.
Electric vehicle prices are falling rapidly, thanks in part to increased production and technological advances, and both federal and state incentives are making these types of cars even more affordable than ever. Here's a look at the states that currently have the best electric vehicle incentives, based on data from the U.S. Department of Energy's Alternative Fuels Data Center and the states themselves.
Colorado
Starting in 2023, Colorado lowered its EV credits a bit, but it still offers some of the best electric vehicle incentives in the country. Credits are the smallest for light-duty EVs, at $1,500 for leases and $2,000 for purchases, but they reach as high as $5,000 for leases and $8,000 for purchases of heavy-duty electric trucks.
As of now, these credits are slated to expire as of Jan. 1, 2026.
Connecticut
Connecticut's CHEAPR program, which stands for Connecticut Hydrogen and Electric Automobile Purchase Rebate Program, offers rebates up to $9,500 for the purchase or lease of a new, eligible hydrogen fuel cell electric vehicle, all-electric vehicle or plug-in hybrid electric vehicle. Residents who participate in a state or federal income-qualified program may be eligible for an additional rebate, Rebate Plus, worth between $1,125 and $7,500.
Make Your Money Work for You
Maryland
Maryland offers excise tax credits of up to $3,000 for qualified EV and fuel cell electric vehicle purchases. The cost of the vehicle cannot exceed $50,000. Until June 30, 2023 — unless extended — the state will also rebate up to 40% of the cost of acquiring and installing electric vehicle supply equipment, otherwise known as a charging station.
More: 8 Electric Cars You May Regret Buying
Rebates can reach as much as $700 for residential installations or $5,000 for businesses, nonprofits, workplaces, multi-unit dwellings, or state or local government entities.
California
California's Clean Vehicle Rebate Project provides rebates to residents who purchase or lease new eligible vehicles. Those with lower incomes may also get enhanced amounts. Specifically, rebate amounts are $750 for zero-emission motorcycles, $1,000 for plug-in hybrid electric vehicles, $2,000 for electric vehicles and $4,500 for fuel cell electric vehicles.
Income limits are as follows, except for FCEVs:
$135,000 for single filers
$175,000 for head-of-household filers
$200,000 for joint filers
Rebates are increased by $2,5000 for those with incomes less than or equal to 400% of the federal poverty level.
Make Your Money Work for You
Massachusetts
Under the Massachusetts MOR-EV program, residents can receive $1,500 for a new plug-in hybrid electric vehicle or $3,500 for a new battery for a fuel cell electric vehicle. Vehicles purchased after Nov. 22, 2022 must have a sales price of $55,000 or less and be registered and retained in Massachusetts for at least 36 months.
Fleet purchases of up to 10 vehicles by businesses or nonprofits in Massachusetts can also qualify.
New York
New York's Drive Clean Rebate Program provides up to $2,000 for eligible electric vehicle purchases. The amount of the rebate is based on vehicle range and price, as follows:
Range greater than 200 miles, $2,000 off
Range of 40 to 199 miles, $1,000 off
Range of less than 40 miles, $500 off
Vehicle MSRP greater than $42,000, $500 off
More than 60 car models qualify for the Drive Clean Rebate.
Special Note: Oregon and New Jersey
Oregon and New Jersey used to have some of the best EV credits in the nation. However, due to an unprecedented surge of buyer demand, both of these states have opted to temporarily suspend their credits in 2023. 
For example, "Charge Up New Jersey" suspended its credits on Apr. 17 after paying out more than $35 million in EV incentives, at up to $4,000 per vehicle.
Oregon followed the same model, temporarily suspending its "Oregon Clean Vehicle Rebate Program" on May 1, 2023, after paying out as much as $7,500 to qualifying households. The suspension is expected to last until Mar. 2024, when additional funding is anticipated to arrive.
Make Your Money Work for You
More From GOBankingRates
Make Your Money Work for You