Summer Gas Prices 2023: The Most and Least Expensive States To Buy Gas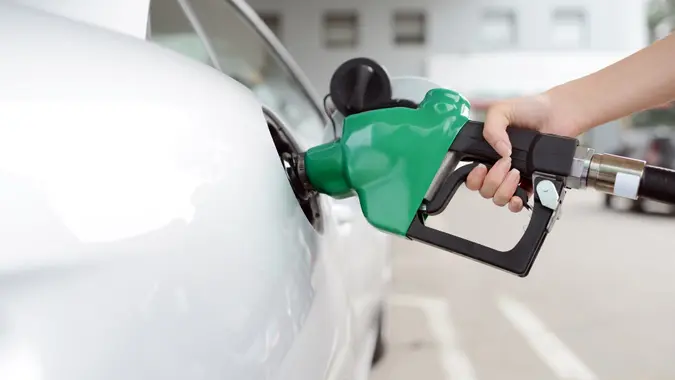 PhotoTalk / iStock.com
Drivers in the Pacific Northwest suddenly find themselves paying the highest gasoline prices in the country as summer 2023 kicks into gear, meaning that long-suffering California drivers are no longer saddled with that badge of dishonor. The good news for drivers everywhere is that gas prices are way down from a year ago, when they hit an all-time high.
The average price for gasoline in Washington state is $4.948 a gallon as of June 22, 2023, according to AAA, making it the most expensive state in the country. To put that figure in context, the national average is $3.584 — meaning Washington drivers pay a 38% premium vs. the rest of the country.
But Evergreen State drivers can find solace in the fact that the price they currently pay is down from $5.526 a gallon a year ago. Nationally, gas prices have dropped about 28% since hitting a record high of $5.016 a gallon on June 14, 2022.
Lackluster demand and low oil costs are keeping gas prices "relatively stable," AAA said in a press release.
"We may be in a bit of a demand lull heading into the July Fourth holiday," said AAA spokesperson Andrew Gross. "Drivers are benefitting financially, with 20 gallons of gas costing nearly $30 less than last year. And with the cost for oil low, drivers will find pump prices that are flat or drifting slightly lower for now."
California wore the crown as the most expensive state for gas during about 95% of the time over the last few years, CNN reported, citing comments from Patrick De Haan, head of petroleum analysis at GasBuddy. With Washington taking over the title, Californians can finally get rid of that unwanted distinction.
Make Your Money Work for You
Even so, some parts of the Golden State still charge the highest prices in the country. Eight of the top 10 metro areas in the U.S. with the highest prices are located in California, CNN noted.
Following recent patterns, the most expensive gas is clustered in the West, and the least expensive in the Southeast.
Here's a look at the five states with the highest current gas prices:
Washington: $4.948 a gallon
California: $4.859
Hawaii: $4.726
Oregon: $4.598
Nevada: $4.267
On the other side of the ledger, here are the five least expensive states:
Mississippi: $3.010 a gallon
Louisiana: $3.125
Arkansas: $3.140
Tennessee: $3.151
Alabama: $3.156
More From GOBankingRates