Why Tesla Is Offering 3 Months of Free Charging to Model 3 Buyers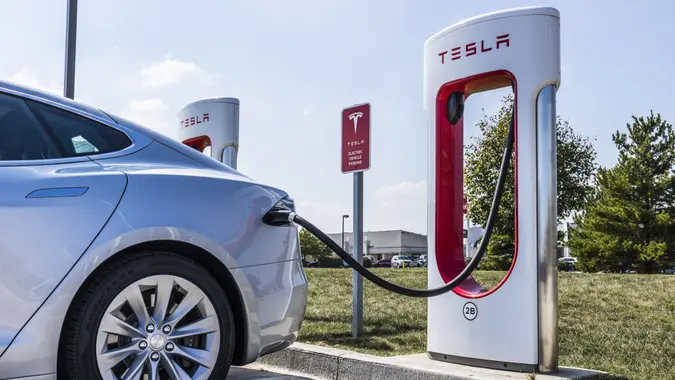 Jonathan Weiss / Shutterstock.com
In an effort to ramp up sales in the second half of the year, electric vehicle manufacturer Tesla is offering a slew of discounts and charging incentives for new customers in the U.S. and Canada.
First, buyers of new Model 3 vehicles will receive three months of free supercharging if they purchase before June 30, 2023. The deal comes prior to an expected Model 3 refresh, according to Electrek, and is likely a tactic to help Tesla clear out existing inventory before releasing a new model.
Additionally, customers in Texas will receive a full year of free, overnight vehicle charging at home if they sign up with Tesla Electric and take delivery on a Model 3 before June 30.
The charging deal is even sweeter for those who buy the higher end Model S or Model X vehicles, according to various reports. Model X and Model S buyers will receive three years of free supercharging if they purchase from existing inventory and take delivery before June 30. Tesla also dropped the price of the vehicles by $8,000.
Tesla has been known to reduce prices and introduce incentives toward the end of the fourth quarter to meet sales goals. This year, the manufacturer is taking a more proactive approach. Bloomberg wrote that CEO Elon Musk has said he's willing to compromise profit margins for sales growth. Tesla delivered 422,875 vehicles in the first quarter, with an annual target of 1.8 million vehicles delivered. With increasing market competition, Tesla could fall short of that goal without these deals and incentives to entice customers.
Make Your Money Work for You
More From GOBankingRates