How Much Does It Cost To Charge a Tesla?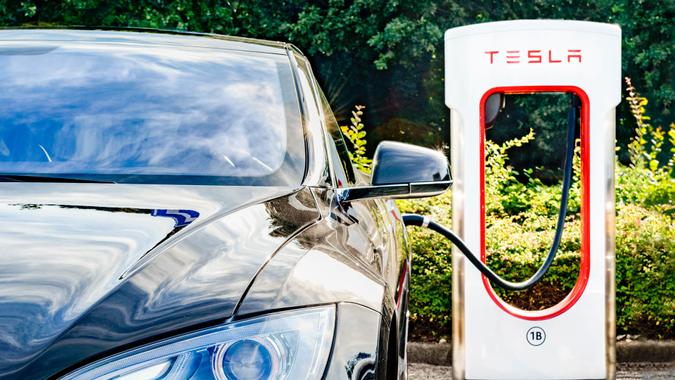 Sjo / iStock.com
With gas prices remaining high, electric vehicles have become increasingly popular. Many gas-powered vehicle manufacturers have started adding all-electric vehicles to their lineups. 
Despite the growing number of EVs on the market, Tesla, an exclusively electric vehicle manufacturer, remains the most popular brand of EV in the U.S., accounting for 68% of all new EV registrations in the first half of 2022. Owners don't have to pay for gas, but charging isn't free.
While the exact cost of charging a Tesla depends on several factors, drivers can expect to pay between $8.82 and $25.25 to fully charge a depleted Tesla battery.
See Why: This Credit Score Mistake Could Be Costing Millions Of Americans
How Much Does It Cost To Charge a Tesla at Home?
Based on national average energy cost of 15.42 cents per kWh and an added 15% to account for a home charger's inefficiency, a Tesla will cost from $8.82 to $17.65 to charge from 0% to 100%. Here's a breakdown based on different models:
Model 3 Standard Range Plus (50 kWh): $8.82
Model Y (75 kWh): $13.24
Model 3 Long Range/Model 3 Performance (82 kWh): $14.47
Model S (100 kWh): $17.65
Model X/Model X Plaid (100 kWh): $17.75
Make Your Money Work for You
Does Owning a Tesla Save Energy?
One of the benefits of owning a Tesla, or any EV for that matter, is the convenience of being able to charge at home. Home charging costs will depend on location, the size of the battery in the Tesla and the type of charger used.
According to the most recent data from the Energy Information Administration, the national average energy cost is 15.42 cents per kilowatt-hour, with prices ranging from 11.24 cents per kWh in Utah, to 44.04 per kWh in Hawaii.
Tesla vehicles have different size batteries. The bigger the battery, the more it will cost to charge. However, a driver won't have to charge a vehicle with a larger battery as often. 
Finally, charging at home involves using a Level 1, a standard 120V outlet, or Level 2, a 240V outlet, AC charger. These chargers aren't 100% efficient and will draw more electricity to replenish a battery. Car and Driver estimates Level 1 and Level 2 chargers pull 12% to 15% more electricity than the amount necessary to fill the car.
Make Your Money Work for You
How Much Does It Cost To Charge a Tesla at a Destination Charger?
The cost to charge at a Tesla charging station, also known as Destination Chargers, deliver Level 2 charging. Some places offer free charging if you meet a specific condition, such as having a hotel reservation. Note that Tesla doesn't own and operate these chargers. Instead, commercial establishments install them.
What Does It Cost To Use a Tesla Supercharger?
The Tesla Supercharger network features public chargers that offer super fast, or Level 3, charging. The chargers are also much more efficient, at around 99%.
Most Superchargers have per kWh pricing. Exact prices vary depending on the location and time of day, but Solar Reviews states it's around 25 cents per kWh. Depending on your vehicle, it can cost anywhere from $12.63 to $25.25 to charge a Tesla from 0% to 100%. 
Another factor to note is that Superchargers occasionally charge idle fees. If a station is more than 50% full, Tesla will tack on an additional cost for every minute your car stays plugged in after it's fully charged. According to Tesla, that fee is 50 cents per minute at 50% capacity and $1 per minute at 100%. 
Make Your Money Work for You
Can You Use Other Charging Networks?
If you have a J-1772 adapter, you can charge a Tesla with other charging networks such as EVgo and Electrify America. Stations throughout the country offer Level 2 and DC fast charging. Prices vary by location and whether the station charges per minute or per kWh.
How Much Does Charging a Tesla Affect Your Energy Bills?
The impact on your energy bills depends on how often you charge your car at home, the charger type you use, how much you pay for electricity and the type of energy plan you have. For instance, if you use a Level 1 charger and your rate fluctuates depending on the time of day, it will cost you much more if you charge during peak hours than if you were to charge during off-peak times. The result would be a more significant impact on your monthly power bills. If your home has solar, it may not cost you anything to charge at home.
Final Take
The cost to charge a Tesla varies depending on many factors, including the model you own and whether you charge at home or using a charging network.
To calculate more accurate costs of charging at home, take a look at your electricity plan and look up the battery capacity of the Tesla you own or want to buy. Multiply your rate by the battery size, and don't forget to factor in efficiency loss. You can also look up the cost of charging at nearby Superchargers and other network chargers to determine the costs of charging outside of your home. 
Our in-house research team and on-site financial experts work together to create content that's accurate, impartial, and up to date. We fact-check every single statistic, quote and fact using trusted primary resources to make sure the information we provide is correct. You can learn more about GOBankingRates' processes and standards in our editorial policy.
Make Your Money Work for You