The $20,000 Used Car Is Disappearing – Here Are 10 You Can Find Now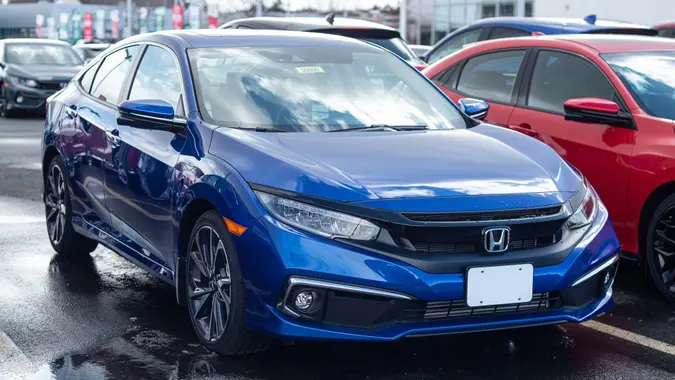 shaunl / iStock.com
The beginning of 2023 finally brought some good news for car buyers. Although car prices have surged dramatically over the past two years, the average price paid for a new car has decreased so far this year.
That's the good news. The bad? The price for used cars is still stubbornly high, and the market for used vehicles under $20,000 is disappearing before our eyes. Per Axios, used car prices surged 4.5% from March to April, according to the latest consumer price index data.
About 30% of used vehicles sold in the first quarter of 2023 went for under $20,000 compared to a 60% share five years ago, according to Edmunds. While used vehicle prices have dropped 6.4% year-over-year, they are still up 44% from 2018 Q1. The average price now sits at $28,381.
Consumers looking for less expensive car options are increasingly being pushed out of the marketplace. Speaking to Axios, Edmunds analyst Ivan Drury said, "It's earth-shattering stuff to see that your 20K's not going a long way anymore."
So far, dips in new car prices haven't significantly translated to plunges in the used car market, but the rise of prices in April may have more to do with dealers taking advantage of buyers flush with tax refunds in their pockets than anything more insidious. Low inventory is still a concern as American drivers are holding on to their cars longer than ever.  
Make Your Money Work for You
If there's a silver lining to this bleak consumer reality, used vehicle prices have been dropping, albeit slightly, and if you're willing to be flexible, there are still cars you can buy for under $20,000 that are safe, dependable and a good value.
According to Kelley Blue Book, here are 10 cars that you can consistently find for under $20,000.
2020 Honda Civic.
2020 Kia Forte.
2020 Mazda3.
2020 Subaru Impreza.
2020 Toyota Corolla.
2019 Hyundai Sonata.
2019 Kia Optima.
2019 Toyota Camry.
2018 Honda Accord.
2017 Toyota Avalon.
More From GOBankingRates