Used Car Prices Just Jumped 4.1% – Here's How You Can Still Get a Good Deal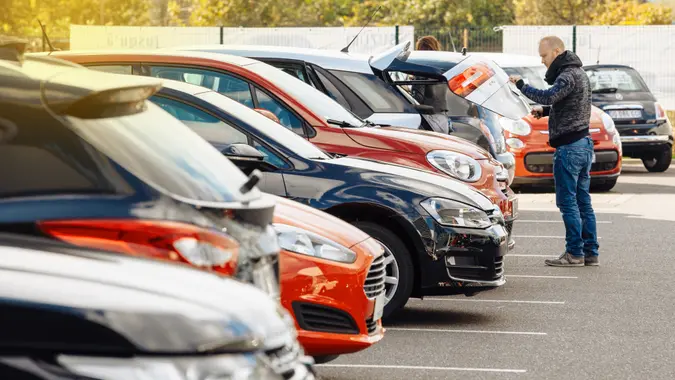 AdrianHancu / Getty Images
The used car market has been anemic for a couple of years now, as dramatic cost increases and vehicle shortages have been norms across the board. But from the mid-point of 2022 onward, many industry professionals were predicting healthier times ahead as prices for used cars were slowly falling and thoughts of returning to a buyer's market were beginning to trend.
$2,000 Quarter? Check Your Pockets Before You Use This 2004 Coin
Learn: 3 Signs You're Serious About Raising Your Credit Score
Jump ahead to the present, could it be that 2022 reports of looming cheaper used vehicles were greatly exaggerated? Over the first two weeks in February, wholesale used vehicle prices have increased 4.1%, which is the largest February increase since 2009's short-month price hike of 4.4%, per Cox Automotive, owner of auto auction company Manheim and primary owner of online marketplace Autotrader.com.
"We did not anticipate that prices would jump as much as they have," stated Chris Frey, senior industry insights manager at Cox Automotive. "It made my eyes jump out."
Although many market vehicle classes and overall used vehicle prices have seen drops year-over-year, two of Manheim's price indicators — the Manheim Used Vehicle Index and Manheim Market Report prices — increased to 234.0 and by a 1.3% aggregate in mid-February respectively.
Make Your Money Work for You
We will soon find out how prices affected sales during this President's Day long weekend which, prior to the pandemic and production shortages, was typically a big sales holiday for new and used car dealers. However, as Car and Driver warned, deal-hunters expecting to score a President's Day car bargain this year will be disappointed.
The automotive industry is in its current pricing predicament due to demand for vehicles and their component parts far exceeding supply, which caused prices to escalate and froze many consumers out of the market entirely. It puts sellers in a difficult situation as they try to ramp up overpriced inventory ahead of the busy selling season in the spring.
"I don't think this latest increase is a blip," said Frey. "We've been calling for a 4% decline in prices from December last year to December this year. We may have to revise that."
Take Our Poll: What Do You Plan To Use Your Tax Refund For?
Refunds: The IRS Has Refunded $15.7B as of Feb. 3 — Here's How Much the Average Taxpayer is Getting Back
However, if buyers are willing to temper their expectations, despite a lack of enticing brand-backed financing and leasing deals, there are rebates and discounts on last year's models — like $1,000 in bonuses on a Toyota Tacoma or $3,000 off last year's Ford Edge — to be had.
Make Your Money Work for You
Barring an overall dip in prices this spring, you should always be on the prowl for models that have been sitting on lots for a while. As Car and Driver suggests, "Keep your eye on 2022 models or unusual specs that many buyers wouldn't want, look for interest-rate offers on your favored brand, and be prepared on Presidents Day and every day this year to compromise."
More From GOBankingRates
Make Your Money Work for You