7 Used Cars With the Worst Fuel Efficiency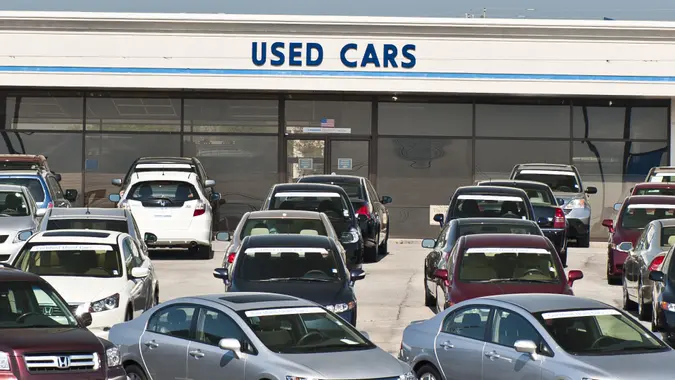 WendellandCarolyn / Getty Images
With the average new car selling for nearly $27,000 and the average auto loan charging an APR over 11%, most buyers are probably scouring the previously owned market with low MSRPs in mind. However, a car with a forgiving sticker price could cost you more in the long run if it compromises on fuel efficiency.
To ensure you don't drive home with something that bleeds your budget with frequent fill-ups, GOBankingRates identified the used cars from the last 10 years with the poorest gas mileage. Predictably, the worst offenders are supercars, hypercars and high-end luxury performance vehicles with six- and seven-figure price tags that are out of reach for all but a handful of buyers.
Since most people aren't scouring the used market for a gently used Rolls-Royce Cullinan, Bentley Continental or Lamborghini Aventador, the following list omits exotic vehicles. Instead, it focuses on regular (and regular-ish) cars, trucks, vans and SUVs that gulp down gas as fast as you can pump it. There is one exception — a supercar whose fuel economy is too outlandishly poor to be ignored.
Mercedes-AMG GLA45 4Matic
As sexy as a station wagon could ever aspire to be, the Mercedes-Benz GLA class has consistently ranked among the best luxury subcompact crossovers that money can buy. But the AMG-tuned GLA45 variation — produced since 2015 — is a step above, thanks to a turbocharged inline-four that generates 150 extra ponies for 382 horsepower.
Make Your Money Work for You
But the tradeoff for all that power is fuel economy — it gets just 20 mpg in the city and 27 on the highway for a combined 23. The 2024 model starts at $53,000 and you can find them used for less than $20,000, depending on the year and condition.
Nissan Armada 4WD
Model year 2024 celebrates two decades of the Nissan Armada, a big, roomy, powerful full-size SUV that debuted as the Pathfinder Armada in 2004. The current generation started in 2017, and while it's still a body-on-frame vehicle, it's now based on the Infiniti QX80 instead of the Nissan Titan full-size pickup like previous generations.
Its power comes from a massive 5.6-liter, 390-horsepower V8 engine — and so does its lousy fuel economy. The 2020 model, for example, gets just 13 miles per gallon in the city and 18 on the highway for 15 combined.
Toyota Sequoia 4WD
The Toyota Sequoia has been a mainstay in the full-size SUV market for more than 20 years since its debut in 2000. It's undergone several generational upgrades, but its Tundra lineage has been evident in its massive grill and huge cabin throughout its production run — and the four-wheel-drive version has always been as thirsty as the pickup truck on which it's based.
For example, the 2018 model gets just 13 mpg in the city and 17 on the highway for a combined 15 miles per gallon.
Gen 6 Ford Mustang Shelby GT500
The Mustang Shelby GT500's lineage dates back to 1967, with the current sixth generation running from 2020 to the present.
MSRPs start at around $74,000-$80,000, depending on the year, and you shouldn't expect to get much of a break on the used market. In fact, it's not uncommon for them to sell for more after a year or two on the road than they did brand new.
Make Your Money Work for You
And they haven't gotten any better on gas, either. While it gets 18 mpg on the highway, it consumes a gallon of fuel every 12 miles in the city for a combined 14 mpg.
Chevrolet Express
Also known as the GMC Savana, GM introduced the Chevrolet Express in 1996 as the nameplate's first all-new full-size cargo van since 1971. Except for minor tweaks and safety upgrades, they're essentially the same today as when the first one rolled off the line nearly 30 years ago, making the Express "one of the longest-produced automotive designs in North American auto history," according to Classic Vans.
While they're adaptable, versatile, reliable and roomy, they've been terrible on gas from the beginning. The 2015, for example, gets 10 mpg in the city and 15 on the highway for a combined 12 miles per gallon.
Ram 1500 TRX
In 2021, Dodge unveiled a souped-up version of its successful Ram 1500 that featured a massive supercharged 6.2-liter Hemi V8 Hellcat engine that put 702 horses in motion. But an engine like that consumes gas in huge gulps, and the four-wheel-drive Ram 1500 TRX can travel only 10 miles before tearing through a full gallon in the city or 14 on the highway.
Bugatti Veyron
The Bugatti Veyron ended its 10-year, industry-altering production run in 2015. According to MotorTrend, only 450 were ever produced, and the segment-defining hypercar originally started at $1.5 million in 2005, but nearly all sold well above sticker price. None, however, were good on gas.
The cost of being history's fastest convertible — the 1,000-horsepower beast has a 253 mph top speed — was the worst fuel economy in modern history. In its closing year, the Veryon gulped a gallon of fuel every 8 miles in the city and every 15 on the highway for a combined 10 mpg.
All MPG numbers come from FuelEconomy.gov. APR and MSRP data from Kelley Blue Book and Edmunds.
More From GOBankingRates