What the Auto Industry Will Look Like in 2030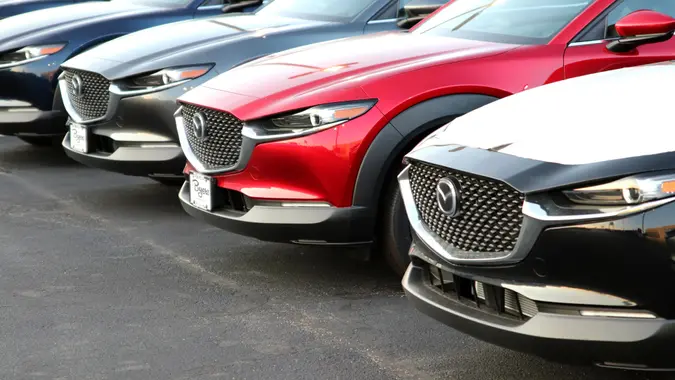 Eric Glenn / Shutterstock.com
No one can predict the future, but experts with the right background and experience can offer a glimpse into how the coming years are likely to unfold. When it comes to the auto industry, there hasn't been a more exciting era since the time of Henry Ford. The years between now and 2030 will transform both the auto industry and the vehicles it produces. GOBankingRates talked to the experts to find out what to expect along the way.
Want To Switch To an EV for the Long-Term Savings? Consider These 2021 StandoutsImportant: States With Electric Vehicle Incentives

Automation Will Continue To Self-Drive in Slow Motion
The auto industry has invested $16 billion into automation research, according to Car and Driver — but beyond a few prototypes and novelties, there hasn't been much to show for it on a practical level in the mainstream. All indications are that self-driving tech will eventually usher in a new era of safety and convenience that will make the old hands-at-10-and-two axiom feel like a relic from horse-and-buggy times. 
But "eventually" is the keyword. Expect the future to arrive in a trickle, not a flood.
"The auto industry over the next decade is likely to see an evolutionary shift rather than the revolutionary one that was anticipated pre-COVID," said Kevin Roberts, an industry analyst with CarGurus. "While connected, autonomous, shared and electric (CASE) are still poised to be the tent poles of innovation in the future, there is a debate whether all four should still remain capitalized." 
Learn More: What Percentage of Your Income Should Go Toward Auto Loan Payments?Check Out: 50 Most Environmentally Friendly and Affordable Vehicles
The biggest hindrance to automation — a technology that could save tens of thousands of lives every year — is cost, according to the Harvard Business Review. Without a government-funded consumer subsidy program similar to the federal EV tax credit, self-driving tech will be out of reach for the common driver. But with auto accidents costing the U.S. $18 billion per year, HBR argues that those subsidies could pay for themselves should the government show a willingness to commit. 
Make Your Money Work for You
Connectivity, however, is proving to be as big a roadblock as cost. 
"A slower than anticipated rollout of 5G has impacted the ability to fully connect vehicles to everything (V2X)," Roberts said. "Thus, creating truly autonomous vehicles has proven more difficult, and combined with consumer hesitancy towards shared mobility post-COVID, the business case for autonomous robo-taxi fleets is cloudy."
Good To Know: These 20 Cars Cost the Most To MaintainFind Out: The Most Reliable Car Brands on the Road
The Virus Couldn't Stop — or Even Slow — the EV Revolution
Unlike automation, the race toward a fully EV future that started before the pandemic remains in full swing. 
"Electric looks to have emerged from COVID un-impacted," Roberts said. "And combined with a shift towards cleaner cities and the falling prices of battery packs, it looks to become a major player in the coming years."
Related: 15 Great Cars To Own for 15 Years

Right now, electric vehicles are still much pricier than their gas-guzzling counterparts. But when that changes — and it should in a few years — it will likely tip the balance and cause the dam to break for electric cars, which only then will truly flood the market. 
"Up until now, EVs have had a significant cost premium compared to traditional internal combustion engine (ICE) vehicles," Roberts said. "However, that is expected to change in the middle of this decade. Once cost parity is achieved between EVs and ICE vehicles, the upsides to EVs will begin to shine: reduced maintenance costs, improved performance and being environmentally friendly."
Read More: Electric Vehicles Are About to Be Cheaper Than Gas Cars
Make Your Money Work for You
The Industries That Service and Dispose of EVs Will Soar
In the coming decade, the auto service industry will be forced to evolve or die.
"From a commercial vehicle industry perspective, a main concern for the aftersales service and maintenance is whether fleet technicians can service electric heavy-duty trucks," said Brian Rieger, vice president of North America truck OEM and aftermarket sales at ConMet. "Slowly but surely, you'll see technicians needing to have sophisticated skills in computer software and electrical engineering. Specialized fleet techs will be hard to find as the industry is already experiencing a shortage in these much-needed positions."
This decade will also witness the first of the mass-production EVs from the previous decade dying of old age. 
"Uncertainty regarding the full life cycle of EVs may hold them back," Roberts said. "How long will the batteries last, reduced performance in cold environments and what to do with used batteries will all become key questions." 
But as EVs push gas cars toward extinction, you can expect the law of supply and demand to turn some ICE vehicles into collector's items. 
"The rise of electric vehicles is fueling the huge value gains for used, older cars," said Christopher Davenport, president and CEO of AutoParts4Less.com, an automotive e-commerce platform. 
Cryptocurrency Could Transform Auto Financing — and EVs Could Transform Crypto
The rise of EVs coincided with the rise of cryptocurrency in the 2010s. The two are already beginning to intertwine, and some industry insiders expect both technologies to eventually begin to define each other. 
"With cryptocurrency and decentralized funding being more widely accepted today and opening up as a whole, this is going to create many different lending options over the next decade for the auto industry using that technology," said Scott Heninger, founder and CEO of Carnomaly. "Over the course of the next decade, we can be sure to see the increase in cryptocurrency's use in the auto finance industry, not only to simply use this new currency to pay for vehicles but also to open up the lending options for everyone to democratize the lending industry itself. This will allow consumers to avoid being forced into dealing with the larger financial institutions, which offer little flexibility."
It's also possible that the most innovative entrepreneurs might find a way to harness the energy needed to power cars and repurpose it for mining crypto.
"One potential option will be to utilize existing tech like Tesla vehicles to your advantage," Heninger said. "We know that Teslas have massive computing capabilities in their vehicles because of their autonomous driving, battery and charging capabilities. Over the next decade, we could see that technology and already built-out infrastructure being used to mine Bitcoin while the car is charging, earning you money at the same time. Tesla could even create its own blockchain and token that could be used as a currency itself and used to verify transactions. This could then be used to offer discounts on the cost of the charge to those who are doing the mining. These discounts could be used to get a lower rate on 'gas' or be applied to the loan on the vehicle."
More From GOBankingRates
Last updated: Oct. 18, 2021