10 Things You Must Do Now If You Need a New Car in 2024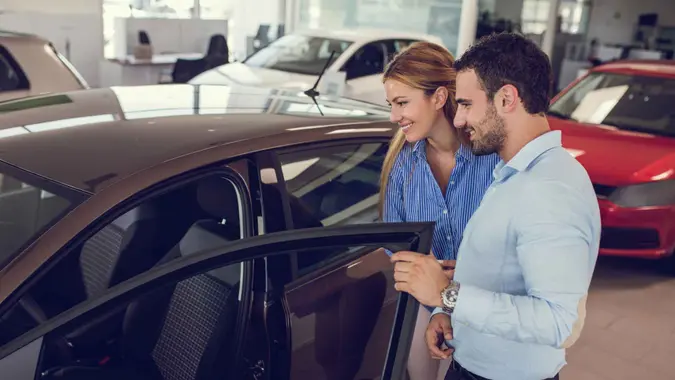 skynesher / Getty Images
Purchasing a new car is about more than just making sure you're financially prepared, though that's an important part of it, too. It's also about determining whether now's the right time to buy and whether the benefits of getting a vehicle will outweigh the costs.
If you're thinking about buying a new car next year, here are the top things you should do right now.
Figure Out Exactly What You Want
One of the first things you should do as you begin your car-buying journey is to figure out what it is you're looking for in a new vehicle. To do this, start by looking at the current and upcoming market. Check out different makes, models and price points to see what's available. At the same time, familiarize yourself with the key features of new vehicles, as this can help you determine what best fits your needs.
"When it comes to buying a new car, there are just too many options to choose from, and the last thing you need is to be unprepared when it is finally time to make a purchase," said Peter Dubois, general manager of Find by Plate. "Therefore, it helps to make a must-have list of all the features that are important to you in a new car."
As you make your list, you might find that some features are less important than others. Depending on your budget, you may want to remove certain features to cut down on costs. And if you have some wiggle room, you could even add a few nonessentials, like heated seats.
Make Your Money Work for You
"Another important consideration is the type of vehicle you want to buy," said Tariro Goronga, CEO of DriveSafe Driving School. "Different makes and models have different price tags, so do your homework and compare prices before deciding."
Create a Realistic Starting Budget
The next step is to make a budget for your purchase. This budget should account for the initial cost, as well as any car-related expenses like car insurance, gasoline and maintenance. It should also ideally include interest charges that could increase your monthly car payment.
"When assessing their budget, the car buyer must evaluate their monthly income, other expenses, credit score and the type of vehicle they intend to purchase," said Geri Hopkins, chief operations officer at Skyla Credit Union.
Base your budget on your historical income patterns, not just your current money habits. Look over your bank statements for the past few months to calculate how much money you have for a new car payment.
Save for a Down Payment
By paying a portion of the cost upfront, you can reduce how much you need to borrow from a lender. This can lower your monthly payment and your total interest charges. It can also increase your odds of getting approved for an auto loan.
Marcus Withers, founder of Withers Automotive LLC., suggested setting aside 20% or more for your new car. However, this might not be feasible for everyone.
"Regarding the down payment, although the standard recommendation is 20% of the car's value, this can vary based on your financial situation and the car's price," said Joe Giranda, director of sales and marketing at CFR Classic. "Saving more can reduce your financing needs and monthly payments. Remember that a larger down payment can also sometimes help negotiate better financing terms."
Make Your Money Work for You
Be Prepared for Additional Purchasing Costs
Having an initial budget is a great starting point, but you should also familiarize yourself with many of the common fees and expenses associated with purchasing a car. Typically, either the lender or dealership will tack these fees onto your overall monthly payment or financing amount.
"Keep aside funds for incidental costs like sales tax, title fees and insurance," said Tom Humble, CXO and founder of ECD Automotive Design. And don't forget about "extra costs that often go unnoticed, such as dealership fees, including documentation and registration costs."
"It is essential to research these costs ahead of time and budget for them," added Goronga.
Save in Advance for Maintenance Costs
Even if you get a reliable new car, you'll still need to pay for some basic maintenance and repairs over time. You might get a discounted maintenance plan through your dealership, but even then, not everything will be covered. By setting aside some money for maintenance now, you'll be more than prepared to deal with any expenses that come up later.
"Many people overlook long-term expenses like maintenance and repairs when planning to buy a car," said John Lin, owner of JB Motor Works. "A car is an ongoing investment, not a one-time purchase."
Plan To Keep Your Payments to 10% of Your Income
Owning a new car can quickly become expensive if you're not careful, so keeping your monthly car payment to a maximum of 10% of your budget is a good idea.
"There are ongoing expenses associated with owning a car, including fuel or charging costs, annual registration and taxes, maintenance, insurance and repairs," said Hopkins. "To ensure financial flexibility for both expected and unexpected expenses that come with owning a new car, keeping vehicle payments at or below 10% of total income is advisable."
Be Aware of Depreciation
New cars tend to depreciate more quickly than used vehicles. If this is a concern for you, you might want to consider getting a used vehicle instead.
"When making the decision between acquiring a new car or a pre-owned vehicle, it becomes imperative to assess the long-term value of the chosen option for car buyers or owners," said Hopkins. "In many instances, pre-owned vehicles have undergone depreciation and are available at substantially lower prices than their original sticker values."
Improve Your Credit Score
If you plan to take out a loan to finance your auto purchase, check your credit score now to make sure you're in a good position to get the best rates and terms.
"Start by examining your credit score. Any errors should be disputed to ensure your score is as high as possible," said Giranda.
"Start building your credit right away," added Goronga. "A high credit score can have a significant impact on the interest rate you pay for a car loan, which can save you money over time."
Pay Down Other Debts
How much debt you have can also affect your ability to obtain an auto loan and the rates you get. If you owe a lot of debt, try paying off some of that before applying for a new loan. This can also free up some extra cash for other things.
Sell Your Current Vehicle
If you already own a car, reevaluate whether you need a second or even a third one. If you don't, you might benefit from selling or trading in your current vehicle before purchasing a new one. Provided your current car is paid off in full, you could use the funds to help pay for your next big purchase.
More From GOBankingRates