How Much Do Windshield Replacements Cost?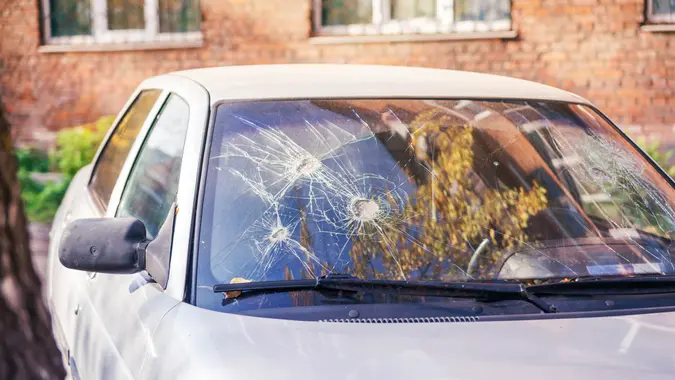 Marina Khromova / Getty Images/iStockphoto
A windshield is one of the most essential parts of a car. It offers protection from the elements, including rain, snow and dirt. If it becomes damaged, drivers and their passengers are at risk of injury, especially if they experience a car accident.
Read: 3 Ways Smart People Save Money When Filing Their Taxes
Vehicle owners who notice chips or cracks on the windshield should seek repairs quickly and expect to pay, on average, between $200 and $401 for a complete windshield replacement. Keep reading to learn all the details about windshield replacements.
How Much Does It Cost To Replace a Windshield?
Fortunately, the cost of replacing a windshield isn't especially prohibitive as the average cost to repair one generally ranges between $200 and $401. However, various factors can impact a windshield replacement cost, including:
Age of the vehicle
Make and model of car
The shop that handles the repair
Type of damage to the windshield
The glass used to replace a windshield
Any special features of the windshield like rain sensors
Make Your Money Work for You
Windshields with minor chips may only require a repair, not a total windshield replacement. A minor repair can be much cheaper than a complete windshield replacement. 
Automobile owners with a comprehensive car insurance policy may qualify for a free windshield repair or replacement. Before paying for the windshield replacement out-of-pocket, car owners should check their policy to see if it includes windshield repair. Most insurance companies will cover chips at a minimum, while others will cover larger cracks.
How Long Does It Take To Replace a Windshield?
Various factors can impact the time it takes to replace a windshield. Car owners who want a windshield replacement may need to wait on available parts, especially if their vehicle is old or they prefer an original equipment manufacturer replacement. 
Once the proper windshield is available, the process to replace it is quick. Generally, technicians can replace a windshield in under two hours. The time it takes to replace a windscreen will vary depending on the vehicle model and if there are any plastic moldings surrounding the windshield. Newer cars with special sensors on the windshield may also take longer to replace.
Does Replacing a Windshield Devalue a Car?
Actually, the opposite is true: not repairing a damaged windshield can drag down a car's value. When an automobile owner decides to sell their car or trade it in, buyers will consider the vehicle's condition, including any damage to the windshield. 
Make Your Money Work for You
Since a damaged window can impair a driver's vision and increase the risk of injuries in an accident, it makes sense that buyers will prefer a car that doesn't have cracks or chips. A buyer who purchases a vehicle with existing windshield damage will have to pay for the repairs themselves, so they're more likely to lower their offer.
Is It Possible To Fix a Cracked Windshield?
Sometimes, it is possible to repair a cracked windshield rather than fully replace it. The location of the crack and its length will determine whether it's repairable or not. Generally, technicians can fix fractures that are no more than a few inches long. 
Vehicle owners with insurance that covers windshield damage should check with their provider to determine whether they'll pay for repairs or a total replacement. Some insurance providers prefer to fully replace a windshield rather than repair it.
Final Take
It's critical to repair or replace a windshield with chips or cracks quickly. That way, drivers reduce their risk of accidents caused by impaired vision. In some cases, it may be possible to repair a windshield rather than replace it altogether — saving on the expense of a full windshield replacement. Before paying for windshield replacement, auto owners should check with their insurance provider to see if they will foot the bill.
Make Your Money Work for You
Information is accurate as of Jan. 24, 2023. 
Our in-house research team and on-site financial experts work together to create content that's accurate, impartial, and up to date. We fact-check every single statistic, quote and fact using trusted primary resources to make sure the information we provide is correct. You can learn more about GOBankingRates' processes and standards in our editorial policy.
Make Your Money Work for You