7 Cheapest Car Insurance Companies for October 2023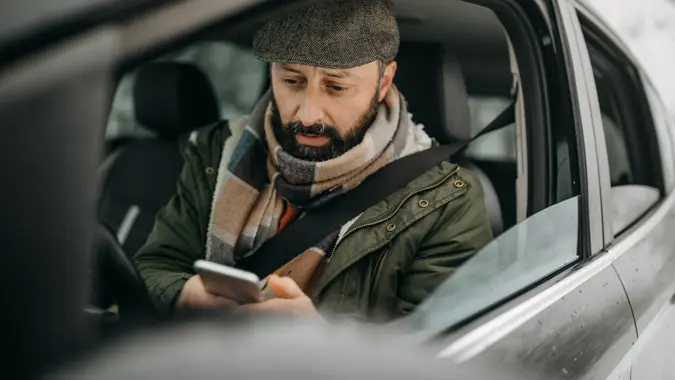 eclipse_images / Getty Images
U.S. drivers pay an average of $1,062 a year on full-coverage auto insurance, according to the most recent data from the National Association of Insurance Commissioners. So car insurance companies want your business, and they fight for it by offering deals and discounts on auto insurance policies.
Read: How To Get Cash Back on Your Everyday Purchases
You'll have to do some comparison shopping to find the cheapest auto insurance, though. You can find great deals if you do your homework by gathering various auto insurance quotes. GOBankingRates has taken some of the work out of it by combing through car insurance agencies to compare prices so you can get the best car insurance rates.
Who Has the Cheapest Auto Insurance Rates?
If you're looking for the answer to, "What is the cheapest place to get car insurance?" you might be overwhelmed by the number of insurers. To help you compare rates and options more easily and decide which auto insurance could work for you, GOBankingRates compiled a list of well-known car insurance companies and got free car insurance quotes from them using the same driver persona factors. GEICO's prices came in lowest, but it's important to shop around for quotes using your own information and coverage preferences.
Here's a closer look at five auto insurance companies and a rate range for each. The lower rate in each company's range is for liability-only coverage. The higher rate is for full coverage.
Make Your Money Work for You
| Insurance Provider | Monthly Rates |
| --- | --- |
| GEICO | $41-$103 |
| Liberty Mutual | $98-$187 |
| Farmers Insurance | $65-$105 |
| Progressive | $68-$195 |
| Allstate | $56-$117 |
| Auto-Owners | $30-$135 |
| USAA | $31-$113 |
1. GEICO
Monthly rates: $41-$103
Coverage: Liability, medical payments, personal injury protection, mechanical breakdown, uninsured/underinsured motorists, comprehensive, collision, emergency road service, and rental reimbursement.
Pros:
Cheap car insurance rates
Plenty of discounts available
Discounts for military and federal workers
Cons:
Limited educational information on website
One of the best auto insurance companies, GEICO boasts a customer satisfaction rating from customers of 857 out of 1,000, based on J.D. Power's independent study. GEICO claims it has the financial strength to deliver the best cheap car insurance to drivers, without compromising on quality or service. Is Geico always the cheapest? No, you may find their prices range depending on factors such as age, car make and model and location.
If you insure more than one vehicle with the company, you save up to 25%; bundle your homeowner's insurance with your auto policy and you can save even more. As a customer, you'll have access to a locator that helps you find the cheapest gas, a car-buying tool, and special discounts if you're in the military, accident-free, a member or employee of certain groups, or a federal worker or student.
2. Liberty Mutual
Monthly rates: $98-$187
Coverage: Collision, comprehensive, liability, new car replacement, better car replacement, teacher coverage, rental reimbursement, uninsured motorists, medical payments, and emergency road service.
Pros:
Special coverage for teachers
Unique ways to save on car insurance
Online discount
Cons:
Offices located in limited number of states
No rideshare insurance
Make Your Money Work for You
Liberty Mutual has offices in 18 states plus Washington, D.C., but you can get a quote no matter where in the U.S. you live. The company has earned an 865 out of 1,000 rating for customer satisfaction in J.D. Power's independent survey.
You can save up to 12% on Liberty Mutual car insurance when you buy online, but that's not the only discount offered. Homeowners, members of the military, good students, and students away at school all qualify, and you can earn additional discounts as well. The RightTrack program, for example, rewards drivers who display good driving behavior with the RightTrack device installed with a final discount of as much as 30%. All these discounts add up and make Liberty Mutual one of the cheapest auto insurance providers.
3. Farmers Insurance
Monthly rates: $65-$105
Coverage: Liability, collision, comprehensive, medical, personal injury, towing, roadside service, rental reimbursement, loss of use, guaranteed value, custom equipment, glass deductible buyback, spare parts, windshield and glass, original manufacturer equipment, new car replacement, accident forgiveness, rideshare and uninsured and underinsured motorists
Pros:
Car insurance bundles make it easy to choose the best auto insurance policy
Wide range of coverage options
Rideshare coverage
Cons:
Only available in 44 states
Low customer satisfaction rating from J.D. Power
Farmers has experienced agents ready to help out with any questions you might have regarding your policy. In addition, its policies are customizable so you get the insurance you need. The company also says it handles claims quickly and easily, which most drivers will appreciate.
Make Your Money Work for You
Farmers offers a number of discounts for things such as bundling your homeowners and auto insurance, being a good student, insuring multiple vehicles and owning an alternative fuel car. Because the company's discounts vary by state, ask an agent for the ones available where you live.
4. Progressive
Monthly rates: $68-$195
Coverage: Liability, medical payments, comprehensive, collision, roadside assistance, loan/lease payoff, rental car, custom parts and equipment, rideshare, deductible savings bank and uninsured/underinsured motorist.
Pros:
Name Your Price tool for establishing a budget
Young driver discounts for teens and students
Deductible could drop every year without a claim
Cons:
Low customer satisfaction rating from J.D. Power
Progressive claims customers could save over $650 when they request a free quote. You can also get a multi-policy discount as well as a good safe driver, multi-car, good student, teen driver, homeowner and other discounts.
Progressive's Name Your Price Tool builds a policy around your budget, and if you plug a Snapshot device into your car to prove you have safe driving habits, you'll save even more.
5. Allstate
Monthly rates: $56-$117
Coverage: Bodily injury, property damage, comprehensive and collision, uninsured and underinsured motorists, medical payments, personal injury protection, rental reimbursement and coverage for travel to Mexico.
Pros:
Wide range of discounts
Full-featured mobile app
Agents in every state and Washington, D.C.
Cons:
Fewer coverages than other companies offer
Low customer satisfaction rating from J.D. Power
Another one of the best companies for auto insurance, Allstate will discount your rate if you sign up for and remain active in Allstate's Drivewise program, which measures your safe driving behaviors and rewards you with cash back. You can also accumulate Allstate Rewards points — redeemable for merchandise and gift cards — by successfully completing safe driving challenges.
Make Your Money Work for You
6. Auto-Owners
Monthly rates: $30-$135
Coverage: Bodily injury, property damage, comprehensive and collision, uninsured and underinsured motorists, medical payments, personal injury protection, road trouble service, additional expense, loan or lease gap, rental auto gap, diminished value
Pros:
Range of insurance products
Local agents
Cons:
Limited online presence
Not available in every state
Auto-Owners is a midsize insurance company that boasts an 862 out of 1,000 rating in customer satisfaction through the 2023 J.D. Power U.S. Insurance Shopping Study. In addition to relatively good customer service, the company has a reputation for offering relatively affordable coverage.
Drivers can also find many discount opportunities. For example, you can save by bundling policies, opting for paperless billing, insuring multiple cars, and paying your entire premium upfront.
7. USAA
Monthly rates: $31-$113
Coverage: Bodily injury, property damage, comprehensive and collision, uninsured and underinsured motorists, and roadside assistance
Pros:
Coverage is available in every state
High rating for customer satisfaction
Many discount opportunities
Cons:
Only available to drivers with a qualifying military connection
USAA offers relatively affordable car insurance coverage. While the company has earned high marks for customer satisfaction through the J.D. Power study, there is a catch. USAA only works with active military members, reservists, veterans, and select family members. Without a qualifying connection, you cannot work with this company.
How Are Auto Insurance Rates Calculated?
Many may wonder "How much is the cheapest car insurance per month?" The answer to this varies greatly as auto insurance companies take many factors into account when calculating rates. Here's what they consider, according to the Insurance Information Institute.
Age: Younger drivers have less experience behind the wheel, which makes them more prone to accidents — and more expensive to insure. Rates are highest for drivers under age 25.
Gender: Men have more accidents than women, according to the Insurance Information Insitute, and may pay more for insurance.
Marital status: You could pay higher rates if you're single, and especially if you're a single male.
Driving record: Drivers with traffic violations and/or accidents on their record generally pay higher rates, as do drivers with no record or a limited history.
Credit history: Credit history is a major component of your insurance score, which predicts how likely you are to file a claim.
ZIP code: Where you live and keep your car determines how high a risk there is that your car will be stolen or vandalized. 
Type of car: Different makes and models pose different levels of risk to insurance companies. Safer cars with a lower risk of theft and lower repair costs are usually less expensive to insure.
Type of driving/miles driven: The more you drive, the more you're likely to pay for insurance. Pleasure-only vehicles are usually less expensive to insure than commuter vehicles.
Insurance coverage: Liability-only coverage costs less than policies with comprehensive and collision coverage.
Deductible: Lower deductibles mean the insurance company will have to pay more if you file a claim. It, therefore, charges a higher rate.
Make Your Money Work for You
How To Lower Your Insurance Rate
No matter what auto insurance company you use, there's a good chance you can qualify for a lower rate, whether by reducing your risk of filing a claim or by qualifying for discounts. 
Keep your driving record clean: Avoiding traffic violations and accidents won't just prevent injury and damage to your car — it'll also keep your insurance rates low. With incidents on your driving record, you can expect higher car insurance premiums.
Increase your deductible: The higher your deductible, the less the insurance company has to pay on your claims. As a result, you pay less for insurance. Just be sure to put the amount of your deductible in a savings account so the money will be there if you need it.
Eliminate unneeded coverage: Having more insurance than you need drives up your rates unnecessarily. Eliminating collision coverage on an older, low-value car, removing children from your policy when they're away at college, and canceling add-ons like roadside assistance, which you might already have through an auto club or credit card, can save you money.
Improve your credit: Improving your credit will improve your insurance score. Your insurance rate could go down as a result.
Bundle your policies: Moving your homeowners or renters insurance to the same company that insures your car can earn you a multi-policy discount.
Compare quotes: Request quotes from a few different insurance companies. Then compare coverages as well as prices to make sure you get the best value — not just the cheapest price.
Takeaway
Finding the cheapest auto insurance is possible when you know what carriers offer the lowest rates and best discounts. Choose a handful of companies, get online quotes, and compare them to find the provider with the best rate.
FAQ
You have questions about cheap car insurance. Here are the answers.
Who has the cheapest car insurance?

Every car insurance company will evaluate your unique situation differently, which leads to different insurance costs for every driver. With that in mind, the best way to find the cheapest car insurance for your situation is to compare quotes across multiple insurance companies.

Who is cheaper GEICO or Progressive?

Every driver will find slightly different insurance costs at GEICO and Progressive. Take a minute to compare quotes to find the cheaper car insurance company for your situation.
Make Your Money Work for You
Sarah Sharkey, Cynthia Bowman, Daria Uhlig and Andrew Lisa contributed to the reporting for this article.
Data is accurate as of Oct. 9, 2023, and is subject to change.
Methodology: Results are based on insuring a non-hybrid, 2017 Toyota Camry LE owned by a single, 34-year-old, female driver with a bachelor's degree who lives in ZIP code 90245 and got her license when she was 16. She uses the vehicle to commute to work and travels eight miles each way, five days a week, putting between 12,001 and 13,000 miles on the car each year. She's gainfully employed and has had no accidents, traffic violation tickets or citations for driving under the influence in the last seven years. All insurance companies' quote forms were not identical, and some asked questions unique to the specific insurer.
Our in-house research team and on-site financial experts work together to create content that's accurate, impartial, and up to date. We fact-check every single statistic, quote and fact using trusted primary resources to make sure the information we provide is correct. You can learn more about GOBankingRates' processes and standards in our editorial policy.