The 12 Best Life Insurance Companies For You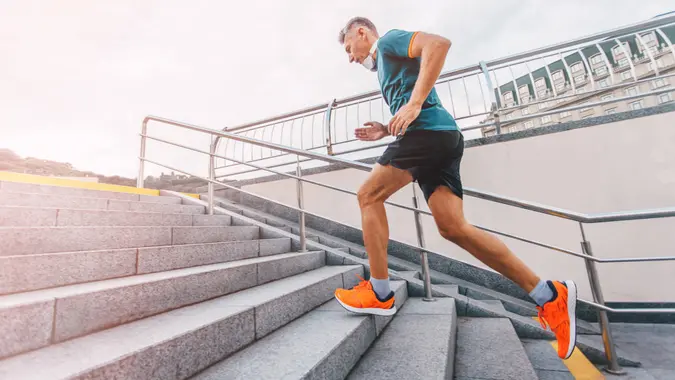 Igor Palamarchuk / Shutterstock.com
It's been said that life insurance is the only kind of insurance that you're guaranteed to use. Given that, you want to be sure to buy your life insurance from the best company to save money and help ease the financial burden on your family after you pass.
To determine the 12 best life insurance companies, GOBankingRates evaluated the following factors for the top life insurance companies: JD Power ratings (customer satisfaction), AM Best (financial stability) and Insure.com (composite of value, service, customer recommendations, and financial strength).
Best Life Insurance Companies
There are a lot of insurance companies out there and they sell very similar products. The way they differentiate themselves is on price, customer service and financial strength. Price can vary, especially if you have special considerations like a health condition, so it's important you take steps to save money on life insurance. Customer service is comprised of both the sales process and the claims process, although the sales process is what you'll consider for life insurance. Financial strength is important because you need the company to still be around when it comes time to make a claim.
Best Life Insurance Companies
JD Power
AM Best
Insure.com
AIG
741
A
85.22
John Hancock
759
A+
83
Lincoln Financial Group
778
A+
89.02
MassMutual
781
A++
88
MetLife (Brighthouse Financial)
793
A+
88.01
New York Life
791
A++
87.33
Northwestern Mutual
812
A++
85.69
Pacific Life
783
A+
n/a
Protective Life
791
A+
n/a
Prudential
784
A+
85.24
State Farm
825
A++
86.93
Transamerica
751
A+
87.82
Information accurate as of Feb. 25, 2019.
1. AIG
AIG offers a full suite of life insurance products, including term, permanent, guaranteed issue and more. Products can be purchased from life insurance agents or direct.
Pros: AIG touts their overall rating of 4.5 out of 5 stars for their direct customer service.
Cons: Just four out of five of their customers recommend them.
Best for: Those with recent weight loss. Carriers want you to be at a healthy weight, but if you've recently lost a lot of weight, some carriers might see you as more of a risk. Carriers could be concerned that an undisclosed condition caused your weight loss or that you'll regain the weight you recently lost.
Make Your Money Work for You
2. John Hancock
John Hancock is a fixture in the life insurance business and is often at the forefront of innovation in the industry. The company is not at the very top of the measures, but it is reliable and trusted by millions of policyholders.
Pros: John Hancock's Vitality program lets policyholders save money on their premiums by adopting healthy habits.
Cons: They received the lowest rating of these 11 companies on Insure.com, with just 79 percent of their customers recommending them.
Best for: Those with pre-existing health conditions like diabetes and sleep apnea. Also good for people who pursue an active, healthy lifestyle, which can result in discounts.
Read: Is Life Insurance Taxable? Find Out What Your Beneficiaries Might Owe
3. Lincoln Financial
Lincoln Financial is one of the highest-rated companies on the list and has been insuring Americans for over 100 years. The company has products that range from low-cost term to permanent coverage, plus long-term care protection.
Pros: Its customer satisfaction rating is 94 percent, the highest of any company on this list. It also received a score of 89 out of 100 for value for the price.
Cons: It only sells through advisors, so you can't get your policy online.
Best for: Those with depression or recent weight loss, as well as millennials.
4. MassMutual
MassMutual is a mutual life insurance company, so it is owned by the policyholders. Participating, or permanent, policies receive dividends which can increase the cash value of the policy. The company offers a complete menu of products, including a guaranteed issue policy that provides a low death benefit but requires no medical information.
Pros: MassMutual has a long-term care and life insurance combination product, which provides money for long-term care if it's needed, and pays out a death benefit if the money isn't used for long-term care.
Cons: You can only buy term or simplified issue coverage online. For anything else, you have to go through an advisor.
Best for: People who want life insurance and long-term care insurance, and have the resources to buy both or those who want a small policy but might have health issues.
Make Your Money Work for You
5. MetLife (Brighthouse Financial)
MetLife spun off its agent-sold life insurance and annuity business to a new company called Brighthouse Financial in 2017. Brighthouse Financial sells term life, permanent life, and life/long-term care hybrid insurance policies.
Pros: A new company with deep insurance roots, MetLife has the second-highest customer satisfaction rating from JD Power.
Cons: You can't get a quote on its website. You have to talk to a financial advisor.
Best for: Those who want a life and long-term care insurance combination product.
6. New York Life
New York Life is a mutual company that has paid dividends to policyholders for the past 164 years. In addition to life insurance, it provides annuities, mutual funds, college and retirement savings, and other financial services.
Pros: New York Life is owned by policyholders, so participating policies earn dividends and premiums tend to be lower.
Cons: You cannot get a quote online.
Best for: Those who might want financial planning products and services in addition to life insurance.
Learn: What Happens to Your Debt When You Die?
7. Northwestern Mutual
Northwestern Mutual is a full-service financial services provider, including investments and planning services offered through financial advisors. As a Northwestern Mutual customer, you could have your insurance, your retirement savings, your college savings plan and other investments all in one place.
Pros: Near the top of the pack for customer satisfaction and financial strength.
Cons: You have to contact a financial advisor to get a quote.
Best for: People who might be looking for investments and planning in addition to insurance.
8. Pacific Life
Pacific Life offers various life insurance products, annuities and long-term care solutions in combination with life insurance. It also sells mutual funds and offers more complex financial services. All of its products and services are sold through financial advisors.
Pros: JD Power ranked Pacific Life third among life insurance companies for customer satisfaction.
Cons: No option to get an online quote.
Best for: Gen Xers who are moving from thinking about life insurance to protect their families to using it as an investment.
Make Your Money Work for You
9. Protective Life
Unlike some of the old-school carriers, Protective actively promotes its term life insurance. It offers a bare-bones term policy at attractive rates, which can be great for young families who have a high insurance need but not a lot of disposable income.
Pros: Costco members can save up to 20 percent on their premiums.
Cons: The company's ratings for customer satisfaction and financial stability are among the lowest on the list.
Best for: People with a family history of cancer or scuba divers and others who participate in risky hobbies.
10. Prudential
Prudential is an old-school life insurance company with a full range of products. You can get a free quote for term life insurance online.
Pros: Lenient pricing for former smokers and marijuana users.
Cons: Just 84 percent of customers would recommend the company.
Best for: Former smokers. Even if you've quit smoking, your history can impact your health and your premiums. Prudential treats former smokers more favorably than other companies. Prudential will also offer nonsmoker rates to those who use marijuana up to three times a week.
My Story: How My Mother's Death Changed Me Financially
11. State Farm Life
State Farm is the highest-rated life insurance company by JD Power for the fourth year in a row. The company provides the most policy discounts at 67 percent compared with the industry average of 40 percent.
Pros: Ranked highest by JD Power and by AM Best.
Cons: State Farm doesn't do business in Massachusetts.
Best for: Millennials. You can get a quote on State Farm's website or call an agent.
12. Transamerica
Transamerica is a full-service financial planning and protection company that offers investments and financial planning services in addition to life insurance.
Pros: 93 percent of its customers would recommend Transamerica.
Cons: Not the best choice if you have a chronic illness, like diabetes, high cholesterol or sleep apnea.
Best for: Those who don't need a lot of coverage, since the company offers low-face-value policies.
Make Your Money Work for You
How to Choose the Best Life Insurance Company
Choosing the best life insurance company for your particular needs can be challenging. When every company sounds like the best one, it can be hard to compare. Here's a three-step process for choosing the best company for you:
Go through the list of companies above and look for the ones that might be best for your circumstances. Try to narrow it down to three or four. Be sure to pay attention to financial stability — a life insurance policy is only as good as the company that writes it, and you want a company that will be around to pay the claim when the time comes.
Visit the websites of the companies you are considering. If you can get a quote online, do so. If you have to call an agent, do that too. Just let them know that you're shopping around — agents often represent more than one company and they might have insight into which company will provide the best value for your needs.
When you get a few quotes, review them carefully to make sure you are comparing apples to apples. There's a lot of jargon in the insurance industry, and different companies use different names for the same thing. If you aren't sure what something means, ask the company. Many companies have live chat on their websites.
Life Insurance Basics
Life insurance is generally broken down into two categories: term and permanent. Term insurance is the least expensive kind of life insurance since you only pay for it, and it is only in force, for a specified period of time. Term is what most people buy when they have young children to support and their death would put a financial strain on the family. Permanent insurance is designed to last for your whole life, and, as such, is more expensive than term coverage. Permanent insurance builds cash value and some people use it as an investment.
Some life insurance policies include special features, called riders, that can provide protection for long-term care or critical illnesses. There are also policies you can get with no medical exam or questions, called Guaranteed Issue policies.
Make Your Money Work for You
Before you purchase a policy, consider what you want the policy to do for you. Most insurance companies have information on their website about the different kinds of coverage and which is best for different circumstances. You can also consult a life insurance agent to help you choose.
Click through to read more about what to do if you are the executor of a will.
More on Money
We make money easy. Get weekly email updates, including expert advice to help you Live Richer™.