Extra College Costs You're Probably Forgetting About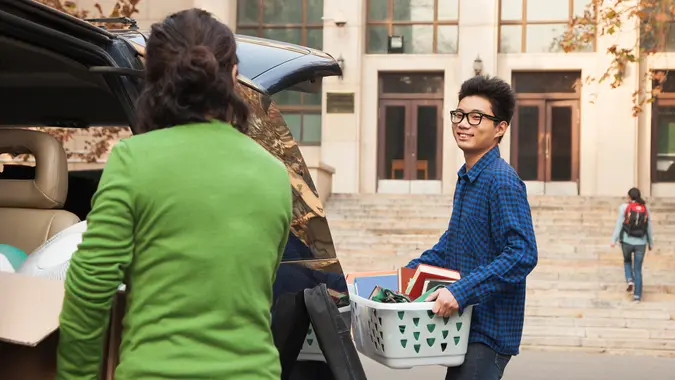 XiXinXing / Getty Images/iStockphoto
If you're about to enter college or you're about to start paying for someone to go to college, you've probably budgeted for tuition and housing, but there are hidden college costs you might not realize.
The average cost to attend college per year in the United States is $35,331. That figure includes tuition, books, supplies and day-to-day expenses. That's right around the average cost of student debt for undergraduates at the time of their graduation, which is $36,635. In order to stay prepared and lessen your total student debt, here are some unexpected college expenses you can start to budget for.
Also Find: What It Really Costs To Attend America's Top 50 Colleges
Discover: How Much More Tuition Costs for Gen Z Than It Did for Gen X at 30 Popular Colleges
Textbooks
Students can expect to pay $1,240 a year for books. Even with many books now available digitally, costs to purchase e-books and subscriptions are still high. In fact, some students are paying up to 23% more for e-books. To get discounts, look on coupon sites that offer promo codes or used copies of textbooks.
Make Your Money Work for You
Transportation
Transportation is an everyday expense that might not be obvious when thinking about college. Will you be taking public transit? Look up how much the average commuter spends in the city of the college to figure out how much to budget for. If you'll be mostly using a car to get around, add gas and insurance to your college expenses. Unfortunately, transit expenses can't be paid for from a 529 plan that might have been set up to pay for college. 
Food
It seems obvious, but college students need to eat. Whether you opt for a meal plan, groceries or eating out, you'll need to have a food budget. For off-campus dining, students spend about $341 a month on average, with an additional $206 to make meals at home. The average campus meal plan costs $563 a month. 
College Costs: How the US Stacks Up to Other Countries
Fraternities and Sororities
Greek life comes with yearly fees and dues. Even applying to rush might cost you a few hundred dollars. Costs for dues, events and other expenses for Greek life can range up to $2,000 a year. Make sure you've taken this into consideration before committing to one of these organizations, or look into opportunities for scholarships. 
Make Your Money Work for You
Technology
Though some colleges will issue devices such as tablets and laptops to their students, others don't. That expense then falls on you. On average, plan to spend $1,059.20 per family on electronics such as tablets, computers, headphones and other devices for school. Apple offers a student discount that can really help when you're buying devices for school.
You'll also want to budget for specific software you might need. If you're looking to purchase Adobe software, be sure to take advantage of the 60% discount they offer students. 
New Clothes
This isn't necessarily about "dressing to impress," but more about a potential change in climate. Are you going to a school that has completely different weather than where you were before? You'll have to add some staples to your wardrobe to match. Luckily, many stores offer student discounts. Some of those include J. Crew, American Eagle and ASOS. 
Make Your Money Work for You
Learn: Ideal Salary Needed To Afford College in Your State — Without Loans
Laundry
Those new clothes have to get clean somehow. Though it's probably not going to be a huge expense, you should still expect to spend around $20 a month paying for laundry if your school residence doesn't have it and your parents' place isn't nearby. 
Furniture
If you're moving in somewhere new, you'll probably need a few things to make your new place feel like home. Budget a few hundred dollars for essentials and miscellaneous home furnishings you might need during your first year. 
Fun
When budgeting for school, don't forget to save a little money for activities off campus. You'll want to have a life outside your classes, especially if you're going to school somewhere you've never lived before. Have some money to explore the city and have fun with your friends to enjoy the full college experience. 
Emergency Money
All the planning in the world can't prepare you for the unexpected. It's important to have some money on hand for unanticipated circumstances like accidents or car problems. This extra cash might also come in handy if you lost your job so you don't have to worry about not being able to pay your bills while away at school. A good rule of thumb is to have at least a month's worth of living expenses on hand in an emergency fund. 
More From GOBankingRates
Make Your Money Work for You