What My Family Is Doing Now To Prepare For the Rising Cost of College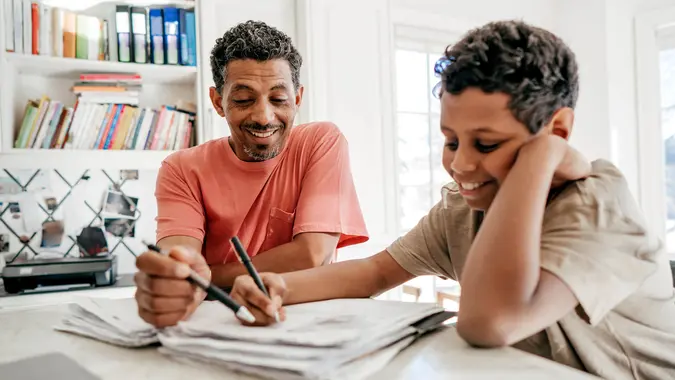 kate_sept2004 / Getty Images
Not long ago, I wrote an article for GOBankingRates about how much the cost of college has risen. The increase has been staggering. Over the past 55 years, the average annual cost of a four-year public school has soared 3,819%.
It's hard to even get my head around that figure. What's even more troubling, though, is that the price tag of higher education will likely continue to increase. I'm sure that's not what you want to hear if you are a parent. Chances are, you're wondering, "How will I be able to afford to send my child to college if the cost just keeps going up?" You might even be wondering whether college is worth the cost.
As someone who writes about how to save money, I've been asking a different question: "What steps can my family take to reduce the cost of college for my three kids?" It's true that getting an early start on saving for a child's college education can help reduce or even eliminate the need for student loans — which have become a huge burden for Americans. But I think that preparing for the rising cost of college also involves doing everything possible to minimize the cost. Here's how my family is doing that.
We're Having Discussions Now About What We Can Afford
When it comes to saving for college education, plenty of parents are likely going about it the wrong way. Many focus first on getting their kids into school and then try to figure out how to pay for it. I know my dad did that.
Make Your Money Work for You
He told me that he would pay for any school I wanted to attend. I ended up going to Washington and Lee University, a private liberal arts college in Virginia. I could've gotten a full ride to the state university in my hometown and saved my parents a ton of money. But my dad planted this seed in my head that I should go to a prestigious school, no matter the cost. As a result, he took on a lot of debt to put me through school.
My kids are hearing an entirely different message from my husband and me. They are 14, 12 and 7, and they've already been told many times that they will go to the most affordable school they get into — ideally, a school that is willing to cover their cost of tuition. I think it's important for them to know that as smart as they are, we will not foot the entire bill for an expensive private school as my dad did for me. We're telling them they can get a great education at a state university — including the one where my husband teaches and where they can get 50% off the cost of tuition thanks to his job.
Having conversations with your kids about what you can and cannot afford is an important step in controlling the cost of college. If they think you'll pay for any college they get into, it will be much more difficult to break the news to them that you can't afford the school of their dreams. In fact, you might feel compelled to pay for a school you can't afford just so you don't have to disappoint your kids.
Related: Ideal Salary Needed to Afford College in Your State — Without Loans
We're Helping Our Kids Increase Their Chances of Winning Scholarships
I think I could have won at least some money for college. I had great grades, was an athlete, served in a lot of leadership roles in high school and had plenty of other qualifications that scholarship committees look for in award recipients. But my parents never encouraged me to apply for scholarships, so I never pursued them.
Make Your Money Work for You
With my kids, I'm having those conversations already. When I was driving my daughters to school recently, my middle schooler announced that she wasn't sure she wanted to stay in band in high school. My response: "You should stick with it." My daughter is one of the best flute players in her seventh-grade class. She already has received accolades, and I expect she'll continue to excel and rack up more honors if she stays in band in high school. And having more achievements, I told her, will help increase her chances of getting money to pay for school.
Quality Education for Cheap: Best Colleges in Every State That Are Less Than $20,000 a Year
I'm encouraging her and her older sister (my 7-year-old is too young for this lecture) to be as well-rounded as possible. They both make good grades. But I know that academic success alone won't help them win money for college. So they are volunteering, joining clubs at school and getting involved with extracurricular activities.
As they get closer to college age, I will help my kids research and apply for scholarships. There's a lot of money out there, and, hopefully, they'll be offered some of it by doing well in school and taking steps now to stand out in the application process.
We're Setting Them Up To Get College Credit While in High School
There's a good chance our oldest child will start college with at least a few college credits — possibly even two academic years' worth of credits. She's a high school freshman and plans to apply to a two-year STEM academy for high school juniors and seniors located at one of our state universities. Doing so would give her between 60 and 72 college-credit hours. The academy is free, so she would rack up college credit at no cost to us.
Make Your Money Work for You
Even if she doesn't get into the STEM academy, she'll have some college credits before she graduates high school. I received an email from the university where the STEM academy is located that told me my daughter has been awarded credit for English 100 because of her perfect score on the English section of the ACT. She's taking her first advanced placement (AP) exam soon and could earn college credit if she scores high enough. She plans to take more AP classes in high school and possibly rack up more college credits.
I want all of my kids to take AP classes or dual credit classes to get as many college credits as possible, as these classes come at a much lower cost than if they were to take those same classes in college. Dual-credit courses typically cost much less than what you pay for those courses in college, so they can help reduce the overall cost of your child's college education. Check with your child's high school to see what sort of dual-credit opportunities exist.
The steps my family is taking are just a few of the ways to cut the cost of college. Your family also can cope with rising tuition by calculating what you can afford and what your kids can contribute before they go to college to help make it more affordable.
Keep reading to see how much it costs to raise an Ivy-League kid.
More on Education