How to Survive Putting More Than One Kid Through College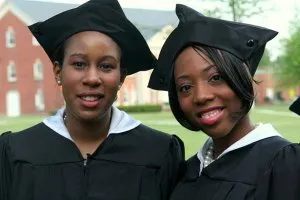 When parents consider that current college costs will increase every single year, the cost of paying for college may seem staggering. This financial burden is especially heavy for families with more than one child in school at a time.
According to Forbes, the current cost of financing education for a year of private university is on average $38,000. Public colleges charge a little under half that price and average $18,000 annually.
Here are some ways parents can help fund a college education, if multiple children are entering school simultaneously.
#1. Begin Saving Early
Most financial experts recommend that parents begin saving for their children's college educations as soon as possible. Savvy parents can use online education calculators to predict the cost of financing education at the time their children will enter the university system. These tools also help parents calculate the appropriate amount to save each month in order to reach that goal by high school graduation.
#2. Planning Before Graduation
Of course, not every parent can plan that far ahead, and families who have been unable to save may find many non-loan opportunities that can assist with college tuition costs. It is important to follow a calendar to ensure that nothing is missed during the final high school years.
Make Your Money Work for You
#3. Expected Financial Contribution
The family's EFC is the amount that each university will likely expect the family to contribute to yearly college costs. Ultimately, parents will complete a Federal Application for Student Aid (FAFSA) to determine their official EFC.
It is important to note that the EFC is divided by the number of children the family has in college at the time. This means that the EFC for the older child will not double when the younger child enters college. Assuming the family finances remain relatively unchanged, the EFC for each child, when combined, will be equivalent to the EFC for the first child when he or she was the only college student.
#4. Grants & Community Service
There are many types of financial aid like student grants and scholarships available for parents with more than one college student in the home. Common grants include state-based grants, federal Pell grants, TEACH grants and Federal Supplemental Educational Opportunity Grants. These offerings may be based on need or merit and, unlike loans, never need to be repaid.
Some students also utilize community service opportunities to when paying for college. For instance, a year spent working with Americorps will net approximately $5,500 to be used for financing education.
Make Your Money Work for You
#5. Scholarships
Scholarships are such an integral component of financing a college education, that some experts recommend approaching the search for scholarship opportunities as a lucrative part-time job. Parents can utilize an online scholarship database to seek scholarships or purchase software that streamlines this process.
Scholarships never need to be repaid and are offered for a wide range of characteristics, including student heritage, academic performance, financial need, religious affiliation, athletic ability and many other specific areas of importance to the financing party. For this reason, families with multiple college students will benefit from taking the time to thoroughly investigate every scholarship opportunity for each individual child.
#6. Scholarships and Discounts for Multiples and Siblings
Parents of twins or multiples may find student grants and scholarships specifically designed to meet the needs of their families. All sibling groups can benefit from sibling discounts offered by many colleges and universities. Most of these discounts amount to a 10 to 20 percent tuition break for each sibling, and some schools even allow savvy parents to educate two children for the price of one degree.
Make Your Money Work for You
This can be such a substantial benefit for families with multiple college students that it may be prudent for one sibling to defer college entrance until the second sibling is ready to enter the same university. This way, a family may maximize the lowered EFC for each student, qualify for a tuition discount and provide the older sibling with beneficial work, travel or volunteer experience that may enrich his or her college application.
#7. Student Loans
When it comes to borrowing to finance college educations, parents have several options. Families who qualify may utilize subsidized Stafford student loans to pay for schooling for multiple children. This loan is need-based and provides some financial relief to parents, since the government pays the interest on the loan while the student is enrolled in college.
Unsubsidized Stafford loans are readily available and are not income-dependent. Parents may also opt for private loans or home equity loans. Parent PLUS loans provide some specific benefits for families with multiple college students since they have fixed interest rates, flexible repayment options and may allow parents to deduct the interest on their tax returns.
Make Your Money Work for You
Parents who borrow from this program may sign a master promissory note to consolidate educational loans for multiple children into a single loan.
#8. Cutting Corners
Many families will also make changes to the household budget when financing education simultaneously for multiple children. This may be as simple as modifying the budget line for fun extravagances or as complex as selling a vehicle or acquiring an additional job. Parents will need to evaluate the costs and benefits for each area in which they cut corners to finance college educations.
#9. Working Students
Finally, many families with multiple college students require the students themselves to work to contribute to the cost of a university education. Some students work full time during the summer to set aside living expenses. Other families consider the student's search for scholarships a bona fide part-time job.
The benefits of working part time while in school are numerous and include increased skills in time management and personal budgeting, a fuller resume and even a higher GPA. In fact, a study cited in US News indicates that students who work up to 20 hours per week may not only earn their own living expenses during college, but also enjoy improved academic performance.
Families with more than one student preparing to enter the university system may initially find the prospect of financing multiple college educations overwhelming. However, careful planning and thorough research may smooth the process and assist families in approaching this exciting time from a standpoint of confidence.
This article was written by Chad Fisher a freelance writer who specializes in financial considerations. Mr. Fisher crafted this article for Kendall College, who offers financial aid information to prospective students interested in classes from the school of business to the culinary arts school.
Photo: stevendepolo