Save on Education Costs by Attending College Overseas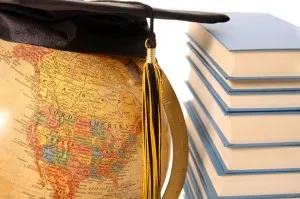 Photo: Diverse Education
Obtaining a college degree isn't cheap for many students or their parents. Are you planning on starting college soon? If so, you may be interested in finding ways to cut your educational costs and student loans, while still getting the degree you need.
Why Study Abroad?
Are you looking for ways to get a solid education, explore the world and stay on budget? Some students found that they can achieve all three goals by attending college overseas. With rising tuition costs, students and their parents are looking for ways to reduce college expenses.
One reason students can save money overseas is that the time required for a degree can be less than what is common in the United States. For example, students attending many colleges outside of the United States can earn a bachelor's degree in three years instead of four.
This can mean significant savings for families. Depending on the university, students may be able to obtain a degree without learning a foreign language. Not to be overlooked, though, is the opportunity to be immersed in another culture and to gain a global perspective. Students may want to hone their language skills abroad. If you're looking into internationally-based careers, an education in a new country can give you an advantage when you graduate.
Make Your Money Work for You
College Tuition Costs Overseas
Believe it or not, tuition costs overseas are comparable to some out-of-state tuition that public universities charge. Families are required to check for scholarships or stipends available for international students. If not, they may have to apply for federal student loans. You may find that the shorter degree schedule still puts you ahead compared to obtaining a degree from an American college, depending on what you're looking for.
For instance, one student was looking at saving 4 years by pursuing a law degree in England. He estimated that it would've been over $90,000 to attend his school of choice in the United States. That's not even counting the 3-year J.D. program.
Of course, with looking overseas, you have to make sure that graduate programs abroad, and your degree, is recognized in your field. Studying with an accredited university is important. Check the credentials of all the schools you're looking into before applying for admission.
Finding Scholarships to Study Abroad
What if you're currently a college student looking to study abroad for a semester or a year? There are scholarships to choose from; check with your university's financial aid department, your major's department head's office and sites like Fastweb to see what you can qualify for.
You can also refer with the overseas college you'd like to attend and contact their offices to see what they can offer in terms of financial aid. Perhaps you can also join a work study program, allowing you to earn a bit while you're out of the country.
Your thoughts on this topic are important. How many of you are considering studying overseas, either for your entire education or just a semester? What majors are you looking at obtaining? Where do you want to attend?