Backstage Passes: An Insider's Look at the Cost of Hosting a Music Festival
Here's how much it costs music festival organizers to entertain you.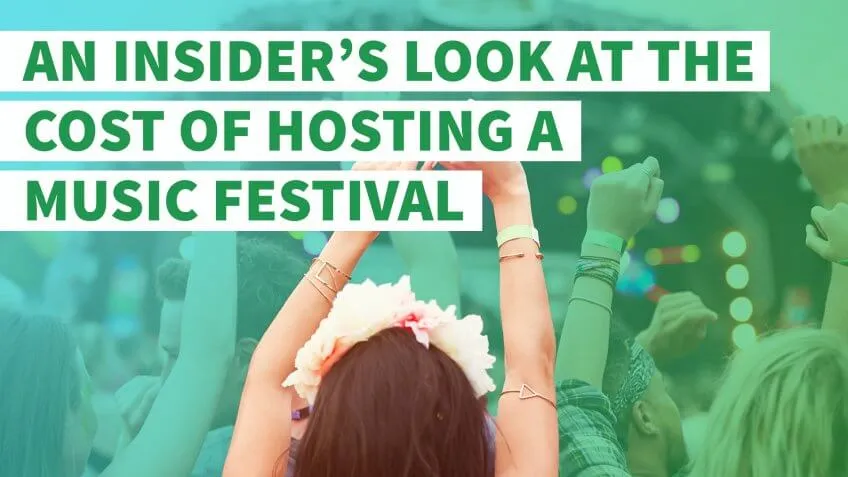 Monkey Business Images / Shutterstock.com
You know all about the cost of attending a music festival, from big purchases like $300-plus plane tickets to smaller purchases like $5 sunscreen and $15 beverages. Before Coachella kicks off on April 14, get a little insight into the massive amount of money it takes to create all that sonic spectacle.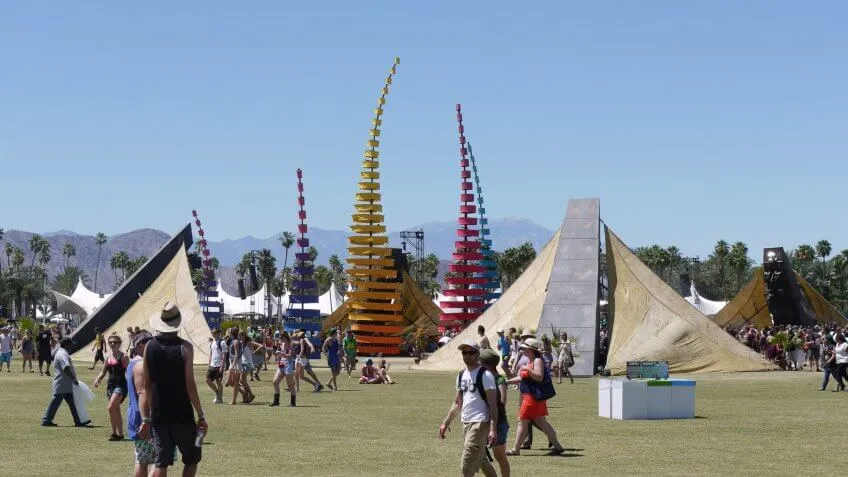 Malcom Murdoch / Flickr.com
The Space
Music festivals span hundreds of acres, so you might guess that securing the land is a key cost for festival organizers — and you'd be right. For instance, back in 2012, Coachella promoter Goldenvoice purchased 280 acres surrounding the Eldorado Polo Club in Indio, Calif. Though exact details of the deal were never disclosed, you can easily do a little speculative math.
At 2017 prices, you can get nine acres in the Indio area for as little as $27,000, or two acres for less than $6,000. So on the extreme low end, that averages to about $3,000 per acre. If Goldenvoice got an amazing deal, the company would be looking at a nearly $900,000 purchase, not including the country club itself. But since we're talking about country-club adjacent turf, it's wiser to look at prime real estate in Indio. Consider that a single acre can go for as much as $220,000, and suddenly the potential number jumps into eight-figure territory. Plus, once the land is secured, organizers might pay around $850,000 or more to insure it for the fest.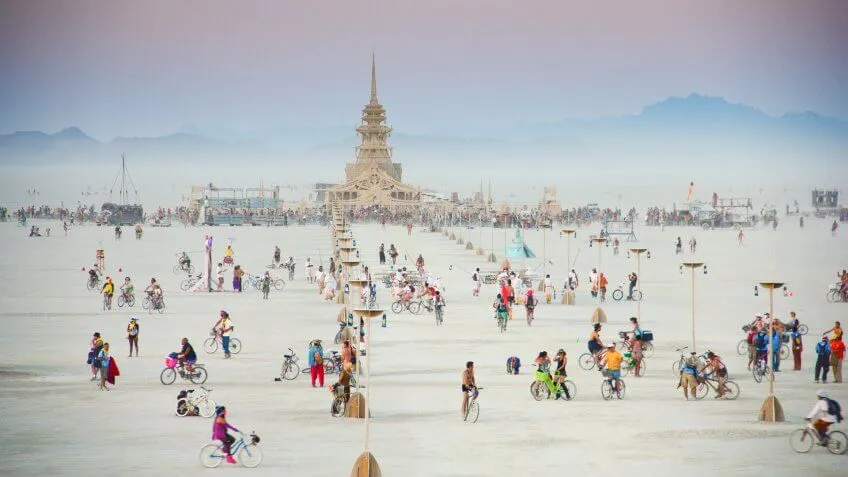 stuartlchambers / Flickr.com
Additional Expenses
To date, the organizers at Burning Man have given us perhaps the most detailed look at the expenses of putting on a major music festival. In 2015, they spent $9.5 million on their payroll, $4 million on contractors, $3.8 million on permits and fees, $2.9 million on heavy equipment rental, $2.1 million on payroll taxes and employee benefits, and over $2 million on building, supplies and office expenses.
On top of that, costs for issuing grants to local artists, safety expenses, ticket servicing and occupancy — including utility bills — each range from about $1.3 million to $1.7 million. "Lesser" costs like performance supplies, taxes, travel, maintenance and depreciation clock in at about $200,000 to $600,000 each.
If you're curious, Burning Man organizers spent a total of roughly $35.8 million to put on their show in 2015.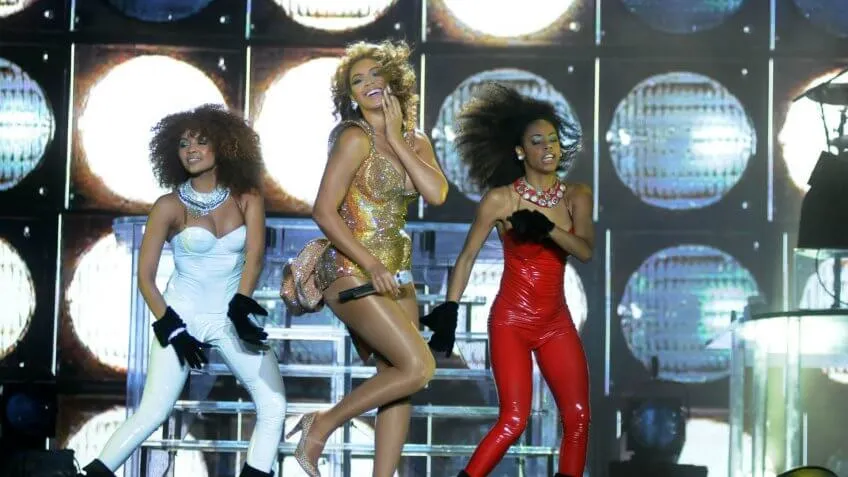 A.RICARDO / Shutterstock.com
Performer Paychecks
Based on her insurance policy alone, Beyonce will still make about $1 million despite having canceled her 2017 Coachella performance, while new headliner Lady Gaga will likely rake in $3 to $4 million for her back-to-back weekend performances. Paychecks are all over the map, of course, and performers aren't eager to publicize their bankrolls. From leaked examples, we know that LCD Soundsystem made roughly $100,000 for headlining Bonnaroo in 2010, but Coachella paychecks — as Gaga proves — now regularly top $3 million for headliners. There are exceptional cases, too. Guns N' Roses pulled up to $8 million for its two Coachella weekends, while Outkast charges $1 to $4 million per music festival outing.
Speaking of exceptions, performers at the CMA Music Festival — which made $60 million in ticket sales in 2016 — take no paychecks at all. Instead, the artists perform, attend panels and meet their fans for free as a "thank you" gesture, with millions of dollars in profit going to various charitable causes.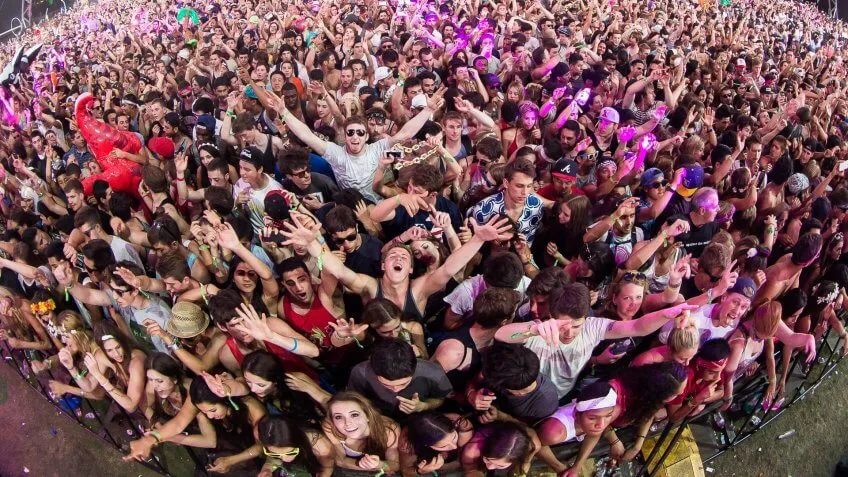 Thomas Hawk / Flickr.com
The Profits
If all of that seems like quite an investment, consider the payoff. Large-scale music festivals in the Inland Empire generate more than $700 million annually. Of that, just over $400 million funnels into the local economy of the Coachella Valley — a perennial host of numerous events — alone. The Coachella Valley Music and Arts Festival by itself made $84 million in ticket sales in 2015, and in 2016, the city of Indio made $3.18 million in ticket taxes. That's roughly 5 percent of its total general fund. And Coachella isn't the only game in town. Desert Trip, often jokingly dubbed "Oldchella" for its primarily baby boomer audience, made an estimated $160 million in ticket sales over two weekends in 2016.
Festival goers buy food, supplies, lodging (often booked to capacity months in advance) and fuel in the towns that host music festivals to huge benefit for local businesses. In addition, attendees sometimes bring financial benefits directly to local residents, some of whom rent out their homes for up to $3,000 per festival weekend. That's one way to pay down the mortgage.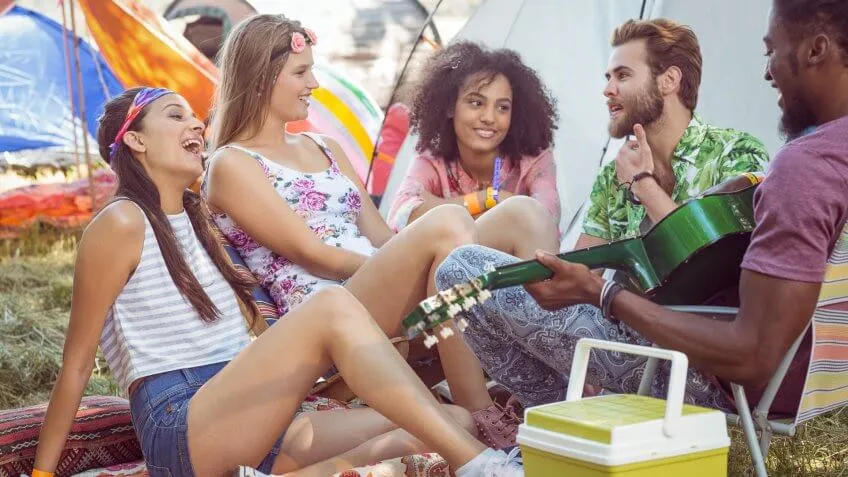 wavebreakmedia / Shutterstock.com
Your Price
Though 2017 music festivals like Burning Man offer $190 low-income tickets, your no-frills ticket price for three to five days at the big fests will likely be in the $365 to $400 range. VIP tickets can skyrocket up to $3,000. Oh, and don't forget $50 to $100 for a vehicle pass or camping permit, plus those lovely nominal "processing" fees. And if you're not local, expect to spend an average of $834 extra, like the average Stagecoach-goer does.
From exorbitant performer salaries to the cost of paying the electricity bill for 100,000 people on 300 acres, it's clear that those ticket prices are being put to use while still netting festival organizers a healthy profit (although some organizations, like Burning Man, are actually nonprofits).
Next Up: Biggest Hits (and Flops) of Celebrities Who Dabbled in Music