12 Best Free Sports Streaming Sites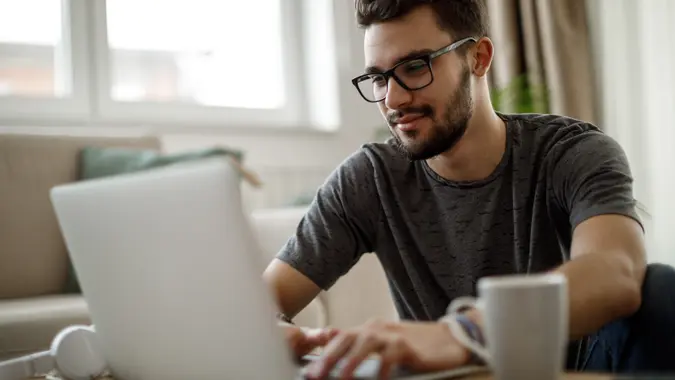 damircudic / Getty Images
With the return of the NFL and college football, the heating up of baseball's pennant races and the impending start of the NBA and NHL seasons, September is a fabulous time to be a sports fan.
But watching sports at home can be expensive. Cable packages can cost more than $200 per month, and even cutting the cord with sites like YouTube TV and Hulu can add up.
Even visiting networks' websites, such as FoxSports.com or ESPN.com, can be frustrating. You can stream for free for a short duration, but then the sites require you to authenticate via a TV provider to ensure you can continue watching.
What Are the Best Free Sports Streaming Sites?
GOBankingRates investigated free streaming sites and compiled some of the best. Please note that your internet service provider could block access to some of these, so you might consider using a virtual private network.
It's important to note that these sites change all the time, and it's impossible to verify whether they have the correct licensing from leagues and sports to broadcast.
1. USTVGO
USTVGO is one of the best, with a wide offering of channels, from Big Ten Network to MLB Network, NFL Network and more.
It offers simple navigation and it's easy to use. This site also has fewer pop-up ads so it's a little less annoying to use.
Make Your Money Work for You
2. Stream2watch
Stream2watch is easy to use and contains several options for feeds for games, including HD streams. It offers NFL and college football, baseball, basketball, soccer, hockey, golf, tennis and more.
The site can be difficult to navigate, with many clicks leading to pop-up ads. But it's worth it once you find the streams for an event.
3. YouTube
YouTube provides 15 MLB games for free each season. This is an easy way to watch, but it's a small amount of games.
4. Peacock
Peacock, a streaming service from NBCUniversal, focuses on paid content, but it does have limited sports offerings for free, all of which are from NBC Sports. It can be hard to navigate the site to find the free content, and this site won't let you use a VPN.
5. Fite
For fans of fights (see?), Fite is perfect. It focuses on boxing, MMA and pro wrestling. The site contains plenty of pay-per-view content but also has free offerings. One big downside is that the site requires you to register, but it does offer plenty of HD streams.
6. Pluto TV
Pluto TV offers much more than just sports, but it has an impressive collection of sports channels as well. The channel list is a little clunky on a browser, but it allows you to look ahead like a TV guide as well. The site also features video-on-demand content, but it does play ads in the streams.
7. Rojadirecta
Rojadirecta requires Flash, which many browsers don't use anymore, so there are technical issues. But it has a solid choice of sports, including baseball, soccer, basketball, football and more. There are plenty of ads, which is frustrating, but it doesn't require registration.
Make Your Money Work for You
8. CricHD
As the name implies, CricHD focuses on cricket. It has links to other sports as well. It's easy to navigate and has plenty to choose from, including HD streams, but it does run ads that can be intrusive in the streams.
9. Bosscast.net
Bosscast.net has plenty of channels to choose from, and although it appears to focus on soccer, it has other sports. The site is easy to navigate, has HD streams and allows a live chat option. The biggest issue with this site is the proliferation of pop-up ads with every click.
10. Buffstream
There are plenty of pop-up ads on Buffstream as well, but it offers all the major sports, including football, baseball and basketball. Some of the links to streams require authentication from your TV provider, although you don't have to register on the site and it's easy to navigate.
11. Strikeout
Despite the name, Strikeout streams much more than baseball. It also provides streams for the NFL, NBA, NHL and college football and basketball. There's no registration and it's easy to navigate, although some users have reported a lot of buffering streams.
12. FootyBite
A site that focused entirely on soccer to start, FootyBite has expanded to include golf and motor sports as well. It's super simple to use, but the navigation doesn't organize items by individual sports.
Tips for Using Free Sports Streaming Sites
The biggest fear of using any streaming site other than an official league site is, is the site legal? And the answer is, it's really hard to tell. League licensing agreements change all the time, and these sites don't post notices saying the leagues have approved the sites' use of the video.
Make Your Money Work for You
Knowing that, here are some good best practices when using a streaming site:
Use a VPN. This allows you to visit the site anonymously, protecting you from hackers and even your own internet service provider, which might restrict your access to streaming sites.
If you remain concerned, consider paying for a site such as FuboTV or ESPN+.
Remember, the user (that's you) is responsible for the content accessed. Always exercise caution and do your research before using any free sports streaming sites.