The Highest-Selling Football Memorabilia of All Time

8 min Read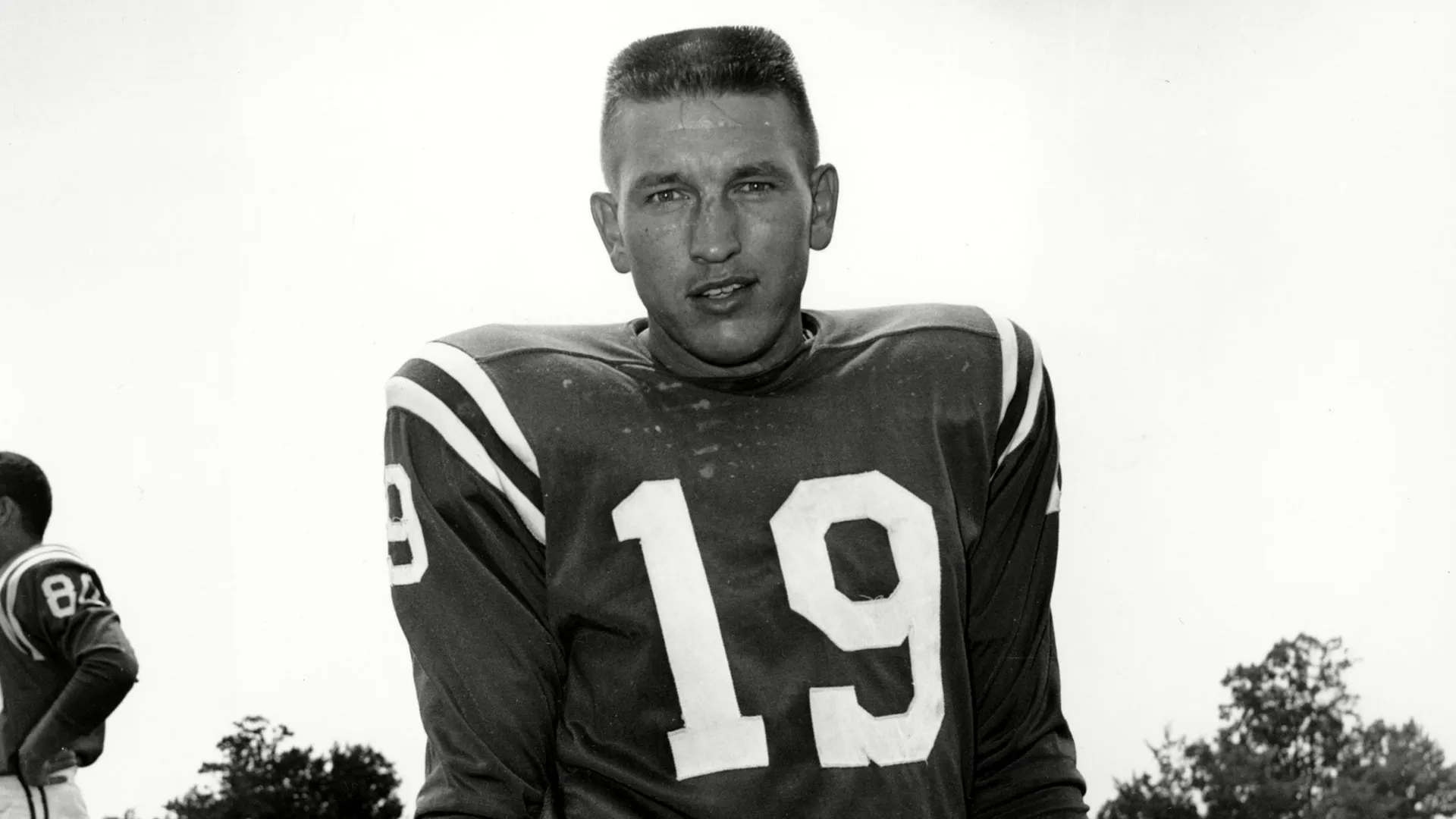 In 1986, Bears fans rejoiced as the biggest man in the NFL, William "Refrigerator" Perry, helped Chicago annihilate the New England Patriots in Super Bowl XX. Thirty years later, his Championship ring was sold at auction for the same price as the median home value in the United States. From signed football shirts and old trophies to game-worn gear and rare trading cards, the best football memorabilia holds a special place in the world of sports collectibles.
Read More: Highest-Paid College Football Coaches of the Last 10 Years
NFL: What NFL Teams Are Making With Limited Fan Capacity
Click through to find out which sports memorabilia from both the NFL and college football commanded the highest sale prices, and learn what items you might buy at a football game today could become valuable in the future.
Last updated: Aug. 31, 2021
Make Your Money Work for You
Green Bay Packers 1921 Franchise Certificate
Selling price: $19,550
One of the most storied teams in football history, the Green Bay Packers aren't only special because they won the first Super Bowl. The Packers hold the distinction of being the only publicly traded team in the NFL, with more than 360,000 Cheeseheads holding more than 5 million shares that were purchased in five stock sales between 1923 and 2011. That fact makes the team's original franchise certificate a true one-of-a-kind memorabilia item. On Feb. 4, 2017, at the Super Bowl LI live auction in Houston, that now-yellowed piece of paper sold for just south of $20,000.
Learn: 27 Richest No. 1 NFL Draft Picks
Patriots AFC Championship Game 'Deflategate' Ball
Selling price: $43,750
According to Sports Illustrated, the New England Patriots in the Bill Belichick/Tom Brady era are one of the greatest — if not the greatest — dynasties in football history. That dynasty, however, will forever be associated with two scandals: Spygate in 2007 and Deflategate in 2015. Spygate cost Bill Belichick $500,000 and the team another $250,000. Deflategate was a 544-day saga during which Patriots quarterback Tom Brady was accused — and later received a four-game suspension for — manipulating air pressure in game balls to make them easier to throw. In 2015, a stadium fan was handed what would go onto become one of the 11 Deflategate balls used in the AFC Championship game. She sold it at auction for $44,000.
Discover: The Biggest Bargain on Every NFL Roster
Vince Lombardi's 1956 New York Giants Championship Ring
Selling price: $50,100
The eternally quotable Vince Lombardi ("It's not whether you get knocked down, it's whether you get up") is arguably the greatest coach in NFL history. The Super Bowl trophy is named in his honor. He is most famously known as the coach of the Green Bay Packers during the iconic team's 1960s golden era, but in 1956, he was the offensive coordinator of the New York Giants, who won a Championship — there wasn't yet a Super Bowl — that year. When a collection of Lombardi memorabilia was auctioned off in 2017, no item fetched more than his Giants Championship ring.
Money Moves: Who's Richer: These Sports Stars or Their Significant Others?
Make Your Money Work for You
Johnny Unitas/Raymond Berry TD Ball from 1958 NFL Title Game
Selling price: $62,140
The 1958 NFL Championship game pitted the Baltimore Colts against the New York Giants at Yankee Stadium in what the Baltimore Sun claims is known as "the Greatest Game Ever Played." In the second quarter, an 86-yard Colts drive culminated in a touchdown pass from legendary Colts quarterback Johnny Unitas to split end Raymond Berry. The Colts would eventually emerge victorious in sudden-death overtime — and nearly 60 years later, the ball Unitas threw sold for more than $62,000 at auction.
See: The 50 Highest-Paid NFL Players Who Aren't Quarterbacks
Steve Wright's 1966 Super Bowl I Ring
Selling price: $73,409
Steve Wright played on several NFL teams, but none as glamorous as the Green Bay Packers that drafted him. Under the stewardship of Vince Lombardi, Wright found his groove when he switched from the defensive line to the offensive line. The big man was part of the squad that won both Super Bowl I and Super Bowl II. In 2011, Wright auctioned off the ring he earned for his role in the inaugural Super Bowl for more than $73,000.
Jersey Worn by Jim Brown During 1962-63 Season
Selling price: $78,000
Only a handful of jerseys have ever fetched a higher price at auction than the one worn by Hall of Fame Cleveland Browns fullback Jim Brown, who went to nine straight Pro Bowls during his nine-year career. The Browns great ran for 12,312 yards and scored 126 touchdowns. Known for his toughness and grit, Brown had one of his best seasons during 1962-63, when he picked up 1,863 yards. When Brown's jersey from that season went up for auction in 2017, bidding opened at $25,000. Fourteen bids later, the hammer dropped at $78,000. Today, Jim Brown is one of the richest NFL MVPs of all time.
Make Your Money Work for You
Jersey Worn by Johnny Unitas in 1967
Selling price: $103,500
Four years after Jim Brown donned the jersey that would sell for a near-record price more than a half-century later, Johnny Unitas pulled on a jersey that would go on to sell for even more. Not only is game-worn Unitas gear hard to come by, according to the Baltimore Sun, but this specific Unitas jersey from 1967 was especially unique — and therefore more valuable — because it underwent a team repair on the front. In the end, the jersey fetched six figures and beat even the high expectations that were set for it.
William 'Refrigerator' Perry's Super Bowl XX Ring
Selling price: $203,150
NFL players are big men with big hands and big fingers. When they win Super Bowls, they get really big rings — but none bigger than the size 25 ring wore by William "Refrigerator" Perry, who boasted the largest championship ring ever produced. According to the Chicago Sun-Times, the ring is one of history's most coveted pieces of Chicago sports memorabilia. Perry was a 320-pound rookie who became one of the biggest names in football when Bears coach Mike Ditka used him at fullback in short yardage situations. The ring, which sold for more than $200,000 in 2015, was gifted to Perry after the Bears dominated the Patriots in 1985's Super Bowl XX and Perry scored a memorable touchdown.
Net Worth: Which NFL Hall of Famer Has the Highest Net Worth?
O.J. Simpson's 1968 Heisman Trophy
Selling price: $230,000
The Heisman trophy that sold for $230,000 at an auction in 1999 would have been quite a collector's item even under the most normal of circumstances. First of all, it was one of the only Heismans ever to be sold at auction. Making it even more unique was the fact that the word "athletic" was misspelled — the engraver left out the "t." All of that, however, is dwarfed by the stature of the person who owned it — O.J. Simpson. Simpson was awarded college football's highest honor in 1968, before he embarked on one of the greatest careers in professional football. Later, he swapped fame for infamy as the defendant in the most watched murder trial in American history. Simpson was famously acquitted of murder, but he later lost a $33.5 million civil suit, which led to the auctioning of his property — including his Heisman.
Make Your Money Work for You
'Rudy' Ruettiger's Gear From His Only Notre Dame Game
Selling price: $241,500
Although Daniel "Rudy" Ruettiger only played for 27 seconds during one play in a single game, he is probably the most famous Notre Dame football player in history. His inspirational, heartwarming and, according to former Fighting Irish teammate Joe Montana, greatly embellished underdog story was immortalized in the 1993 sports movie classic "Rudy." On Super Bowl weekend in Houston in 2017, gear worn by the real-life Rudy, who is now a motivational speaker, commanded nearly a quarter-million dollars.
1935 National Chicle Bronko Nagurski Football Card
Selling price: $350,000
The 1935 National Chicle Bronko Nagurski card is the most coveted football card in the world and the No. 17 most important trading card of any sport, according to Sports Collectors Daily. Since football had not yet entered the mainstream in the 1930s, few cards were printed of any player. But the iconic Bronko Nagurski card is particularly rare, especially in good condition. There are no known copies of the card graded PSA 10, which is mint condition, and there is only one known PSA 9 copy of the card. In 2011, the collector who held that copy sold the peerless Hall of Fame vintage rookie card to a private collector for $350,000.
Bruce Smith's 1941 Heisman Trophy
Selling price: $395,000
In 1941, as the nation was still reeling from the days-old Japanese attack on Pearl Harbor, University of Minnesota running back Bruce Smith used his Heisman Trophy acceptance speech as an opportunity to soothe a wounded nation. Only six Heismans had ever been issued before, but the trophy's truly special significance comes from Smith's historic acceptance speech, which tied the sport of football to America's resolve to defeat the Japanese. Not only is the trophy an early Heisman from a significant time, but it's one of only five to have ever been sold at auction. In 2005, Smith's family sold the national treasure for nearly $400,000 to help pay for his ailing widow's medical expenses.
Photo Disclaimer: In some instances, the images depict the player or the team and not the particular auction item.
More From GOBankingRates
About the Author