How Much Money Will You Win by Betting on Your NFL Team?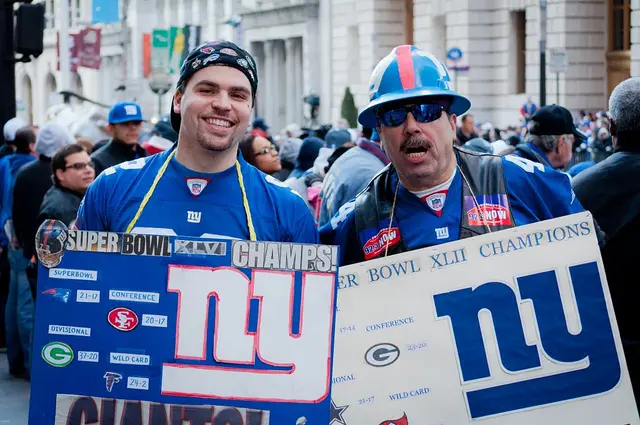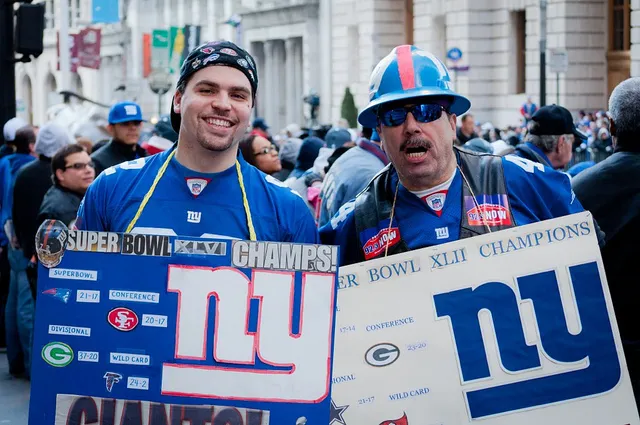 It's that time again, NFL season is back, and with it, a fandom that extends from tailgates to living rooms and betting pools. If you're looking to pick the best fantasy players possible or the best team to place bets on, you're likely consulting multiple sports sites and blogs. Based on player and team stats, and what experts recommend, you're going to use your judgment to make a bet and hope the odds are in your favor — but how much money will that actually earn you?
To help fans calculate how much their bets could earn them, GOBankingRates created a calculator that pairs NFL future odds from Vegasinsider.com and bet amounts to generate hard numbers on what you'd earn by betting on your favorite team — or the front-runner.
2015 Superbowl
betting calculator
Team Odds and Potential Winnings
Assuming a bet of $150, how much would you earn betting on each NFL team to win Super Bowl XLIX?
How Much Can $150 Become?
Arizona Cardinals: 60/1; $9,000
Atlanta Falcons: 60/1; $9,000
Baltimore Ravens: 38/1; $5,700
Buffalo Bills: 100/1; $15,000
Carolina Panthers: 75/1; $11,250
Chicago Bears: 25/1; $3,750
Cincinnati Bengals: 30/1; $4,500
Cleveland Browns: 100/1; $15,000
Dallas Cowboys: 100/1; $15,000
Denver Broncos: 6/1; $900
Detroit Lions: 42/1; $6,300
Green Bay Packers: 11/1; $1,650
Houston Texans: 63/1; $9,450
Indianapolis Colts: 25/1; $3,750
Jacksonville Jaguars: 250/1; $37,500
Kansas City Chiefs: 75/1; $11,250
Miami Dolphins: 75/1; $11,250
Minnesota Vikings: 100/1; $15,000
New England Patriots: 8/1; $1,200
New Orleands Saints: 11/1; $1,650
New York Giants: 60/1; $9,000
New York Jets: 85/1; $12,750
Philadelphia Eagles: 28/1; $4,200
Pittsburgh Steelers: 28/1; $4,200
Oakland Raiders: 200/1; $30,000
San Diego Chargers: 43/1; $6,450
San Francisco 49ers: 12/1; $1,800
Seattle Seahawks: 6/1; $900
St. Louis Rams: 100/1; $15,000
Tampa Bay Buccaneers: 100/1; $15,000
Tennessee Titans: 125/1; $21,000
Washington Redskins: 75/1; $11,250
Make Your Money Work for You
Teams with the worst odds of winning, such as the Jacksonville Jaguars and the Oakland Raiders, will have the largest payouts to those who bet on them, versus NFL favorites like the Seattle Seahawks — having just come off a Super Bowl win in 2014 — and the Denver Broncos, who will have better odds and worse payouts.
If you're a higher roller, you can profit big time by betting on an average or underdog team. With $500, for instance, you'd win $12,500 betting on the Indianapolis Colts, $34,000 by choosing the Carolina Panthers and $70,000 by going with the Tennessee Titans. With a bet of $1,000 or more, you could be looking at six-figure winnings. However, by betting on teams with worse odds, you have a much bigger chance of losing all your money. Ultimately, only one of the 32 NFL teams can win the Super Bowl, so you'll have to pick wisely to get the most money with the least risk.
What to Do With Your NFL Winnings
Regardless of whether you earn a few hundred or a few thousand dollars, you'll want to have a game plan in place for your new earnings. As with any time extra cash flows in, it can be confusing to determine how best to use the money. However, upgrading that television set for next season isn't something we recommend.
Instead, look at your financial situation. If you're saddled with debt, put that extra cash toward paying some of it down to help reduce interest you'll owe moving forward. It might not be the most satisfying way to spend your winnings, but it'll do more for your financial health than using the money to purchase something you don't need. If debt isn't an issue for you, put that money away into a high-yield savings account. A couple thousand dollars in winnings can translate into a fair amount of interest that can keep paying you back each month.
Make Your Money Work for You
If you're determined to do something nice for yourself with a portion of your earnings, deposit funds in a savings account now and withdraw some next NFL season for a preseason or regular season ticket. At least you'll earn interest in the off-season.
Finally, if you don't have much financial security right now and are struggling to make ends meet, you probably shouldn't be betting at all. Yes, you could earn a lot of free cash, but the risk of losing up to $1,000 when you're strapped will probably end in you kicking yourself later.
Photo credit: Maxim Pierre