14 Ways To Save Big at NFL Games

9 min Read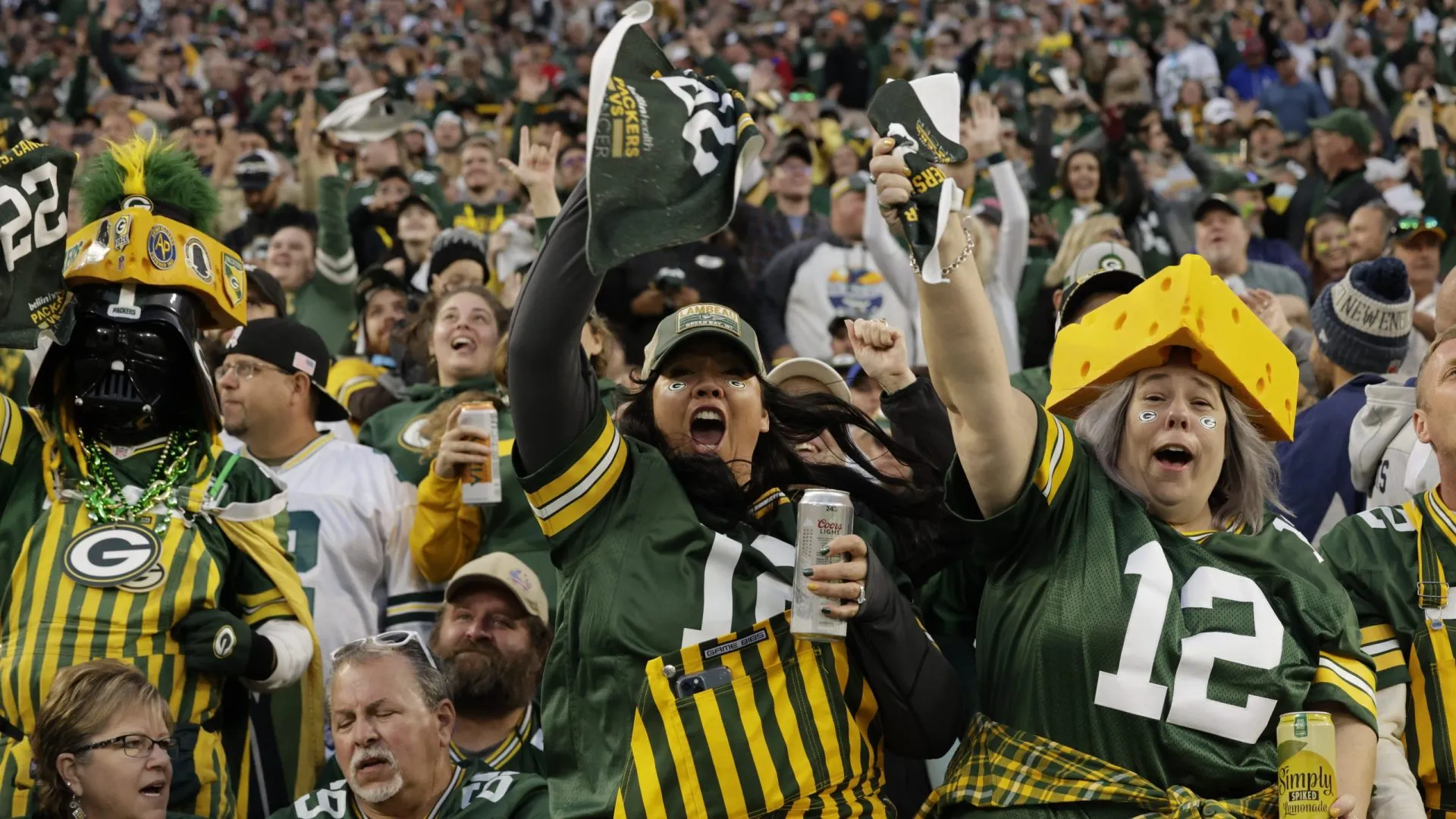 If you're a football fan, the statistics regarding how much it costs a family of four to attend a regular-season game are mind boggling. Bookies.com did a study in advance of the 2022 NFL season, and determined it costs an average of $537 for two adults and two kids to attend a game when you tabulate the price of four of the cheapest tickets, stadium parking, and one drink and hot dog per person.
Read Next: 9 Bills You Should Never Put on Autopay
Find Out: This Credit Score Mistake Could Be Costing Millions of Americans
And that's just the average; the actual price swings wildly. Head to Levi's Stadium to see the San Francisco 49ers, and you'll pay $1,028 for Sunday fun. A fan of Tom Brady and the Tampa Bay Buccaneers? That will cost $948. For cheaper tickets in Florida, head north to Jacksonville, where the NFL experience costs $293. According to Bookies.com, the only place you'll pay less is in the home stadium of the Arizona Cardinals — $228.
For the typical family, the only way to attend an NFL game without breaking the budget is by taking small steps to save money along the way. From tips on how to find cheap NFL tickets to secrets to scoring NFL apparel for less, click through to find out how you can stay in budget this football season.
Make Your Money Work for You
1. Wait Until Just Before the Game To Buy NFL Tickets
Some NFL games are cheaper to attend than others, but the face value of all NFL tickets still averages about $110. That's according to Bookies.com, which said four of the cheapest seats in an NFL stadium average almost $439. And that price varies widely: close to $889 to see the San Francisco 49ers at home, $169 for the Arizona Cardinals. Luckily, you can find more affordable tickets if you buy at the right time.
There is a common misconception that all NFL ticket prices rise as the game draws nearer. But according to event ticket search engine SeatGeek, it's actually better to make a purchase just a few days before the game. According to the site, NFL fans pay 29% less on tickets bought within two weeks of a game instead of more than a month in advance. The exception is for what it calls "popular" games, meaning when the teams are typically a big draw or when playoff berths are on the line.
If it's the end of the season and your team has just a few wins and is playing out the string, tickets can cost less than $10 days before the game. And with instantly downloadable tickets, you can buy as you're walking toward the stadium.
One caveat from SeatGeek: This strategy is ideal if you're buying just a ticket or two. It will be more difficult to find seats together in larger quantities so you shouldn't wait too long.
Take Our Poll: Have You Ever Lost Wealth Due To a Natural Disaster?
2. Choose a Less-Popular Opponent
You'll pay more to see your home team play the top teams – either those that are super successful or those with huge fan followings on the road, such as the Dallas Cowboys, Pittsburgh Steelers and Green Bay Packers. That's because demand for those tickets will be high, which translates to higher ticket prices. Just take a look at Stubhub prices for upcoming Carolina Panthers games at Bank of America Stadium in Charlotte, North Carolina. Ticket prices (as sourced in the first week of October) to see the Panthers host the Steelers on Dec. 18 start at $129. To see the Panthers and Detroit Lions six days later? Just $35. If you don't care which team your favorite is playing, consider going to a game that you know will be in less demand.
Make Your Money Work for You
3. Take a Road Trip and Attend an Away Game
If you live in a more expensive NFL market, it can be worth it to take a trip to a cheaper road game.
FedEx Field in Landover, Maryland, the home of the Washington Commanders, is about a 45-minute drive from M&T Bank Stadium in Baltimore, where the Ravens play. If you're a fan of the Cleveland Browns who lives near the Baltimore stadium, consider buying tickets at FedEx Field instead. A Stubhub check (as sourced in the first week of October) shows tickets for the Browns vs. Ravens on Oct. 23 start at $92. At FedEx Field later in the season? Just a $45 starting price – less than half the price. And it could go down further by game time, given that the game is on a holiday.
4. Choose the Nosebleed Seats
If you care more about saving money than sitting at the 50-yard-line, buy the cheaper, upper-deck tickets a longer distance from the field. You'll enjoy the game-day experience with other fans no matter where you sit.
5. Eat Before the Game
Stadium food can be expensive, especially if you're taking the whole family. According to Bookies.com, the price to feed four – two beers for the adults, two sodas for the kids and four hot dogs – averages $52.60 at NFL stadiums in 2022.
To save money at the game, eat before you go. By walking into the stadium with a full stomach, you can resist the urge to splurge on stadium food.
The exception is if you plan to watch the Atlanta Falcons at their home field, Mercedes-Benz Stadium. Because of a commitment to fan-friendly pricing, Atlanta's concessions rank No. 1 in the NFL in six categories, including value, as judged by fans. The two beers, two sodas and four hot dogs cost $26.10 at Mercedes-Benz Stadium.
Contrast that to $72.50 at Los Angeles Rams and Chargers games, and $70.40 at Raiders games in Las Vegas.
Make Your Money Work for You
6. Take Your Own Snacks to the Game
For security purposes, the NFL limits what fans can bring into the stadium. Except for a blanket and small umbrella, just about everything must fit into a clear, gallon-size Ziploc-style bag. (Fans also can carry in a small clutch bag to keep some personal items private, but it will be searched). Some stadiums will allow you to put small snacks in your bag, or bring in a refillable water bottle, but the policy isn't universal. Check the website of the team you'll be watching before heading to the stadium.
7. Stay Sober
The average cost of two, 16-ounce beers at an NFL game is $19.11, or just over $9.50 each, per Bookies.com, but it can be much higher in some cities. For example, it's about $14.50 at a Philadelphia Eagles game and $13.75 at Los Angeles Rams game — all the more reason to consider staying sober and perhaps volunteer to be the designated driver.
8. Take Public Transit to the Stadium
When it comes to parking at NFL stadiums, the league average is $45.23, according to Bookies.com. If you're attending a game in a city with public transit, consider riding that instead of driving. You'll save the frustration of getting in and out of the parking lot in traffic – and at least $50 if you're attending a game at Gillette Stadium, the home of the New England Patriots. The Massachusetts Bay Transportation Authority offers a round trip on the commuter rail from South Station in Boston and Providence Station in Rhode Island.
9. Opt for Sports Bar Shuttle Service
If you're attending a football game at AT&T Stadium, the home of the Dallas Cowboys in Arlington, Texas, stadium parking starts at $95, with fees, and can run as high as $635 – or more. For one car. For one game.
Luckily, you might be able to take advantage of a free shuttle service from a bar near the stadium. J. Gilligan's Bar & Grill in Arlington feels the pain of overcharged Cowboys fans and offers a free ride from the bar to the stadium.
Make Your Money Work for You
10. Drive Almost All the Way to the Game
Another way to beat the NFL parking costs: Drive as close to the stadium as you can get, find a free — or cheap — parking space and then book a ridesharing service to take you to the game. Many venues, like Arrowhead Stadium in Kansas City, Missouri, have convenient designated areas for rideshare pickup and drop off.
Of course, this strategy might not always work, especially if the ridesharing rates are high. But plan your route well in advance and do some research — and you might end up saving some serious cash.
11. Buy Team Apparel Off Site
Of course, you'll want to wear a team shirt, hat or another piece of apparel to the game, but for the best value, don't wait to buy at the stadium. Websites such as Fanatics.com have frequent sales and promotions on official NFL merchandise, and you can find good values on Target.com, too.
12. Don't Buy Autographed Collectibles at the Pro Shop
Autographed football memorabilia is one of the many collectibles that might pay off big down the line. Plus, they're awesome keepsakes.
However, they'll likely be more expensive at the pro shop at the stadium. Look at what's available on websites like SportsMemorabilia.com before shopping at the game.
13. Check Out the Team Website and Social Media
Your favorite team could offer specials or promotions via its website or social media accounts. If you don't already follow your team on Twitter or Instagram, give a follow. And check out the team website. The Green Bay Packers website, for example, offers contests for free tickets on its promotions page.
15. Barter Services for Cheap NFL Tickets
A friend of a friend has tickets the same day as a family wedding and is looking to sell. If you can't negotiate a sales price much less than face value, ask the seller if a swap of services would work. If you have a skill – anywhere from tax preparer to auto mechanic – ask the seller to accept, say, $200 worth of your services instead of cash. It doesn't hurt to ask. Who knows — you might score free or cheap NFL tickets this way.
More From GOBankingRates
Andrew Lisa contributed to the reporting for this article.
About the Author