Here's How to Save Money on Your Gym Membership

7 min Read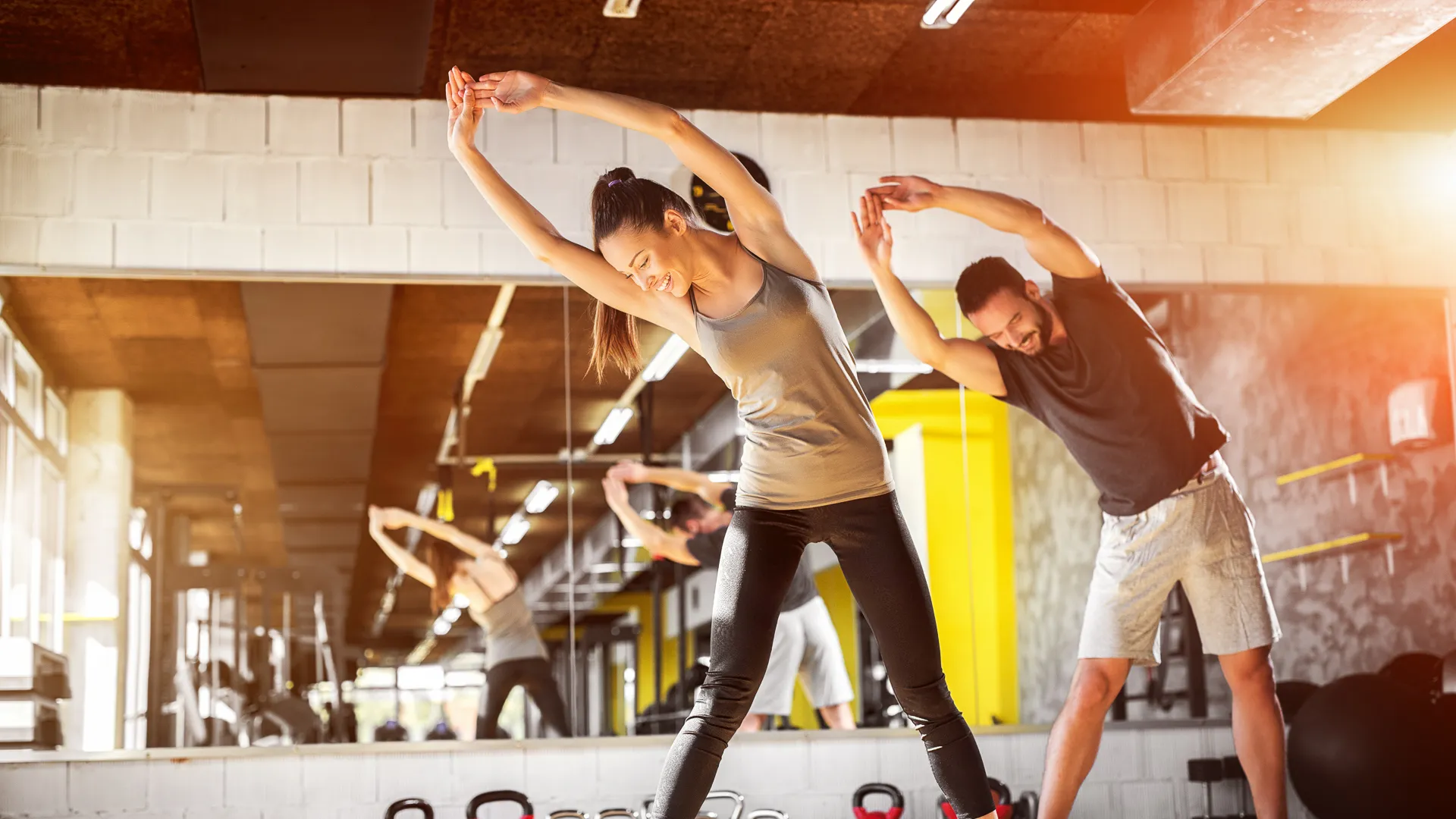 The goal of joining a gym is usually to drop pounds — not money. That being said, fitness and health clubs made $31 billion in 2016, according to IBISWorld, a market research firm. That's a heavy weight on most wallets.
Getting in shape isn't only for the affluent, though. By shopping around, taking advantage of special offers, paying attention to timing and getting creative — part-time job at the juice bar, anyone? — you can get fit without breaking the bank. Explore these 10 ways to stay fit — both physically and financially.
Make Your Money Work for You
1. Find a Groupon
Known for helping consumers score great deals on restaurants, event tickets and retail purchases, e-commerce marketplace Groupon also offers coupons on health and fitness-related options. You'll find discounts on everything from monthly gym memberships to personal training sessions to group fitness classes on the site, which you can use to save money without making any long-term commitment.
The site is searchable by interest and region, so you can likely find options right in your own neighborhood. For example, through Groupon, Philadelphia residents have been able to purchase $120 worth of fitness classes for $35 — 80 percent off — the monthly membership fee at a local gym.
Offers usually require that you pay through the Groupon website and redeem the coupon at the designated fitness facility. With a wide variety of exercise options, such as indoor cycling, yoga, Pilates and boot camp classes, Groupon is an ideal way to try a new fitness regimen without breaking the bank.
Related: Cheap Workout Trends to Try
2. Purchase a Class Pass
Individual, session-based studios that offer yoga, Pilates and barre classes will often offer discounts if you purchase a class pass instead of paying for individual classes. Passes are typically available for five, 10 or 20 classes at a time. Discounts vary by studio but the savings can be significant.
For example, YogaWorks in San Francisco charges $25 per individual yoga class. A 10-class pass, however, costs $190, which will save you $60 on 10 classes. Even better, a 20-class pass goes for $300 in Northern California, which is a total savings of $200.
Alternatively, many major cities sell passbooks to numerous gyms, fitness centers and studios throughout the area. You purchase a book for one low price and use coupons for individual visits to gyms, yoga studios, fitness classes and personal training sessions.
Make Your Money Work for You
3. Time a Gym Membership Right
During certain times of the year, you're guaranteed to pay more for a gym membership — like at New Year's, the beginning of spring and the start of any month. Choose your timing wisely and you might be able to save a bundle on gym fees.
Toward the end of the month can be a fortuitous time to approach a salesperson or manager about joining. If the gym hasn't met its monthly quota yet, you might get a reduced price so it can boost its numbers.
Be ready to negotiate; there's no need to accept the first offer quoted to you. If the gym won't budge on price, ask for breaks in other areas, like waiving the initiation fee or getting a free month.
Find Out: 9 Ways Being Healthy Can Save You Money
4. Go for Basics
Luxury fitness clubs offer high-end amenities like spas, outdoor pools, valet parking, nutrition services and possibly even pet-sitting and grooming. These types of facilities, however, come with top-tier pricing.
You can save money by skipping the country club-like accommodations and joining a basic gym. Generally, the lower-cost options still have all of the basics — cardio machines, strength training, fitness classes and trainers — but come with more affordable price tags.
Think about the reason you want to join a gym — if you want to make business connections or expand your social calendar, the higher-end clubs might be worth your while. If you want to focus on saving money and improving your fitness, though — and you don't mind parking your own car — the cheap gym membership is likely your best bet.
Make Your Money Work for You
5. Join a Gym With a Friend
Any gym would rather sell two memberships rather than one, which means that joining with a relative or friend puts you in the driver's seat when it comes to getting a gym deal. Do your research and find out the pricing structures and amenities other gyms in your area offer. Use that information to bargain with the membership associate and remind him that two memberships are on the line — he'll likely meet or beat competitors' offers.
The more people you join with, the more bargaining power you'll have. It would be especially beneficial if you can get a small group of friends or family members to join together — and workouts would be more fun, too.
6. Ask About a Corporate Membership
As part of money-saving employee compensation programs, some employers offer corporate memberships that give employees discounted rates at specific gyms or health clubs. If your company doesn't offer a corporate wellness program, consider asking your human resources manager how to get one started.
7. Renegotiate Your Gym Contract
Fitness membership prices can change throughout the year for various reasons due to peak seasons, special promotions or low attendance. Keep your eye on the current rates and if you see they're reduced — or there's a new-member promotion going on — talk to the manager about renegotiating your contract.
Ultimately, the club would prefer to offer you a reduced price rather than lose you as a member. You might have to pay a one-time fee to get your contract changed, but it could be worth it if the overall savings add up.
Don't Miss: Workout Accessories for Under $50
8. Be Flexible
Some fitness centers offer discounted memberships if you use the facilities only during off-peak hours. There are typically significantly fewer people in the gym from around 1 p.m. to 4 p.m. than from 5 p.m. to 8 p.m. Special offers like this aren't always advertised on gyms' websites, so ask a membership representative if this is an option.
Make sure the restrictions work for you before you agree to the deal. It can be well worth the savings if you have a flexible work schedule and like to go to the gym during the quieter hours of the day. However, if you work traditional hours and all your friends are hitting the treadmills at 6 p.m., you might regret having to wait until later in the evening before you can go.
Make Your Money Work for You
9. Apply for a Job at Your Gym
Many gyms offer free memberships to their employees, even those who work part-time. If you have one or two free afternoons or evenings a week, it might be worth your time to work at the front desk or juice bar of your preferred gym.
Along with the extra income, you could save a bundle on membership fees. You might even get a discount on extras, like spa services or personal training sessions.
10. Get Your Membership Money's Worth
The easiest way to waste money on a gym is if you never go — and 67 percent of gym memberships go completely unused, according to research institute Statistic Brain. Instead of throwing your cash away, define your fitness goals and make a clear workout plan before you join a gym.
Make sure you sign up for the right type of facility, too. If running on treadmills and lifting weights aren't your thing, you might prefer yoga classes in a stand-alone studio.
If you do join a gym, plan your workouts in advance so you actually go and get your money's worth. Also, take advantage of all of the amenities that the club has to offer — the more involved you are, the greater chance you'll stick with your fitness program. Consider trying out different group fitness classes, reviewing your diet with the on-site nutritionist and pampering yourself with spa services.
Up Next: 10 Cheap Fitness Apps to Replace Your Gym Membership
About the Author